Gnetol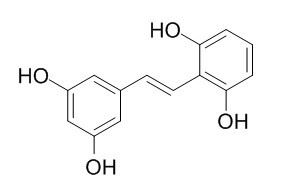 Gnetol significantly suppresses melanin biosynthesis in murine B16 melanoma cells, it has a strong inhibitory effect on murine tyrosinase activity. Gnetol is active in the inhibition of arachidonic acid (AA)-induced platelet aggregation.Gnetol has the IC(50) value of 1.3 uM towards butyrylcholinesterase and shows a reversible and competitive inhibition in the kinetic study.
Inquire / Order: manager@chemfaces.com
Technical Inquiries: service@chemfaces.com
Tel: +86-27-84237783
Fax: +86-27-84254680

Address:
1 Building, No. 83, CheCheng Rd., Wuhan Economic and Technological Development Zone, Wuhan, Hubei 430056, PRC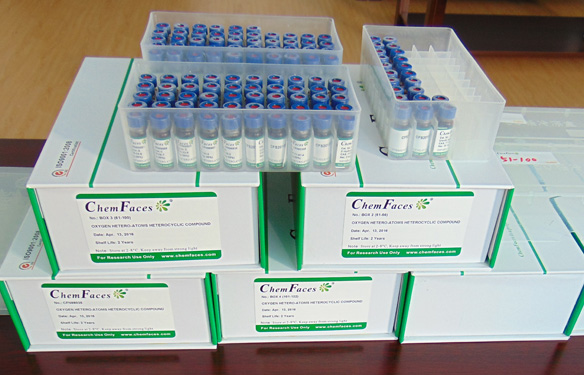 Providing storage is as stated on the product vial and the vial is kept tightly sealed, the product can be stored for up to
24 months(2-8C)
.
Wherever possible, you should prepare and use solutions on the same day. However, if you need to make up stock solutions in advance, we recommend that you store the solution as aliquots in tightly sealed vials at -20C. Generally, these will be useable for up to two weeks. Before use, and prior to opening the vial we recommend that you allow your product to equilibrate to room temperature for at least 1 hour.
Need more advice on solubility, usage and handling? Please email to: service@chemfaces.com
The packaging of the product may have turned upside down during transportation, resulting in the natural compounds adhering to the neck or cap of the vial. take the vial out of its packaging and gently shake to let the compounds fall to the bottom of the vial. for liquid products, centrifuge at 200-500 RPM to gather the liquid at the bottom of the vial. try to avoid loss or contamination during handling.
Evid Based Complement Alternat Med.2018, 2018:4259603
J Nat Prod.2018, 81(4):966-975
Toxicol Appl Pharmacol.2022, 434:115815.
Int J Mol Sci.2022, 23(10):5468.
FEBS Lett.2021, 595(20):2608-2615.
Antibiotics.2022, 11(4), 510.
Microb Pathog.2019, 131:128-134
Front Aging Neurosci.2018, 10:269
Neuropharmacology.2018, 131:68-82
Front Microbiol.2019, 10:2806
Biosci Biotechnol Biochem. 2003 Mar;67(3):663-5.
Gnetol as a potent tyrosinase inhibitor from genus Gnetum.[Pubmed:
12723623
]
Gnetol (2,3',5',6-tetrahydroxy-trans-stilbene), a naturally occurring compound particularly found in the genus Gnetum, had a strong inhibitory effect on murine tyrosinase activity.
METHODS AND RESULTS:
Gnetol (IC50, 4.5 microM) was stronger than kojic acid (IC50, 139 microM) as a standard inhibitor for murine tyrosinase activity. Moreover, Gnetol significantly suppressed, melanin biosynthesis in murine B16 melanoma cells.
Phytother Res. 2012 Oct;26(10):1564-8.
Stilbenoids from Gnetum macrostachyum attenuate human platelet aggregation and adhesion.[Pubmed:
22511550
]
Platelets play a critical role in pathogenesis of cardiovascular disorders and strokes. The inhibition of platelet function is beneficial for the treatment and prevention of these diseases. The phytochemical investigation of stilbenoids from Gnetum macrostachyum Hook. f. led to the isolation of trans-resveratrol (1), isorhapotigenin (2), Gnetol (3), bisisorhapontigenin B (4), gnetin C (5), parvifolol A (6), latifolol (7) and gnetuhainin C (8).
METHODS AND RESULTS:
The isolated stilbenoids were evaluated for in vitro antiplatelet activities via agonist-induced platelet aggregation and static platelet-collagen adhesion assays using washed human platelets. Compounds 1, 2 and 3 were active in the inhibition of arachidonic acid (AA)-induced platelet aggregation. Compound 2 and its dimer, compound 4, were the most active stilbenoids in thrombin-induced platelet aggregation. Moreover, compounds 4, 5 and 6, tended to be more potent than monomeric and trimeric stilbenoids in a human platelet-collagen adhesion assay under static conditions.
CONCLUSIONS:
This is the first report of the antiplatelet activity of stilbenoids isolated from G. macrostachyum.
Fitoterapia. 2012 Jun;83(4):780-4.
Potent and selective butyrylcholinesterase inhibitors from Ficus foveolata.[Pubmed:
22450264
]

METHODS AND RESULTS:
Four stilbenes (1-4), one inseparable mixture of two alkyl diferulates (5a, 5b), one alkyl ferulate (6) and four flavonoids (7-10) were isolated from Ficus foveolata Wall. Except for quercetin (10), the other ten constituents were isolated from F. foveolata for the first time. In addition, one of the two components in mixture 5 is a new compound identified as (1E,22E)-1,22-docosanediol diferulate (5a). All nine isolated compounds, plus the mixture of 5a and 5b known as 5, exhibited a low or no activity against acetylcholinesterase. However, and interestingly, the stilbenes 1-4 showed a high inhibition towards butyrylcholinesterase.
CONCLUSIONS:
Gnetol (4) had the lowest IC(50) value of 1.3μM towards butyrylcholinesterase and showed a reversible and competitive inhibition in the kinetic study.