Oxyresveratrol 3'-O-beta-D-glucopyranoside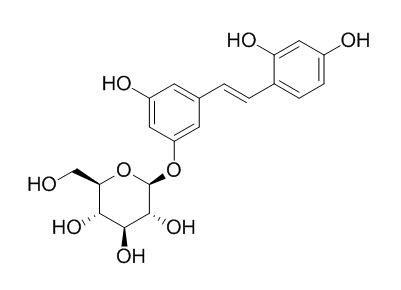 Oxyresveratrol-3'-O-beta-D-glucopyranoside shows tyrosinase inhibitory activity, it may be a potential candidate as skin-whitening agents without posing any serious side effects.
Inquire / Order: manager@chemfaces.com
Technical Inquiries: service@chemfaces.com
Tel: +86-27-84237783
Fax: +86-27-84254680

Address:
1 Building, No. 83, CheCheng Rd., Wuhan Economic and Technological Development Zone, Wuhan, Hubei 430056, PRC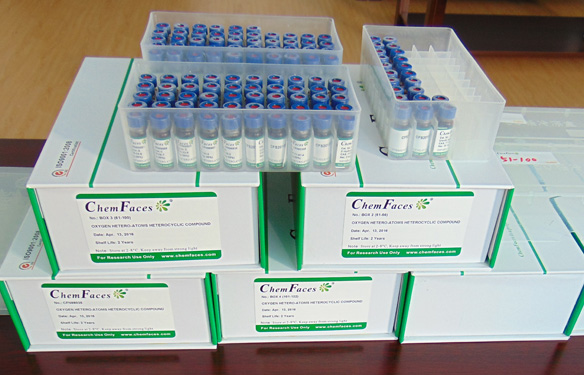 Providing storage is as stated on the product vial and the vial is kept tightly sealed, the product can be stored for up to
24 months(2-8C)
.
Wherever possible, you should prepare and use solutions on the same day. However, if you need to make up stock solutions in advance, we recommend that you store the solution as aliquots in tightly sealed vials at -20C. Generally, these will be useable for up to two weeks. Before use, and prior to opening the vial we recommend that you allow your product to equilibrate to room temperature for at least 1 hour.
Need more advice on solubility, usage and handling? Please email to: service@chemfaces.com
The packaging of the product may have turned upside down during transportation, resulting in the natural compounds adhering to the neck or cap of the vial. take the vial out of its packaging and gently shake to let the compounds fall to the bottom of the vial. for liquid products, centrifuge at 200-500 RPM to gather the liquid at the bottom of the vial. try to avoid loss or contamination during handling.
Asian J Beauty Cosmetol2016, 14(3):249-257
J Nat Med.2017, 71(2):380-388
Drug Test Anal.2018, 10(10):1579-1589
Clin Exp Pharmacol Physiol.2015, 42(11):1189-97
Pest Manag Sci.2019, 75(9):2530-2541
New Journal of Chemistry2019, 43:12538-12547
Hum Exp Toxicol.2017, 36(11):1169-1176
Molecules.2015, 20(10):19172-88
International J of Green Pharmacy2019, 13(3)
Cardiovasc Toxicol.2019, 19(4):297-305
J. Agric. Food Chem.,2010,12;58(9):5368-73.
Tyrosinase inhibitory constituents from the roots of Morus nigra: a structure-activity relationship study.[Pubmed:
20297841
]
The phytochemical profiles of Morus nigra roots and twigs were compared by HPLC with those of the old and young twigs of Morus alba which are known to contain oxyresveratrol and mulberroside A as major components. It was found that M. nigra root extract contains some unknown natural products with potential tyrosinase inhibitory activity.
METHODS AND RESULTS:
The extract (95% ethanol) of the roots of M. nigra was further investigated in this study. One new compound, 5'-geranyl-5,7,2',4'-tetrahydroxyflavone, and twenty-eight known phenolic compounds were isolated. Their structures were identified by mass spectrometry and NMR spectroscopy. Nine compounds, 5'-geranyl-5,7,2',4'-tetrahydroxyflavone, steppogenin-7-O-beta-D-glucoside, 2,4,2',4'-tetrahydroxychalcone, moracin N, kuwanon H, mulberrofuran G, morachalcone A, Oxyresveratrol 3'-O-beta-D-glucopyranoside and oxyresveratrol-2-O-beta-D-glucopyranoside, showed better tyrosinase inhibitory activities than kojic acid.
CONCLUSIONS:
It was noteworthy that the IC(50) values of 2,4,2',4'-tetrahydroxychalcone and morachalcone A were 757-fold and 328-fold lower than that of kojic acid, respectively, suggesting a great potential for their development as effective natural tyrosinase inhibitors.