(-)-Gallocatechin gallate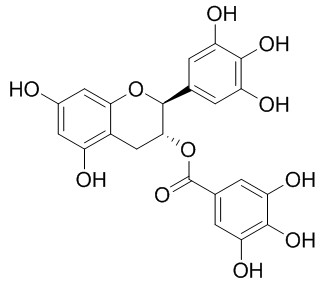 (-)-Gallocatechin gallate has cancer-preventive activities, it can precipitate cholesterol, decreasee osteoclastogenesis at 20 microM.
Inquire / Order: manager@chemfaces.com
Technical Inquiries: service@chemfaces.com
Tel: +86-27-84237783
Fax: +86-27-84254680

Address:
1 Building, No. 83, CheCheng Rd., Wuhan Economic and Technological Development Zone, Wuhan, Hubei 430056, PRC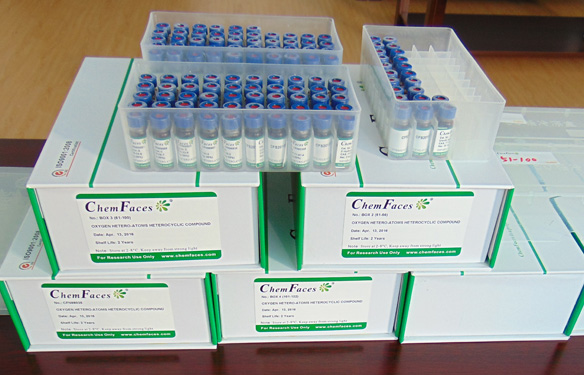 Providing storage is as stated on the product vial and the vial is kept tightly sealed, the product can be stored for up to
24 months(2-8C)
.
Wherever possible, you should prepare and use solutions on the same day. However, if you need to make up stock solutions in advance, we recommend that you store the solution as aliquots in tightly sealed vials at -20C. Generally, these will be useable for up to two weeks. Before use, and prior to opening the vial we recommend that you allow your product to equilibrate to room temperature for at least 1 hour.
Need more advice on solubility, usage and handling? Please email to: service@chemfaces.com
The packaging of the product may have turned upside down during transportation, resulting in the natural compounds adhering to the neck or cap of the vial. take the vial out of its packaging and gently shake to let the compounds fall to the bottom of the vial. for liquid products, centrifuge at 200-500 RPM to gather the liquid at the bottom of the vial. try to avoid loss or contamination during handling.
Biochem Biophys Res Commun.2018, 505(1):194-200
Academic J of Second Military Medical University2018, 39(11)
J Nat Med.2020, 74(1):65-75
Process Biochemistry2019, 85:106-115
Scientific World Journal.2014, 2014:654193
Molecules.2017, 22(3)
Pak J Pharm Sci.2019, 32(6)
Wageningen University & Research2018, January 2018
Sci Rep.2019, 9:19059
Food Chem.2019, 278:683-691
J Agric Food Chem. 2009 Aug 26;57(16):7293-7.
Effects of tea catechins, epigallocatechin, gallocatechin, and gallocatechin gallate, on bone metabolism.[Pubmed:
19653629
]

METHODS AND RESULTS:
In this study, three tea catechins, epigallocatechin (EGC), gallocatechin (GC), and (-)-Gallocatechin gallate (GCG), were investigated for their effects on bone metabolism. The effects of the tea catechins on bone formation were evaluated using cultured rat osteoblast-like osteosarcoma cell line UMR-106. EGC stimulated alkaline phosphatase activity significantly at concentrations of 10 and 20 microM. The amount of mineralization also increased significantly with EGC. On another cell culture platform, EGC significantly inhibited osteoclast formations from RAW 264.7 cells upon receptor activation of nuclear factor-kappaB ligand induction on the fourth day of treatment, at a concentration of 10 microM. EGC also dose-dependently inhibited the mRNA expression of tatrate-resistant acid phosphatase. GC and GCG could decrease osteoclastogenesis at 20 microM.
CONCLUSIONS:
The present study illustrated that the tea catechins, EGC in particular, had positive effects on bone metabolism through a double process of promoting osteoblastic activity and inhibiting osteoclast differentiations.
J Agric Food Chem. 2003 Dec 3;51(25):7303-7.
Heat-epimerized tea catechins rich in gallocatechin gallate and catechin gallate are more effective to inhibit cholesterol absorption than tea catechins rich in epigallocatechin gallate and epicatechin gallate.[Pubmed:
14640575
]
It has been known that tea catechins, (-)-epicatechin (1), (-)-epigallocatechin (2), (-)-epicatechin gallate (3), and (-)-epigallocatechin gallate (4) are epimerized to(-)-catechin (5), (-)-gallocatechin (6), (-)-catechin gallate (7), and (-)-Gallocatechin gallate (8), respectively, during retort pasteurization. We previously reported that tea catechins, mainly composed of 3 and 4, effectively inhibit cholesterol absorption in rats.
METHODS AND RESULTS:
In this study, the effect of heat-epimerized catechins on cholesterol absorption was compared with tea catechins. Both tea catechins and heat-epimerized catechins lowered lymphatic recovery of cholesterol in rats cannulated in the thoracic duct and epimerized catechins were more effective than tea catechins. The effect of purified catechins on micellar solubility of cholesterol was examined in an in vitro study. The addition of gallate esters of catechins reduced micellar solubility of cholesterol by precipitating cholesterol from bile salt micelles. Compounds 7 and 8 were more effective to precipitate cholesterol than 3 and 4, respectively.
CONCLUSIONS:
These observations strongly suggest that heat-epimerized catechins may be more hypocholesterolemic than tea catechins.
Biochim Biophys Acta. 1999 Oct 18;1472(1-2):42-50.
Epigallocatechin gallate and gallocatechin gallate in green tea catechins inhibit extracellular release of Vero toxin from enterohemorrhagic Escherichia coli O157:H7.[Pubmed:
10572924
]
We studied the effects of six catechin derivatives (catechin, epigallocatechin, epicatechin, epicatechin gallate, epigallocatechin gallate (EGCg) and (-)-Gallocatechin gallate(GCg)) in green tea on the production and extracellular release of Vero toxins (VTs) from enterohemorrhagic Escherichia coli (EHEC) cultured at 37 degrees C for 24 h. EGCg and GCg in the culture medium markedly inhibited extracellular VTs release from EHEC cells into the culture supernatant fluid at concentrations of 0.05 mg/ml or higher, as estimated by both the reversed passive latex agglutination assay and cytotoxic assay using Vero cells. Production and extracellular release of maltose binding protein, a periplasmic protein, into the culture supernatant were also inhibited by EGCg and (-)-Gallocatechin gallate, indicating that their inhibitory effect on release from periplasm into the outer milieu is not specific to VTs, but general to the proteins accumulated in EHEC periplasm.