Militarine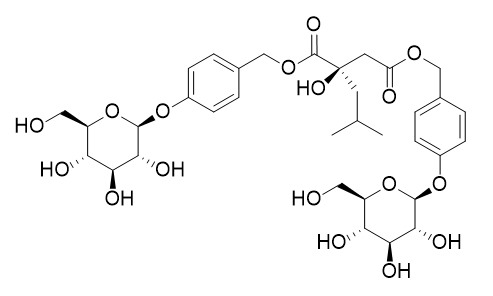 Militarine has plant inhibitory effect against the growth of Italian ryegrass, timothy, and B. striata.
Inquire / Order: manager@chemfaces.com
Technical Inquiries: service@chemfaces.com
Tel: +86-27-84237783
Fax: +86-27-84254680

Address:
1 Building, No. 83, CheCheng Rd., Wuhan Economic and Technological Development Zone, Wuhan, Hubei 430056, PRC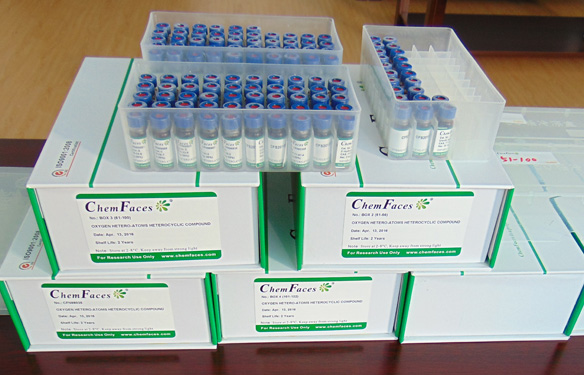 Providing storage is as stated on the product vial and the vial is kept tightly sealed, the product can be stored for up to
24 months(2-8C)
.
Wherever possible, you should prepare and use solutions on the same day. However, if you need to make up stock solutions in advance, we recommend that you store the solution as aliquots in tightly sealed vials at -20C. Generally, these will be useable for up to two weeks. Before use, and prior to opening the vial we recommend that you allow your product to equilibrate to room temperature for at least 1 hour.
Need more advice on solubility, usage and handling? Please email to: service@chemfaces.com
The packaging of the product may have turned upside down during transportation, resulting in the natural compounds adhering to the neck or cap of the vial. take the vial out of its packaging and gently shake to let the compounds fall to the bottom of the vial. for liquid products, centrifuge at 200-500 RPM to gather the liquid at the bottom of the vial. try to avoid loss or contamination during handling.
J Chromatogr Sci.2020, 58(6):485-493.
Molecules.2020, 25(23):5636.
Sci Rep.2018, 8(1)
Food Res Int.2018, 106:909-919
HIV Med.2021, 22(8):690-704.
BMC Complement Med Ther. 2020, 20(1):91.
Molecules.2015, 20(11):20014-30
PLoS One.2017, 12(3):e0173585
Cancers (Basel).2021, 13(9):2223.
Exp Mol Med.2020, 52(4):629-642.
Zhongguo Zhong Yao Za Zhi. 2013 Dec;38(24):4347-50.
Determination of dactylorhin A and militarine in three varieties of Cremastrae Pseudobulbus/Pleiones Pseudobulbus by HPLC[Pubmed:
24791543
]
To establish an HPLC method for determination of dactylorhin A and Militarine in Cremastrae Pseudobulbus/Pleiones Pseudobulbus.
METHODS AND RESULTS:
The analysis was achieved on an Alltech Prevail C18 column (4. 6 mm x 250 mm, 5 microm) using a mobile phase of acetonitrile (A), water (B) gradient elution in a total run time of 35 min (0 min, 20:80; 30 min, 55:45; 35 min, 55:45) and a diode array detector was set at 224 nm. The flow rate was 0.8 mL x min(-1). The assay displayed good linearity over the concentration range of 0.257-9.95 microg (r = 0.999 8), and 0.128-10.27 microg (r = 0.999 9), respectively. The average recoveries (n = 9) were 94.70% and 102.8% for dactylorhin A and Militarine, respectively.
CONCLUSIONS:
The method is accurate, quick, simple and reproducibility. It can be used for the quality control of Pleione bulbocodioides and Pleione yunnanensis.