Licoisoflavanone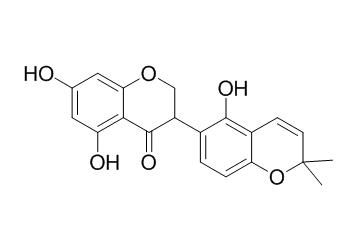 Licoisoflavanone is a natural product from Licorice.
Inquire / Order: manager@chemfaces.com
Technical Inquiries: service@chemfaces.com
Tel: +86-27-84237783
Fax: +86-27-84254680

Address:
1 Building, No. 83, CheCheng Rd., Wuhan Economic and Technological Development Zone, Wuhan, Hubei 430056, PRC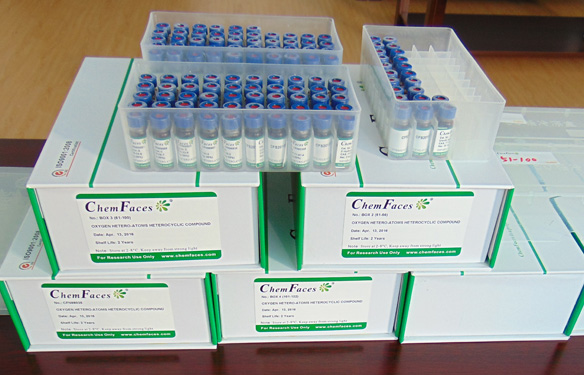 Providing storage is as stated on the product vial and the vial is kept tightly sealed, the product can be stored for up to
24 months(2-8C)
.
Wherever possible, you should prepare and use solutions on the same day. However, if you need to make up stock solutions in advance, we recommend that you store the solution as aliquots in tightly sealed vials at -20C. Generally, these will be useable for up to two weeks. Before use, and prior to opening the vial we recommend that you allow your product to equilibrate to room temperature for at least 1 hour.
Need more advice on solubility, usage and handling? Please email to: service@chemfaces.com
The packaging of the product may have turned upside down during transportation, resulting in the natural compounds adhering to the neck or cap of the vial. take the vial out of its packaging and gently shake to let the compounds fall to the bottom of the vial. for liquid products, centrifuge at 200-500 RPM to gather the liquid at the bottom of the vial. try to avoid loss or contamination during handling.
Vojnosanit Pregl2016, 75(00):391-391
J Drug Delivery Science and Tech.2022, 67:102957.
Mol Cells.2015, 38(9):765-72
Food Science and Biotechnology2023, 2023:1007
Planta Med.2019, 85(9-10):766-773
Clin Transl Oncol.2019, 10.1007
Academic J of Second Military Medical University2019, 40(1)
Vietnam Journal of Science2022, 64(2), 69-75.
Asian Journal of Chemistry2018, 30(12):2699-2703
ACS Nano.2018, 12(4):3385-3396
J Pharm Biomed Anal. 2015 Nov 10;115:515-22.
Metabolites identification of bioactive licorice compounds in rats.[Pubmed:
26311472
]
Licorice (Glycyrrhiza uralensis Fisch.) is one of the most popular herbal medicines worldwide. This study aims to identify the metabolites of seven representative bioactive licorice compounds in rats.
METHODS AND RESULTS:
These compounds include 22β-acetoxyl glycyrrhizin (1), licoflavonol (2), licoricidin (3), Licoisoflavanone (4), isoglycycoumarin (5), semilicoisoflavone B (6), and 3-methoxy-9-hydroxy-pterocarpan (7). After oral administration of 250mg/kg of 1 or 40mg/kg of 2-7 to rats, a total of 16, 43 and 31 metabolites were detected in the plasma, urine and fecal samples, respectively. The metabolites were characterized by HPLC/DAD/ESI-MS(n) and LC/IT-TOF-MS analyses. Particularly, two metabolites of 1 were unambiguously identified by comparing with reference standards, and 22β-acetoxyl glycyrrhizin-6″-methyl ester (1-M2) is a new compound. Compound 1 could be readily hydrolyzed to eliminate the glucuronic acid residue.
CONCLUSIONS:
The phenolic compounds (4-7) mainly undertook phase II metabolism (glucuronidation or sulfation). Most phenolic compounds with an isoprenyl group (chain or cyclized, 2-5) could also undertake hydroxylation reaction. This is the first study on in vivo metabolism of these licorice compounds.
Molecules. 2009 Oct 9;14(10):3942-51.
Separation, characterization and dose-effect relationship of the PPARgamma-activating bio-active constituents in the Chinese herb formulation 'San-Ao decoction'.[Pubmed:
19924040
]
San-ao decoction (SAD), comprising Herba Ephedrae, Radix et Rhizoma Glycyrrhizae and Seneb Armeniacae Amarum, is one of the most popular traditional Chinese medicine (TCM) formulae for asthma. Peroxisome proliferator-activated receptors (PPARs) areey regulators of lipid and glucose metabolism and have become important therapeutic targets for various deseases, PPARgamma activation might exhibit anti-inflammatory properties in different chronic inflammatory processes.
METHODS AND RESULTS:
The EtOAc fraction of SAD showed a significant effect on PPARgamma activation. A simple and rapid method has been established for separation and characterization of the main compounds in the PPARgamma-activating fraction of SAD by ultra-fast HPLC coupled with quadropole time-of-flight mass pectrometry (UPLC-Q-TOF/MS). A total of 10 compounds were identified in the activating fraction of SAD, including amygdalin (1), liquiritin (2), 6'-acetyliquiritin (3), liquiritigenin (4), isoliquiritigenin (5), formononetin (6), Licoisoflavanone (7), glycycoumarin (8), glycyrol (9) and uercetin (10). The results also characterized formononetin as a predominant component in this fraction.
CONCLUSIONS:
The dose-effect relationship comparison study of formononetin and the EtOAc fraction of SAD by adding formononetin was performed, the results suggested that formononetin was the major component of the EtOAc fraction of SAD responsible for activating PPARgamma, and the method will possibly be applied to study the complex biological active constituents of other TCMs.