Desoxyrhapontigenin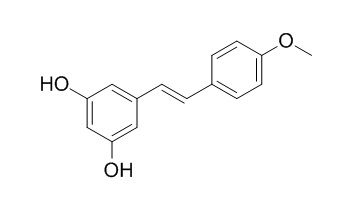 Desoxyrhapontigenin has significant hypoglycemic, anti-inflammatory, and antioxidant effects, it shows inhibition of iNOS and COX-2 expression via the down-regulation of the MAPK signaling pathways and the inhibition of NF-κB and Akt activation. Desoxyrhapontigenin up-regulates Nrf2-mediated heme oxygenase-1(HO-1) expression in macrophages and inflammatory lung injury, and HO-1 is an important anti-inflammatory, antioxidative and cytoprotective enzyme. Desoxyrhapontigenin shows significant monoamine oxidase inhibitory activities with the IC50 value of 11.5 ± 1.1 uM.
Inquire / Order: manager@chemfaces.com
Technical Inquiries: service@chemfaces.com
Tel: +86-27-84237783
Fax: +86-27-84254680

Address:
1 Building, No. 83, CheCheng Rd., Wuhan Economic and Technological Development Zone, Wuhan, Hubei 430056, PRC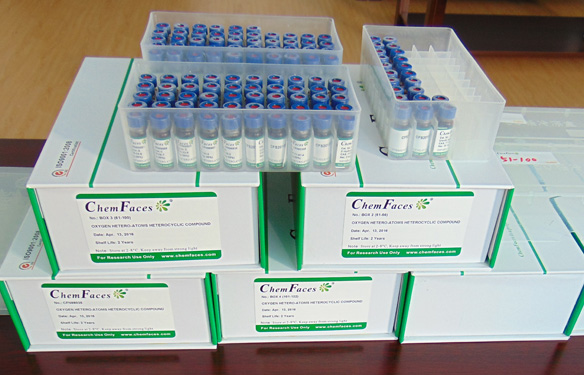 Providing storage is as stated on the product vial and the vial is kept tightly sealed, the product can be stored for up to
24 months(2-8C)
.
Wherever possible, you should prepare and use solutions on the same day. However, if you need to make up stock solutions in advance, we recommend that you store the solution as aliquots in tightly sealed vials at -20C. Generally, these will be useable for up to two weeks. Before use, and prior to opening the vial we recommend that you allow your product to equilibrate to room temperature for at least 1 hour.
Need more advice on solubility, usage and handling? Please email to: service@chemfaces.com
The packaging of the product may have turned upside down during transportation, resulting in the natural compounds adhering to the neck or cap of the vial. take the vial out of its packaging and gently shake to let the compounds fall to the bottom of the vial. for liquid products, centrifuge at 200-500 RPM to gather the liquid at the bottom of the vial. try to avoid loss or contamination during handling.
Front Microbiol.2022, 13:835463.
Food Funct.2020, 11(2):1322-1333.
Nutrients.2020, 12(5):1242.
Anat Rec (Hoboken).2021, 304(2):323-332.
Nutrients.2021, 13(3):978.
Evid Based Complement Alternat Med.2021, 2021:8850744.
J Ethnopharmacol.2018, 210:88-94
Nutrients2020, 12(2):488
British Jou. Med.&Med. Research2014, 1802-1811
Biol Pharm Bull.2018, 41(11):1645-1651
Redox Biol. 2014 Feb 18;2:504-12.
Desoxyrhapontigenin up-regulates Nrf2-mediated heme oxygenase-1 expression in macrophages and inflammatory lung injury.[Pubmed:
24624340
]
Heme oxygenase-1 (HO-1) is an important anti-inflammatory, antioxidative and cytoprotective enzyme that is regulated by the activation of the major transcription factor, nuclear factor (erythroid-derived 2)-like 2 (Nrf2).
METHODS AND RESULTS:
In the present study, six stilbene derivatives isolated from Rheum undulatum L. were assessed for their antioxidative potential. In the tert-butylhydroperoxide (t-BHP)-induced RAW 264.7 macrophage cell line, Desoxyrhapontigenin was the most potent component that reduced intracellular reactive oxygen species (ROS) and peroxynitrite. In response to Desoxyrhapontigenin, the mRNA expression levels of antioxidant enzymes were up-regulated. An electrophoretic mobility shift assay (EMSA) confirmed that Desoxyrhapontigenin promoted the DNA binding of Nrf2 and increased the expression of antioxidant proteins and enzymes regulated by Nrf2. Further investigation utilizing specific inhibitors of Akt, p38, JNK and ERK demonstrated that the phosphatidylinositol 3-kinase (PI3K)/Akt pathway mediates HO-1 expression. Moreover, the increase in Nrf2 expression mediated by treatment with Desoxyrhapontigenin was reversed by Nrf2 or Akt gene knock-down. In the LPS-induced in vivo lung inflammation model, pretreatment with Desoxyrhapontigenin markedly ameliorated LPS-induced lung inflammation and histological changes. Immunohistochemical analysis of Nrf2, HO-1 and p65 was conducted and confirmed that treatment with Desoxyrhapontigenin induced Nrf2 and HO-1 expression but reduced p65 expression.
CONCLUSIONS:
These findings suggest that Desoxyrhapontigenin may be a potential therapeutic candidate as an antioxidant or an anti-inflammatory agent.
Nat Prod Res. 2013;27(10):946-9.
Activity-guided isolation of antioxidants from the roots of Rheum emodi.[Pubmed:
22568567
]
An activity-guided isolation and purification process was used to identify the DPPH free radical scavenging components of Rheum emodi. The activity-guided isolation revealed that eugenol, gallic acid, quercetin, rutin, epicatechin, Desoxyrhapontigenin, rhapontigenin and mesopsin are the major phenolic compounds responsible for the antioxidant activity of the roots of R. emodi.
Pharm Biol. 2010 Jun;48(6):703-7.
Hypoglycemic and antioxidant effects of Rheum franzenbachii extract in streptozotocin-induced diabetic rats.[Pubmed:
20645745
]
The hypoglycemic and antioxidant effects of ethanol extract from the roots and rhizomes of Rheum franzenbachii Münt. (Polygonaceae) were evaluated in streptozotocin-induced diabetic rats.
METHODS AND RESULTS:
Effects of repeated oral administration of ethanol extract (125, 250, and 500 mg/kg body weight) on the plasma glucose level (PGL), oral glucose tolerance test (OGTT), malondialdehyde (MDA), reduced glutathione (GSH), superoxide dismutase (SOD), and catalase (CAT) in diabetic rats were examined. It was found that administration of ethanol extract (125, 250, and 500 mg/kg) produced a significant fall in PGL, AUC, and MDA, while elevating the GSH levels and SOD and CAT activities in diabetic rats. The dose of 500 mg/kg was identified as the most effective dose, with a decrease of 65.8 and 44.0% in PGL and MDA, and elevation of 72.6, 75.0, and 51.5% in GSH level and SOD and CAT activities, respectively, after 14 days of ERF administration in diabetic rats. Moreover, the OGTT studies showed a maximum reduction in PGL and AUC. From the active extract of Rheum franzenbachii, two stilbenes, Desoxyrhapontigenin (1) and desoxyrhaponticin (2), were isolated as major constituents.
CONCLUSIONS:
The present study concludes that the ethanol extract of roots and rhizomes from Rheum franzenbachii had significant hypoglycemic and antioxidant effects.
Iran J Pharm Res. 2016 Fall;15(4):885-892.
Inhibition of Monoamine Oxidase by Stilbenes from Rheum palmatum.[Pubmed:
28243286
]
Seven stilbenes and one catechin were bioactivity-guidedly isolated from the rhizomes of Rheum palmatem.
METHODS AND RESULTS:
Their structures were identified as piceatannol (1), resveratrol (2), piceid (3), rhapontigenin (4), piceatannol-3´-O-β-D-glucopyranoside (5), rhaponticin (6), catechin (7) and Desoxyrhapontigenin (8). Anti-monoamine oxidase (MAO) activities of compounds 1-8 were tested. Compounds 1 and 8 showed significant MAO inhibitory activities with IC50 values 16.4 ± 1.5 μM and 11.5 ± 1.1, respectively, when the IC50 value of iproniazid as a standard was 6.5 ± 0.5 μM. The selectivity of compounds 1-8 against MAO-A and MAO-B were also evaluated. The results showed that compounds 4˴6˴8 preferred to inhibit MAO-A rather than MAO-B with selectivity values ([IC50 of MAO-B]/ [IC50 of MAO-A]) of 4.74, 10.01 and 9.42, respectively.
CONCLUSIONS:
The preliminary structure-activity relationships (SARs) of these compounds were discussed and the molecular modeling was also performed to explore the binding mode of inhibitors at the active site of MAO-A and MAO-B.
Int Immunopharmacol. 2014 Jan;18(1):182-90.
Desoxyrhapontigenin, a potent anti-inflammatory phytochemical, inhibits LPS-induced inflammatory responses via suppressing NF-κB and MAPK pathways in RAW 264.7 cells.[Pubmed:
24295651
]
This study investigates the anti-inflammatory effects of a stilbene compound, Desoxyrhapontigenin, which was isolated from Rheum undulatum.
METHODS AND RESULTS:
To determine the anti-inflammatory effects of this compound, lipopolysaccharide (LPS)-induced RAW 264.7 macrophages were treated with different concentrations of six stilbene derivatives. The results indicated that compared with other stilbene compounds, Desoxyrhapontigenin (at 10, 30 and 50μM concentrations) significantly inhibited nitric oxide (NO) production, nuclear factor kappa B (NF-κB) activation, the protein expression of cyclooxygenase-2 (COX-2) and inducible nitric oxide synthase (iNOS) expression. Therefore, the anti-inflammatory mechanism of Desoxyrhapontigenin was investigated in detail. The results of this investigation demonstrated that Desoxyrhapontigenin suppressed not only LPS-stimulated pro-inflammatory cytokine secretions, including the secretions of tumor necrosis factor alpha (TNF-α) and interleukin-6 (IL-6), but also PGE2 release. As assayed by electrophoretic mobility shift assays (EMSAs), Desoxyrhapontigenin also produced the dose-dependent inhibition of the LPS-induced activation of NF-κB and AP-1. Moreover, Desoxyrhapontigenin inhibited the protein expression of myeloid differentiation primary response gene 88 (MyD88), IκB kinase (IKK) phosphorylation and the degradation of IκBα. Activations of p-JNK1 and p-Akt were also significantly inhibited, and phosphorylation of p38 and ERK was down-regulated. A further study revealed that Desoxyrhapontigenin (5 and 25mg/kg, i.p.) reduced paw swelling in carrageenan-induced acute inflammation model in vivo.
CONCLUSIONS:
On the whole, these results indicate that Desoxyrhapontigenin showed anti-inflammatory properties by the inhibition of iNOS and COX-2 expression via the down-regulation of the MAPK signaling pathways and the inhibition of NF-κB and Akt activation.