Dihydroresveratrol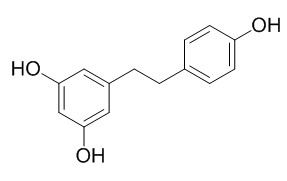 Dihydroresveratrol has antiproliferative activity against human prostate cancer PC3 cell line in vitro, it can ameliorate acute pancreatitis-associated lung injury via an inhibitory modulation of pro-inflammatory response, which is associated with a suppression of the NF-κB signaling pathway.
Inquire / Order: manager@chemfaces.com
Technical Inquiries: service@chemfaces.com
Tel: +86-27-84237783
Fax: +86-27-84254680

Address:
1 Building, No. 83, CheCheng Rd., Wuhan Economic and Technological Development Zone, Wuhan, Hubei 430056, PRC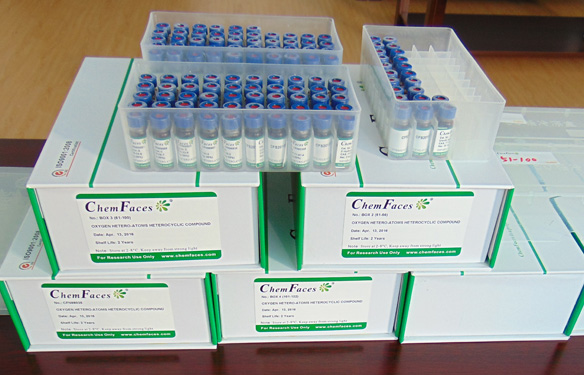 Providing storage is as stated on the product vial and the vial is kept tightly sealed, the product can be stored for up to
24 months(2-8C)
.
Wherever possible, you should prepare and use solutions on the same day. However, if you need to make up stock solutions in advance, we recommend that you store the solution as aliquots in tightly sealed vials at -20C. Generally, these will be useable for up to two weeks. Before use, and prior to opening the vial we recommend that you allow your product to equilibrate to room temperature for at least 1 hour.
Need more advice on solubility, usage and handling? Please email to: service@chemfaces.com
The packaging of the product may have turned upside down during transportation, resulting in the natural compounds adhering to the neck or cap of the vial. take the vial out of its packaging and gently shake to let the compounds fall to the bottom of the vial. for liquid products, centrifuge at 200-500 RPM to gather the liquid at the bottom of the vial. try to avoid loss or contamination during handling.
Phytochem Anal.2022, doi: 10.1002
Kor. J. Herbol.2019, 34(2):59-66
Korean J Acupunct2020, 37:104-121
Am J Chin Med.2016, 44(6):1255-1271
Environ Toxicol.2021, 36(9):1848-1856.
J Nat Med.2017, 71(4):745-756
ACS Nano.2018, 12(4):3385-3396
J Food Biochem.2019, 43(9):e12970
J Nat Sc Biol Med2019, 10(2):149-156
J Med Food.2020, 23(6):633-640.
Age (Dordr). 2011 Dec;33(4):555-64.
Resveratrol, but not dihydroresveratrol, induces premature senescence in primary human fibroblasts.[Pubmed:
21318333
]
Resveratrol, trans-3,5,4'-trihydroxystilbene, is a polyphenolic compound which has been reported to mimic the gene expression patterns seen in whole animals undergoing dietary restriction. The mechanism of action of resveratrol remains poorly understood, but modulation of both cellular proliferation and apoptosis has been proposed as important routes by which the molecule may exert its effects. This study reports the effects of both resveratrol and Dihydroresveratrol (a primary in vivo metabolite) on the proliferative capacity of human primary fibroblasts.
METHODS AND RESULTS:
No generalised reduction in the growth fraction was observed when fibroblasts derived from three different tissues were treated with resveratrol at concentrations of 10 μm or less. However, concentrations above 25 μm produced a dose-dependent reduction in proliferation. This loss of the growth fraction was paralleled by an increase in the senescent fraction as determined by staining for senescence associated beta galactosidase and dose recovery studies conducted over a 7-day period. Entry into senescence in response to treatment with resveratrol could be blocked by a 30-min preincubation with the p38 MAP kinase inhibitor SB203580. No effects on proliferation were observed when cells were treated with Dihydroresveratrol at concentrations of up to 100 μm.
Sci Rep. 2016 Mar 14;6:22859.
Inhibition of pancreatic oxidative damage by stilbene derivative dihydro-resveratrol: implication for treatment of acute pancreatitis.[Pubmed:
26971398
]
Trans-resveratrol is a natural stilbenoid possessing multifarious pharmacological benefits; however, when orally consumed, it is rapidly metabolised by colonic microflora and converted to Dihydroresveratrol. Thus, this microbial metabolite is of great therapeutic relevance.
METHODS AND RESULTS:
In the present study, upon the oral administration of Dihydroresveratrol (10-50 mg/kg), the severity of acute pancreatitis in the cerulein-treated rats was significantly ameliorated as evidenced by decreased α-amylase activities in the plasma and lessened oedema formation in the pancreatic parenchyma. In addition, the generation of intracellular reactive oxidative products, including malondialdehyde and protein carbonyls, was accordingly reduced, so as the production of pro-inflammatory cytokines. While inhibiting the activities of NADPH oxidase and myeloperoxidase, the depletion of glutathione was considerably restored. Importantly, the attenuation of pancreatic oxidative damage by Dihydroresveratrol was associated with a down-regulation of the nuclear factor-kappaB and phosphatidylinositol 3'-kinase-serine/threonine kinase signalling pathways. Furthermore, we demonstrated that the solubility of Dihydroresveratrol was at least 5 times higher than trans-resveratrol whilst exhibiting a much lower cytotoxicity.
CONCLUSIONS:
Collectively, the current findings accentuate new mechanistic insight of Dihydroresveratrol in pancreatic oxidative damage, and advocate its therapeutic potential for the management of acute pancreatitis, particularly for patients unresponsive to trans-resveratrol due to the lack of proper microbial strains.
Phytother Res. 2016 Apr;30(4):663-70.
Dihydro-Resveratrol Ameliorates Lung Injury in Rats with Cerulein-Induced Acute Pancreatitis.[Pubmed:
26833708
]
Acute pancreatitis is an inflammatory process originated in the pancreas; however, it often leads to systemic complications that affect distant organs. Acute respiratory distress syndrome is indeed the predominant cause of death in patients with severe acute pancreatitis.
METHODS AND RESULTS:
In this study, we aimed to delineate the ameliorative effect of Dihydroresveratrol, a prominent analog of trans-resveratrol, against acute pancreatitis-associated lung injury and the underlying molecular actions. Acute pancreatitis was induced in rats with repetitive injections of cerulein (50 μg/kg/h) and a shot of lipopolysaccharide (7.5 mg/kg). By means of histological examination and biochemical assays, the severity of lung injury was assessed in the aspects of tissue damages, myeloperoxidase activity, and levels of pro-inflammatory cytokines. When treated with Dihydroresveratrol, pulmonary architectural distortion, hemorrhage, interstitial edema, and alveolar thickening were significantly reduced in rats with acute pancreatitis. In addition, the production of pro-inflammatory cytokines and the activity of myeloperoxidase in pulmonary tissues were notably repressed. Importantly, nuclear factor-kappaB (NF-κB) activation was attenuated.
CONCLUSIONS:
This study is the first to report the oral administration of Dihydroresveratrol ameliorated acute pancreatitis-associated lung injury via an inhibitory modulation of pro-inflammatory response, which was associated with a suppression of the NF-κB signaling pathway.
Chem Biodivers. 2009 Aug;6(8):1193-201.
Biocatalytic production of acyclic bis[bibenzyls] from dihydroresveratrol by crude Momordica charantia peroxidase.[Pubmed:
19697337
]

METHODS AND RESULTS:
Biotransformation of Dihydroresveratrol by crude Momordica charantia peroxidase provided six new acyclic bis[bibenzyls] 1-6. Their structures were established on the basis of NMR and MS analyses as C-C, C-O-C, and C-CH(2)-C dimers of Dihydroresveratrol.
CONCLUSIONS:
Compounds 1-6 were tested for antiproliferative activity against human prostate cancer PC3 cell line in vitro, and 2 and 6 were found to be more potent than the parent compound.