Dehydropachymic acid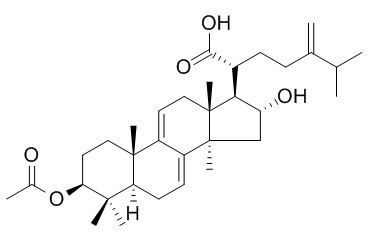 Dehydropachymic acid shows antiinflammatory activity.
Inquire / Order: manager@chemfaces.com
Technical Inquiries: service@chemfaces.com
Tel: +86-27-84237783
Fax: +86-27-84254680

Address:
1 Building, No. 83, CheCheng Rd., Wuhan Economic and Technological Development Zone, Wuhan, Hubei 430056, PRC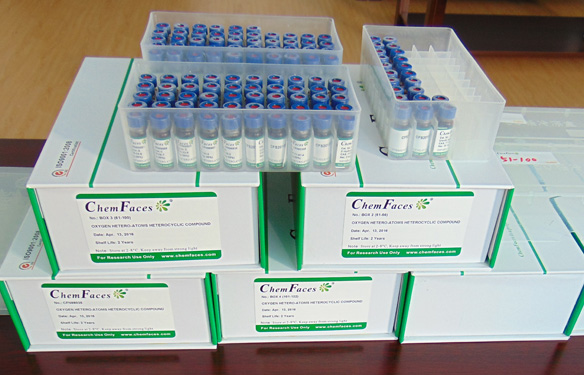 Providing storage is as stated on the product vial and the vial is kept tightly sealed, the product can be stored for up to
24 months(2-8C)
.
Wherever possible, you should prepare and use solutions on the same day. However, if you need to make up stock solutions in advance, we recommend that you store the solution as aliquots in tightly sealed vials at -20C. Generally, these will be useable for up to two weeks. Before use, and prior to opening the vial we recommend that you allow your product to equilibrate to room temperature for at least 1 hour.
Need more advice on solubility, usage and handling? Please email to: service@chemfaces.com
The packaging of the product may have turned upside down during transportation, resulting in the natural compounds adhering to the neck or cap of the vial. take the vial out of its packaging and gently shake to let the compounds fall to the bottom of the vial. for liquid products, centrifuge at 200-500 RPM to gather the liquid at the bottom of the vial. try to avoid loss or contamination during handling.
Int J Mol Sci.2019, 20(8):E1855
Chemistry of Plant Materials.2016, 33-46
Food Chem.2018, 262:78-85
J of Physics Conference Series2019, 1349(1)
Journal of Third Military Medical University2019, 41(2):110-115
New Zealand J. Forestry Sci.2014, 44:17
Korean Journal of Pharmacognosy2018, 49(1):76-83
Int J Mol Sci.2017, 18(5)
Asian J Beauty Cosmetol2019, 17(3):287-294
Phytomedicine.2019, 57:95-104
Int J Oncol. 2013 Jun;42(6):1869-74.
Triterpenes from Poria cocos suppress growth and invasiveness of pancreatic cancer cells through the downregulation of MMP-7.[Pubmed:
23588713
]
Poria cocos is a medicinal mushroom that is widely used in traditional Asian medicine.
METHODS AND RESULTS:
Here, we show that a characterized mixture of triterpenes extracted from P. cocos (PTE) and three purified triterpenes: pachymic acid (PA), Dehydropachymic acid (DPA) and polyporenic acid C (PPAC) suppress the proliferation of the human pancreatic cancer cell lines Panc-1, MiaPaca-2, AsPc-1 and BxPc-3. Moreover, the most effective compound, PA, only slightly affects the proliferation of HPDE-6 normal pancreatic duct epithelial cells. The anti-proliferative effects of PTE on BxPc-3 cells are mediated by the cell cycle arrest at G0/G1 phase. DNA microarray analysis demonstrated that PTE significantly downregulates the expression of KRAS and matrix metalloproteinase-7 (MMP-7) in BxPc-3 cells. In addition, PTE and PA suppress the invasive behavior of BxPc-3 cells. The inhibition of invasiveness by PTE and PA was associated with the reduction of MMP-7 at the protein level and the role of MMP-7 further confirmed by the gene silencing of MMP-7 which also suppressed the invasiveness of BxPc-3 cells.
CONCLUSIONS:
In conclusion, triterpenes from P. cocos demonstrate anticancer and anti-invasive effects on human pancreatic cancer cells and can be considered as new therapeutic agents in the treatment of pancreatic cancer.
Chem Biodivers. 2011 Nov;8(11):2135-43.
Triterpenes from the fungus Poria cocos and their inhibitory activity on nitric oxide production in mouse macrophages via blockade of activating protein-1 pathway.[Pubmed:
22083926
]
Two new triterpenes, 29-hydroxydehydrotumulosic acid (1) and 29-hydroxyDehydropachymic acid (2), together with six known compounds, Dehydropachymic acid (3), dehydrotumulosic acid (4), 29-hydroxypolyporenic acid C (5), polyporenic acid C (6), tumulosic acid (7), and pachymic acid (8), were isolated from the dried sclerotia of Poria cocos.
METHODS AND RESULTS:
In the in vitro bioassays, these isolated compounds reduced, in a dose-dependent manner, nitric oxide (NO) production from lipopolysaccharide (LPS)-induced RAW 264.7 cells, with compounds 5 and 6, the IC(50) values of which were 16.8±2.7 and 18.2±3.3 μM, respectively, exhibiting the greatest inhibition activity. Further Western blot analysis conducted on cells pre-treated with compounds 5 and 6, and luciferase assays on activator protein 1-dependent gene expression revealed that the inhibited NO release was attributed to the reduced expression of iNOs (=inducible NO synthase) enzymes, which might be regulated via the blockade of activator protein-1 signaling pathway.