Poricoic acid A(F)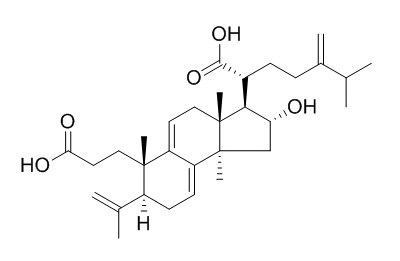 Poricoic acid A(F) shows anti-inflammatory activity. It is a potential whitening active ingredient, it exhibits good inhibitory effects on the activities of monophenolase and diphenolase in mushroom tyrosinase, as well as a certain inhibitory effect on tyrosinase in B16 cells.
Inquire / Order: manager@chemfaces.com
Technical Inquiries: service@chemfaces.com
Tel: +86-27-84237783
Fax: +86-27-84254680

Address:
1 Building, No. 83, CheCheng Rd., Wuhan Economic and Technological Development Zone, Wuhan, Hubei 430056, PRC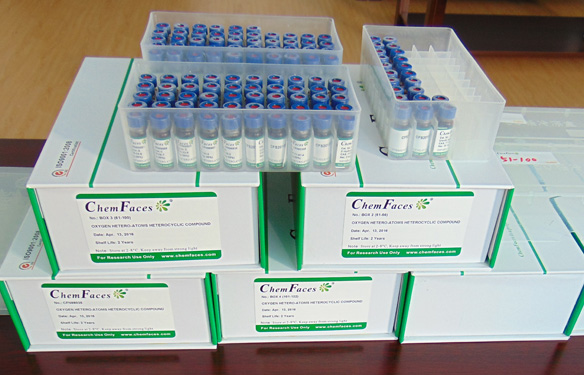 Providing storage is as stated on the product vial and the vial is kept tightly sealed, the product can be stored for up to
24 months(2-8C)
.
Wherever possible, you should prepare and use solutions on the same day. However, if you need to make up stock solutions in advance, we recommend that you store the solution as aliquots in tightly sealed vials at -20C. Generally, these will be useable for up to two weeks. Before use, and prior to opening the vial we recommend that you allow your product to equilibrate to room temperature for at least 1 hour.
Need more advice on solubility, usage and handling? Please email to: service@chemfaces.com
The packaging of the product may have turned upside down during transportation, resulting in the natural compounds adhering to the neck or cap of the vial. take the vial out of its packaging and gently shake to let the compounds fall to the bottom of the vial. for liquid products, centrifuge at 200-500 RPM to gather the liquid at the bottom of the vial. try to avoid loss or contamination during handling.
BMC Plant Biol.2020, 20(1):214.
Analytical methods2019, 11(6)
Neuropharmacology.2018, 131:68-82
Acta Physiologiae Plantarum2015, 37:1736
Research J. Pharm. and Tech.2020, 13(7):3059-3064.
Evid-Based Compl Alt2020, 7202519:13
Metabolites.2020, 10(12):497.
Food Science and Biotechnology2015, 2205-2212
BMC Complement Altern Med.2017, 17(1):384
Phytomedicine.2020, 79, 153351
Zhongcaoyao, 2017(9):328.
Tyrosinase Inhibitory Activity of Total Triterpenes and Poricoic Acid A Isolated from Poria cocos.[Reference:
WebLink
]
With the improvement of people's living standards, people's requests for beauty are increasing. Skin whitening and lightening have become the pursuit of many women, and whitening and removing freckles have become the focus of scientific research. At present, widely used whitening agents, such as kojic acid, vitamin C, and its derivatives, have shortcomings such as poor stability and retarded effect. Therefore, safer and more effective whitening products from herbs are urgently needed. To explore the possibility of triterpenes as whitening active substance, the effects of total triterpenes of Poria (TTP) and Poricoic acid A(F) (PAA) on mushroom tyrosinase activities and B16 cells were investigated, and their mechanisms on mushroom tyrosinase were also studied.
METHODS AND RESULTS:
Using arbutin and nicotinamide as reference substances, we determinated the inhibitory effects of TTP and PAA on mushroom tyrosinase and tyrosinase in B16 cells and then studied the inhibitory mechanism on mushroom tyrosinase. TTP and PAA exhibited good inhibitory effects on the activities of monophenolase and diphenolase in mushroom tyrosinase, as well as a certain inhibitory effect on tyrosinase in B16 cells.
CONCLUSIONS:
TTP and PAA are potential whitening active ingredients.
Journal of Natural Products, 2011, 74(2):137-144.
Cytotoxic and Apoptosis-Inducing Activities of Triterpene Acids from Poria cocos.[Reference:
WebLink
]

METHODS AND RESULTS:
Six lanostane-type triterpene acids (1a-6a), isolated from Poria cocos , and their methyl ester (1b-6b) and hydroxy derivatives (1c-6c) were prepared. Upon evaluation of the cytotoxic activity of these compounds against leukemia (HL60), lung (A549), melanoma (CRL1579), ovary (NIH:OVCAR-3), breast (SK-BR-3), prostate (DU145), stomach (AZ521), and pancreas (PANC-1) cancer cell lines, 11 compounds (5a, 6a, 2b-5b, 1c, and 3c-6c) exhibited activity with single-digit micromolar IC(50) values against one or more cell lines. Poricotriol A (1c), a hydroxy derivative of Poricoic acid A(F) (1a), exhibited potent cytotoxicities against six cell lines with IC(50) values of 1.2-5.5 μM. poricotriol Ainduced typical apoptotic cell death in HL60 and A549 cells on evaluation of the apoptosis-inducing activity by flow cytometric analysis. Western blot analysis in HL60 cells showed that poricotriol A activated caspases-3, -8, and -9, while increasing the ratio of Bax/Bcl-2.
CONCLUSIONS:
This suggested that poricotriol A induced apoptosis via both mitochondrial and death receptor pathways in HL60. On the other hand, poricotriol A did not activate caspases-3, -8, and -9, but induced translocation of apoptosis-inducing factor (AIF) from mitochondria and increased the ratio of Bax/Bcl-2 in A549. This suggested that poricotriol A induced apoptosis via the mitochondrial pathway mostly by translocation of AIF, independent from the caspase pathway in A549. Furthermore, poricotriol A was shown to possess high selective toxicity in lung cancer cells since it exhibited only weak cytotoxicity against a normal lung cell line (WI-38).
Phytotherapy Research, 1996, 10(7):581-584.
Inhibitory Effect of Poria cocos on 12‐O‐Tetradecanoylphorbol‐13‐Acetate‐Induced Ear Oedema and Tumour Promotion in Mouse Skin.[Reference:
WebLink
]

METHODS AND RESULTS:
The methanol extract from the sclerotium of Poria cocos was found to inhibit 12- O -tetradecanoylphorbol-13-acetate (TPA)-induced tumour promotion in two-stage carcinogenesis in mouse skin. From the active fraction of the extract, eight lanostane-type triterpene acids and four 3,4-secolanostane-type triterpene acids were isolated. The isolated compounds showed inhibitory activity against TPA-induced ear inflammatory oedema.
CONCLUSIONS:
The 50% inhibitory dose of pachymic acid, 3- O -acetyl-16α-hydroxytrametenolic acid, dehydropachymic acid, dehydroeburiconic acid, 3β-hydroxylanosta-7,9(11),24-trien-21-oic acid, Poricoic acid A(F) and poricoic acid B for TPA-induced inflammation was 17–44 μg/ear, at a grade corresponding to that of hydrocortisone.