6alpha-Hydroxypolyporenic acid C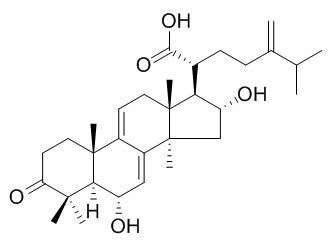 6alpha-Hydroxypolyporenic acid C is a natural product from Wolfiporia cocos (Schw.) Ryv.
Inquire / Order: manager@chemfaces.com
Technical Inquiries: service@chemfaces.com
Tel: +86-27-84237783
Fax: +86-27-84254680

Address:
1 Building, No. 83, CheCheng Rd., Wuhan Economic and Technological Development Zone, Wuhan, Hubei 430056, PRC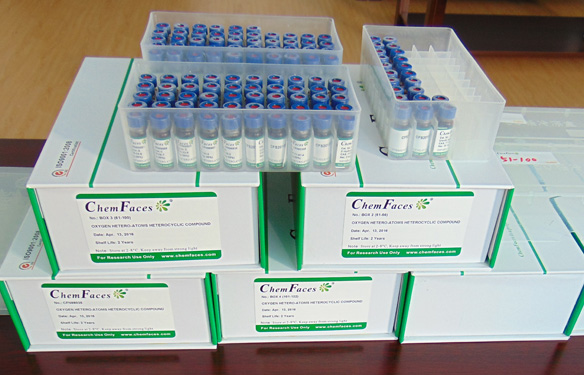 Providing storage is as stated on the product vial and the vial is kept tightly sealed, the product can be stored for up to
24 months(2-8C)
.
Wherever possible, you should prepare and use solutions on the same day. However, if you need to make up stock solutions in advance, we recommend that you store the solution as aliquots in tightly sealed vials at -20C. Generally, these will be useable for up to two weeks. Before use, and prior to opening the vial we recommend that you allow your product to equilibrate to room temperature for at least 1 hour.
Need more advice on solubility, usage and handling? Please email to: service@chemfaces.com
The packaging of the product may have turned upside down during transportation, resulting in the natural compounds adhering to the neck or cap of the vial. take the vial out of its packaging and gently shake to let the compounds fall to the bottom of the vial. for liquid products, centrifuge at 200-500 RPM to gather the liquid at the bottom of the vial. try to avoid loss or contamination during handling.
BMB Rep.2018, 51(5):249-254
Mol Cells.2018, 41(8):771-780
J Med Food.2016, 19(12):1155-1165
J Cell Mol Med.2018, 22(9):4236-4242
New Journal of Chemistry2019, 43:12538-12547
Oncotarget.2016, 8(51):88386-88400
J of Health Science and Alternative Medicine2019, 1(1)
Journal of Functional Foods2019, 52:430-441
Korean Journal of Pharmacognosy2018, 49(4):349-361
Chemistry of Plant Materials.2016, 33-46
Zhongguo Zhong Yao Za Zhi. 2008 Jul;33(13):1596-601.
Absorption of triterpenoid compounds from Indian bread (Poria cocos) across human intestinal epithelial (Caco-2) cells in vitro.[Pubmed:
18837324
]
To study the absorption of 3-epidehydrotumulosic acid (EDHTA), polyporenic acid C (PPAC) and 6alpha-Hydroxypolyporenic acid C (HPPA) isolated from the sclerotium of Poria cocos. In human intestinal epithelial.
METHODS AND RESULTS:
By using Caco-2 (the human colonic adenocarcinoma cell lines) cells monolayer as an intestinal epithelial cell model, the permeability of EDHTA, PPAC and 6alpha-Hydroxypolyporenic acid C were studied from apical side (AP side) to basolateral side (BL side) or from BL side to AP side.The P(app) values of EDHTA and PPAC were at a nearly same magnitude with those of propranolol, and 6alpha-Hydroxypolyporenic acid C lied between those of propranolol and atenolol. On the other hand, the efflux transport of EDHTA, PPAC and 6alpha-Hydroxypolyporenic acid C were higher 1.78, 1.91 and 2. 47 times more than its influx transport with 0.56, 0.52 and 0.41 rate of P(app A --> B)/P(app (B --> A).
CONCLUSIONS:
EDHTA, PPAC and 6alpha-Hydroxypolyporenic acid C can be absorbed across intestinal epithelial cells, among EDHTA and PPAC will be completely. 6alpha-Hydroxypolyporenic acid C will be moderately absorbed compounds. EDHTA, PPAC and 6alpha-Hydroxypolyporenic acid C may have been involved in efflux mechanism in Caco-2 cells monolayers model from the basolateral-to-apical direction.