Beta-Peltoboykinolic acid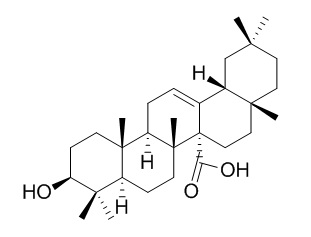 Beta-Peltoboykinolic acid has in vitro protein tyrosine phosphatase 1B (PTP1B) inhibitory, it inhibits PTP1B with IC50 values of 5.2+/-0.5 microM. It also has cytotoxic activity.
Inquire / Order: manager@chemfaces.com
Technical Inquiries: service@chemfaces.com
Tel: +86-27-84237783
Fax: +86-27-84254680

Address:
1 Building, No. 83, CheCheng Rd., Wuhan Economic and Technological Development Zone, Wuhan, Hubei 430056, PRC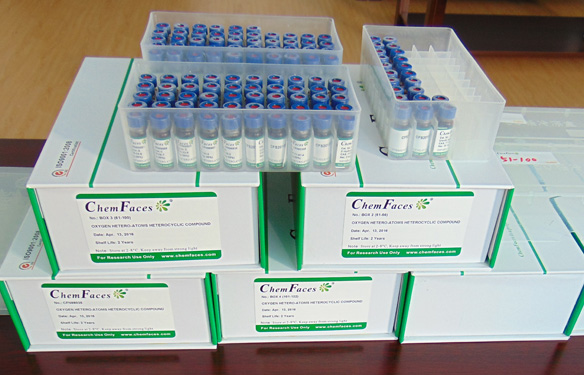 Providing storage is as stated on the product vial and the vial is kept tightly sealed, the product can be stored for up to
24 months(2-8C)
.
Wherever possible, you should prepare and use solutions on the same day. However, if you need to make up stock solutions in advance, we recommend that you store the solution as aliquots in tightly sealed vials at -20C. Generally, these will be useable for up to two weeks. Before use, and prior to opening the vial we recommend that you allow your product to equilibrate to room temperature for at least 1 hour.
Need more advice on solubility, usage and handling? Please email to: service@chemfaces.com
The packaging of the product may have turned upside down during transportation, resulting in the natural compounds adhering to the neck or cap of the vial. take the vial out of its packaging and gently shake to let the compounds fall to the bottom of the vial. for liquid products, centrifuge at 200-500 RPM to gather the liquid at the bottom of the vial. try to avoid loss or contamination during handling.
Molecules.2019, 24(17):E3127
Anal Bioanal Chem. 2016, 408(15)
Nat Prod Sci.2016, 22(2)
Front Immunol. 2020, 11:62.
Exp Parasitol.2018, 194:67-78
Korean J Environ Agric.2018, 37(4):260-267
J Nat Med.2017, 71(4):745-756
Mediators Inflamm. 2016, 2016:6189590
Med Sci Monit.2019, 25:9499-9508
Neurochem Int.2018, 121:114-124
Bioorg Med Chem Lett. 2006 Jun 15;16(12):3273-6.
Protein tyrosine phosphatase 1B inhibitory activity of triterpenes isolated from Astilbe koreana.[Pubmed:
16580200
]

METHODS AND RESULTS:
Bioassay-guided fractionation of a MeOH extract of the rhizomes of Astilbe koreana (Saxifragaceae), using an in vitro protein tyrosine phosphatase 1B (PTP1B) inhibitory assay, resulted in the isolation of a new triterpene, 3alpha,24-dihydroxyolean-12-en-27-oic acid (4), along with four triterpenes, 3-oxoolean-12-en-27-oic acid (1), 3beta-hydroxyolean-12-en-27-oic acid (Beta-Peltoboykinolic acid; 2), 3beta-hydroxyurs-12-en-27-oic acid (3), and 3beta,6beta-dihydroxyolean-12-en-27-oic acid (astilbic acid; 5). Compounds 1-5 inhibited PTP1B with IC50 values of 6.8+/-0.5, 5.2+/-0.5, 4.9+/-0.4, 11.7+/-0.9, and 12.8+/-1.1 microM, respectively. Our results indicate that 3-hydroxyl group and a carboxyl group in this type of triterpenes may be required for the activity, while addition of one more hydroxyl group at C-6 or C-24 may be responsible for a loss of activity.
CONCLUSIONS:
Thus, compounds 2 and 3 which possess only one hydroxyl group at C-3 and a carboxyl group at C-27 could be potential PTP1B inhibitors.
Pharmaceutical Biology,2008,5 (2):141-3.
Cytotoxic Principles from Chrysosplenium flagelliferum[Reference:
WebLink
]

METHODS AND RESULTS:
Two cytotoxic principles were isolated from a MeOH extract of Chrysosplenium flagelliferum (Saxifragaceae), and identified as ß-peltoboykinolic acid (Beta-Peltoboykinolic acid,1), cucurbitacin B (2), ß-sitosterol-ß-D-glucopyranoside (3), penduletin (4), pendulin (5) and d-catechin (6). The 13 C-NMR of compounds 4 and 5 are reported here.