21-O-Tigloylgymnemagenin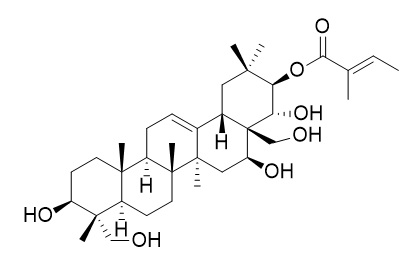 Reference standards.
Inquire / Order: manager@chemfaces.com
Technical Inquiries: service@chemfaces.com
Tel: +86-27-84237783
Fax: +86-27-84254680

Address:
1 Building, No. 83, CheCheng Rd., Wuhan Economic and Technological Development Zone, Wuhan, Hubei 430056, PRC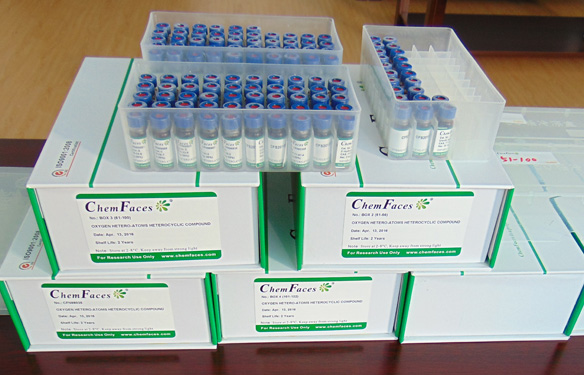 Providing storage is as stated on the product vial and the vial is kept tightly sealed, the product can be stored for up to
24 months(2-8C)
.
Wherever possible, you should prepare and use solutions on the same day. However, if you need to make up stock solutions in advance, we recommend that you store the solution as aliquots in tightly sealed vials at -20C. Generally, these will be useable for up to two weeks. Before use, and prior to opening the vial we recommend that you allow your product to equilibrate to room temperature for at least 1 hour.
Need more advice on solubility, usage and handling? Please email to: service@chemfaces.com
The packaging of the product may have turned upside down during transportation, resulting in the natural compounds adhering to the neck or cap of the vial. take the vial out of its packaging and gently shake to let the compounds fall to the bottom of the vial. for liquid products, centrifuge at 200-500 RPM to gather the liquid at the bottom of the vial. try to avoid loss or contamination during handling.
J. Soc. Cosmet. Sci. Korea2016, 163-171
J Chromatogr Sci.2015, 53(5):824-9
J. of Agricultural Science2015, 1916-9760
Evid Based Complement Alternat Med.2018, 2018:1073509
Curr Eye Res.2018, 43(1):27-34
PLoS One.2020, 15(2):e0220084.
Malaysian J of Fundamental and Applied Sciences 2018, 14(3):368-373
J Biochem Mol Toxicol.2020, 34(7):e22489.
J Food Biochem.2019, 43(9):e12970
Applied Biological Chemistry2020, 63:37.
CHEMICAL & PHARMACEUTICAL BULLETIN, 1997, 45(10):1671-1676.
Medicinal foodstuffs. IX. The inhibitors of glucose absorption from the leaves of Gymnema sylvestre R. BR. (Asclepiadaceae): structures of gymnemosides a and b.[Reference:
WebLink
]
Although the glycosidic fraction from the dried leaves of Gymnema sylvestre R. BR., gymnemic acid, was reported to be effective for diabetes, it showed little inhibitory activity on the increase of serum glucose level in oral glucose-loaded rats.
METHODS AND RESULTS:
From the glycosidic fraction, six triterpene glycosides, gymnemosides a, b, c, d, e, and f, were isolated together with nine known triterpene glycosides. The structures of gymnemosides a and b were determined on the basis of chemical and physicochemical evidence as 21-O-tigloyl-22-O-acetylgymnemagenin 3-O-beta-D-glucopyranosiduronic acid and 16-O-acetyl-21-O-Tigloylgymnemagenin 3-O-beta-D-glucopyranosiduronic acid, respectively. In addition, an acetyl group linked to the 16- or 22-hydroxyl group in gymnemosides a and b was found to migrate easily to the primary 28-hydroxyl group, while the acyl migration from the 28-position was rarely observed.
CONCLUSIONS:
The inhibitory activity of each triterpene glycoside from gymnemic acid was examined to determine its impact on the increase of serum glucose level in oral glucose-loaded rats. Gymnemoside b and gymnemic acids III, V, and VII were found to exhibit a little inhibitory activity against glucose absorption, but the principal constituents, gymnemic acid I and gymnemasaponin V, lacked this activity.