Olean-12-ene-3,24-diol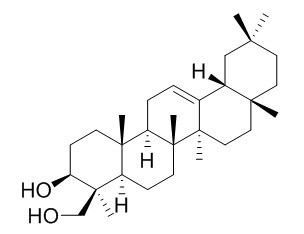 Reference standards.
Inquire / Order: manager@chemfaces.com
Technical Inquiries: service@chemfaces.com
Tel: +86-27-84237783
Fax: +86-27-84254680

Address:
1 Building, No. 83, CheCheng Rd., Wuhan Economic and Technological Development Zone, Wuhan, Hubei 430056, PRC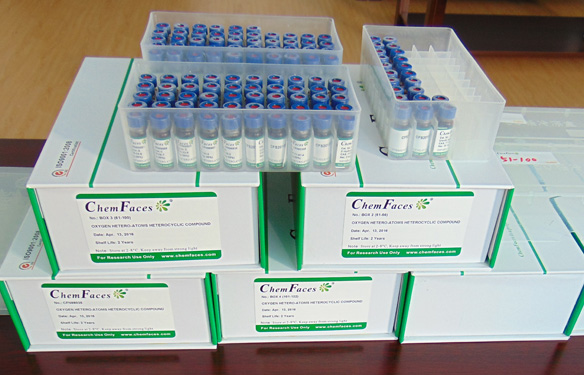 Providing storage is as stated on the product vial and the vial is kept tightly sealed, the product can be stored for up to
24 months(2-8C)
.
Wherever possible, you should prepare and use solutions on the same day. However, if you need to make up stock solutions in advance, we recommend that you store the solution as aliquots in tightly sealed vials at -20C. Generally, these will be useable for up to two weeks. Before use, and prior to opening the vial we recommend that you allow your product to equilibrate to room temperature for at least 1 hour.
Need more advice on solubility, usage and handling? Please email to: service@chemfaces.com
The packaging of the product may have turned upside down during transportation, resulting in the natural compounds adhering to the neck or cap of the vial. take the vial out of its packaging and gently shake to let the compounds fall to the bottom of the vial. for liquid products, centrifuge at 200-500 RPM to gather the liquid at the bottom of the vial. try to avoid loss or contamination during handling.
Biochem Biophys Res Commun.2018, 505(4):1148-1153
Int J Mol Sci.2020, 21(9):3239.
J Pharm Biomed Anal.2019, 164:119-127
Pharmacognosy Magazine2017, 13(52):868-874
Cell Chem Biol.2019, 26(1):27-34
Srinagarind Medical Journal2017, 32(1)
J Nat Med.2017, 71(2):380-388
J Ethnopharmacol.2017, 206:73-77
J Ethnopharmacol.2017, 209:305-316
World J Mens Health.2019, 10.5534
FEBS Journal,2006,273(5):948-59.
Identification of β‐amyrin and sophoradiol 24‐hydroxylase by expressed sequence tag mining and functional expression assay.[Reference:
WebLink
]
Triterpenes exhibit a wide range of structural diversity produced by a sequence of biosynthetic reactions. Cyclization of oxidosqualene is the initial origin of structural diversity of skeletons in their biosynthesis, and subsequent regio- and stereospecific hydroxylation of the triterpene skeleton produces further structural diversity. The enzymes responsible for this hydroxylation were thought to be cytochrome P450-dependent monooxygenase, although their cloning has not been reported.
METHODS AND RESULTS:
To mine these hydroxylases from cytochrome P450 genes, five genes (CYP71D8, CYP82A2, CYP82A3, CYP82A4 and CYP93E1) reported to be elicitor-inducible genes in Glycine max expressed sequence tags (EST), were amplified by PCR, and screened for their ability to hydroxylate triterpenes (beta-amyrin or sophoradiol) by heterologous expression in the yeast Saccharomyces cerevisiae. Among them, CYP93E1 transformant showed hydroxylating activity on both substrates. The products were identified as olean-12-ene-3beta,24-diol(Olean-12-ene-3,24-diol) and soyasapogenol B, respectively, by GC-MS. Co-expression of CYP93E1 and beta-amyrin synthase in S. cerevisiae yielded olean-12-ene-3beta,24-diol. This is the first identification of triterpene hydroxylase cDNA from any plant species.
CONCLUSIONS:
Successful identification of a beta-amyrin and sophoradiol 24-hydroxylase from the inducible family of cytochrome P450 genes suggests that other triterpene hydroxylases belong to this family. In addition, substrate specificity with the obtained P450 hydroxylase indicates the two possible biosynthetic routes from triterpene-monool to triterpene-triol.