Balanophonin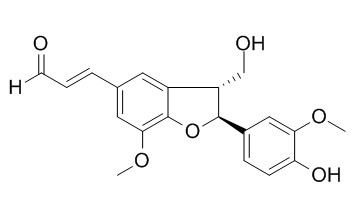 Balanophonin shows potent α-glucosidase inhibitory activity, it has antioxidant, and anti-cancer activities. (±)-Balanophonin shows significant antibacterial activity against cariogenic oral streptococci, Streptococcus mutans and S. sobrinus.
Inquire / Order: manager@chemfaces.com
Technical Inquiries: service@chemfaces.com
Tel: +86-27-84237783
Fax: +86-27-84254680

Address:
1 Building, No. 83, CheCheng Rd., Wuhan Economic and Technological Development Zone, Wuhan, Hubei 430056, PRC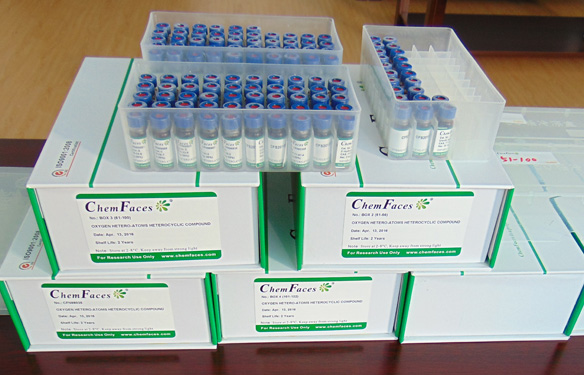 Providing storage is as stated on the product vial and the vial is kept tightly sealed, the product can be stored for up to
24 months(2-8C)
.
Wherever possible, you should prepare and use solutions on the same day. However, if you need to make up stock solutions in advance, we recommend that you store the solution as aliquots in tightly sealed vials at -20C. Generally, these will be useable for up to two weeks. Before use, and prior to opening the vial we recommend that you allow your product to equilibrate to room temperature for at least 1 hour.
Need more advice on solubility, usage and handling? Please email to: service@chemfaces.com
The packaging of the product may have turned upside down during transportation, resulting in the natural compounds adhering to the neck or cap of the vial. take the vial out of its packaging and gently shake to let the compounds fall to the bottom of the vial. for liquid products, centrifuge at 200-500 RPM to gather the liquid at the bottom of the vial. try to avoid loss or contamination during handling.
Life Sci.2018, 209:498-506
Pharmacol Rep.2019, 71(2):289-298
Cell Physiol Biochem.2017, 43(4):1425-1435
J Nat Prod.2017, 80(4):854-863
Chem Biol Interact.2019, 315:108910
African J. Agricultural Research 2017, 12(13):1164-1168
Biorxiv2019, 10.1101
ARPN Journal of Eng.& Applied Sci.2016, 2199-2204
Phytochemistry Letters2017, 449-455
Molecules.2016, 21(6)
Molecules. 2011 Dec 7;16(12):10157-67.
Antioxidant phenolic compounds of cassava (Manihot esculenta) from Hainan.[Pubmed:
22157579
]

METHODS AND RESULTS:
An activity-directed fractionation and purification process was used to isolate antioxidant components from cassava stems produced in Hainan. The ethyl acetate and n-butanol fractions showed greater DPPH˙and ABTS·+ scavenging activities than other fractions. The ethyl acetate fraction was subjected to column chromatography, to yield ten phenolic compounds: Coniferaldehyde (1), isovanillin (2), 6-deoxyjacareubin (3), scopoletin (4), syringaldehyde (5), pinoresinol (6), p-coumaric acid (7), ficusol (8), Balanophonin (9) and ethamivan (10), which possess significant antioxidant activities. The relative order of DPPH· scavenging capacity for these compounds was ascorbic acid (reference) > 6 > 1 > 8 > 10 > 9 > 3 > 4 > 7 > 5 > 2, and that of ABTS·+ scavenging capacity was 5 > 7 > 1 > 10 > 4 > 6 > 8 > 2 > Trolox (reference compound) > 3 > 9.
CONCLUSIONS:
The results showed that these phenolic compounds contributed to the antioxidant activity of cassava.
Molecules. 2010 Jun 1;15(6):4011-6.
Aquilarin A, a new benzenoid derivative from the fresh stem of Aquilaria sinensis.[Pubmed:
20657422
]

METHODS AND RESULTS:
Chemical investigation of the EtOH extract of the fresh stem of Aquilaria sinensis collected in Hainan Province of China resulted in the isolation of a new benzenoid, named aquilarin A (1), together with two known compounds Balanophonin (2) and (+)-lariciresinol (3). Their structures were elucidated by a study of their physical and spectral data. Compounds 2 and 3 exhibited cytotoxicity against SGC-7901 and SMMC-7721 cell lines.
J. Korean Soc. Appl.Biol.Chem., 2008, 51(4):316- 20.
Constituents of the seeds of Cornus officinalis with Inhibitory Activity on the Formation of Advanced Glycation End Products (AGEs)[Reference:
WebLink
]
Ten compounds, (+)-pinoresinol (1), (-)-Balanophonin (2), gallicin (3), vanillin (4), 4-hydroxybenzaldehyde (5), coniferaldehyde (6), betulinic acid (7), ursolic acid (8), 5-hydroxymethyl furfural (9), and malic acid (10), were isolated from a EtOAc-soluble fraction of the seeds of Cornus officinalis.
METHODS AND RESULTS:
The structures of these compounds were elucidated by spectroscopic methods as well as by comparison with reported values. Compounds 1, 2, and 4-7 were isolated from this species for the first time. All the isolates (1-10) were subjected to an in vitro bioassay to evaluate their inhibitory activity against advanced glycation end products (AGEs) formation. Among these, compounds 2 and 3 showed the significant inhibitory activity on AGEs formation with values of 27.81 and 18.04, respectively.
Natural Product Sciences, 2011, 17(4):267-72.
Bioactive Phenolic constituents from the culms of Phyllostachys bambusoides[Reference:
WebLink
]

METHODS AND RESULTS:
Fractionation process of n-hexane and CHCl 3 extracts afforded four phenolic constituents, ferulic acid (1), vanillin (2), coniferaldehyde (3), and coniferyl alcohol (4) as guided by their DPPH free radical scavenging activities. Additionally, activity-guided fractionation of EtOAc extract with anti-cariogenic activity has resulted in the isolation of coniferaldehyde (3), 2,6-dimethoxy-p-benzoquinone (5), p-methoxycinnamic acid (6), (±)-Balanophonin (7), and 6-methoxychromanone (8). The structures of 1 - 8 were determined by spectroscopic data interpretation, and also by comparison of their data with the published values. Phenolic compounds 1 - 4 exhibited similar DPPH radical scavenging activities compared with the synthetic antioxidant, butylated hydroxytoluene (BHT), and compounds 3 and 5 - 8 showed significant antibacterial activity against cariogenic oral streptococci, Streptococcus mutans and S. sobrinus.
Natural Product Sciences, 2014, 18(1):47-51.
Screening of α-glucosidase inhibitory activity of Vietnamese medicinal plants: Isolation of Active Principles from Oroxylum indicum[Reference:
WebLink
]
Among 38 Vietnamese medicinal plant extracts investigated for their α-glucosidase inhibitory activity, 35 extracts showed IC 50 values below 250 µg/mL.
METHODS AND RESULTS:
The MeOH extracts of the heartwood of Oroxylum indicum, the seeds of Caesalpinia sappan, and the fruits of Xanthium strumarium exhibited strong α-glucosidase inhibitory activity with IC 50 values less than 50 µg/mL. Fractionation of the MeOH extract of the heartwood of O. indicum led to the isolation of oroxylin A (1), oroxyloside (2), hispidulin (3), apigenin (4), ficusal (5), Balanophonin (6), 2-(1-hydroxymethylethyl)-4H,9H-naphtho[2,3-b]furan-4,9-dione (7), salicylic acid (8), p-hydroxybenzoic acid (9), protocatechuic acid (10), isovanillin (11), and β-hydroxypropiovanillon (12). Compounds 1-3, 5, 6, 8, 10, and 12 showed more potent activities, with IC 50 values ranging from 2.13 to 133.51 µM, than a positive control acabose (IC 50 , 241.85 µM).
CONCLUSIONS:
The kinetic study indicated that oroxyloside (2) displayed mixed-type inhibition with inhibition constant (Ki) was 3.56 µM.
J Chromatogr A. 2012 Nov 16;1264:143-7.
The role of harmonized, gas and liquid chromatography mass spectrometry in the discovery of the neolignan balanophonin in the fruit wall of Cirsium vulgare.[Pubmed:
23068765
]
In order to identify and quantify fruit-lignans of Cirsium vulgare - authors introduced a special analysis system: with particular attention to the lignans enrichment/separation course.
METHODS AND RESULTS:
These synchronized, germination and enzymatic hydrolysis processes were followed by complementary gas and liquid chromatography, coupled with special mass selective detections (GC-MS, LC-MS/MS, LC-TOF/MS) and confirmed by nuclear magnetic resonance (NMR) spectroscopy. Mass fragmentations and NMR evidences, proved that the two main medicinal lignan constituents of the fruits of Cirsium vulgare are the neolignan-type, free Balanophonin and the butyrolactone-type tracheloside. As novelty to the field, these two lignans of different chemical structures could be quantitatively extracted, separately from each others, without impurities. Balanophonin and tracheloside do accumulate in the fruits of C. vulgare, separately: Balanophonin was found, in enormous high concentrations, in the fruit wall (23.2-24.9 mg/g), while in embryo part tracheloside was determined (20.3mg/g), exclusively.
CONCLUSIONS:
Consequently, the optimum source of Balanophonin proved to be the fruit wall, while tracheloside, - providing trachelogenin upon enzymatic hydrolysis, - could be obtained from the embryo parts of fruits. As further novelties of the study Balanophonin was identified and quantified at the first time with on-line chromatographic technique, in free form, without authentic standard compound.