6-Methoxywogonin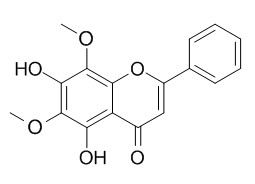 6-Methoxywogonin shows weak anti-inflammatory effect.
Inquire / Order: manager@chemfaces.com
Technical Inquiries: service@chemfaces.com
Tel: +86-27-84237783
Fax: +86-27-84254680

Address:
1 Building, No. 83, CheCheng Rd., Wuhan Economic and Technological Development Zone, Wuhan, Hubei 430056, PRC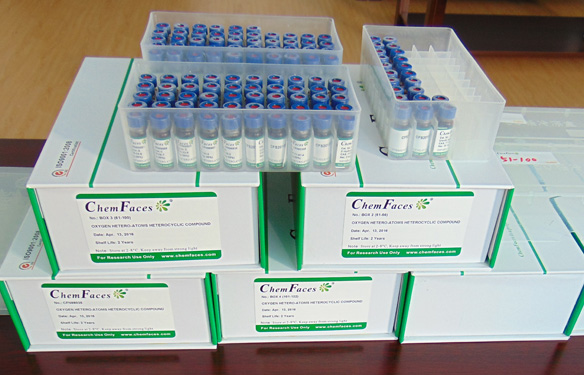 Providing storage is as stated on the product vial and the vial is kept tightly sealed, the product can be stored for up to
24 months(2-8C)
.
Wherever possible, you should prepare and use solutions on the same day. However, if you need to make up stock solutions in advance, we recommend that you store the solution as aliquots in tightly sealed vials at -20C. Generally, these will be useable for up to two weeks. Before use, and prior to opening the vial we recommend that you allow your product to equilibrate to room temperature for at least 1 hour.
Need more advice on solubility, usage and handling? Please email to: service@chemfaces.com
The packaging of the product may have turned upside down during transportation, resulting in the natural compounds adhering to the neck or cap of the vial. take the vial out of its packaging and gently shake to let the compounds fall to the bottom of the vial. for liquid products, centrifuge at 200-500 RPM to gather the liquid at the bottom of the vial. try to avoid loss or contamination during handling.
Phytomedicine.2019, 58:152893
Front Immunol.2020, 11:598556.
Viruses.2021, 13(11):2118.
Int J Mol Sci.2017, 18(12)
Separation Science Plus2022, sscp.202200048.
FASEB J.2019, 33(8):9685-9694
Front Immunol.2018, 9:2091
Appl. Sci.2020, 10(4),1304
Trop J Nat Prod Res.2019, 3(1):6-9
Molecules.2016, 21(6)
Journal of Natural Medicines, 2013, 67(2):281-288.
Quantitative analysis of anti-inflammatory activity of orengedokuto: Importance of combination of flavonoids in inhibition of PGE2 production in mouse macrophage-like cell line J774.1[Reference:
WebLink
]
Orengedokuto is a Kampo formula which has been used for removing "heat" and "poison" to treat inflammation, hypertension, gastrointestinal disorders, and liver and cerebrovascular diseases.
METHODS AND RESULTS:
In this report, we quantitatively analyzed the anti-inflammatory effect of the component crude drugs of orengedokuto and their constituents, using inhibition of prostaglandin E(2) (PGE(2)) production in the murine macrophage-like cell line J774.1. First, we compared PGE(2) production inhibitory activities of extracts of combinations of the component crude drugs, which showed that the activity could be ascribed to Scutellaria Root. Next, as baicalin (1), one of the major constituents of Scutellaria Root, did not show any activity, and baicalein (2), the aglycon of 1, showed only weak activity (IC(50) 92 μM), a hot-water extract of Scutellaria Root was fractionated under the guidance of the activity to give wogonin (3) (IC(50) 28 μM), 6-Methoxywogonin (4) (IC(50) 7.2 μM) and oroxylin A (5) (IC(50) 45 μM) from the most active fraction. However, the activities of these compounds at concentrations equivalent to those in the extract were weaker than that of the extract, and none of these compounds alone could explain the activity of the extract.
CONCLUSIONS:
Therefore, we examined the activity of combinations of compounds 2-5. Comparison of all combinations of the four compounds in a ratio which is the same as in the extract revealed that wogonin (3) had an essential role in the activity, and a combination of baicalein (2) and wogonin (3), together with 6-Methoxywogonin (4) or oroxylin A (5), was necessary to show activity equivalent to that of the extract.