Asperglaucide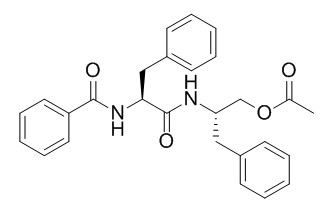 Asperglaucide shows some nematocidal property against M. incognita.
Inquire / Order: manager@chemfaces.com
Technical Inquiries: service@chemfaces.com
Tel: +86-27-84237783
Fax: +86-27-84254680

Address:
1 Building, No. 83, CheCheng Rd., Wuhan Economic and Technological Development Zone, Wuhan, Hubei 430056, PRC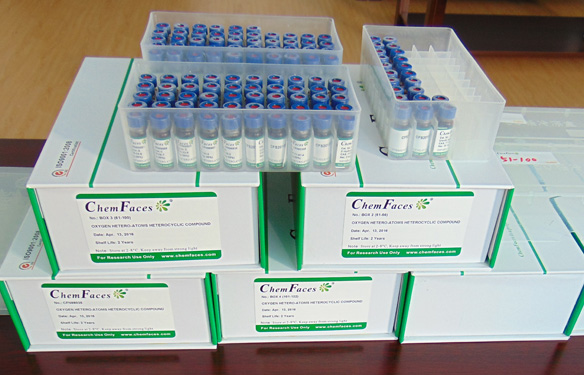 Providing storage is as stated on the product vial and the vial is kept tightly sealed, the product can be stored for up to
24 months(2-8C)
.
Wherever possible, you should prepare and use solutions on the same day. However, if you need to make up stock solutions in advance, we recommend that you store the solution as aliquots in tightly sealed vials at -20C. Generally, these will be useable for up to two weeks. Before use, and prior to opening the vial we recommend that you allow your product to equilibrate to room temperature for at least 1 hour.
Need more advice on solubility, usage and handling? Please email to: service@chemfaces.com
The packaging of the product may have turned upside down during transportation, resulting in the natural compounds adhering to the neck or cap of the vial. take the vial out of its packaging and gently shake to let the compounds fall to the bottom of the vial. for liquid products, centrifuge at 200-500 RPM to gather the liquid at the bottom of the vial. try to avoid loss or contamination during handling.
Drug Invention Today2019, 12(6):1303-1306
Bioorg Med Chem.2020, 28(12):115553.
Molecules.2019, 24(11):E2044
Molecules.2020, 25(21):5087.
Front Immunol.2017, 8:1542
Biochem Biophys Res Commun.2018, 505(1):261-266
Chemistry of Plant Materials.2016, 33-46
BMC Complement Med Ther. 2020, 20(1):91.
Molecules.2021, 26(9):2802.
BMC Plant Biol.2022, 22(1):128.
Chemistry & Biodiversity,2006,3(2):224–230.
New Antioxidant Phenolic Glycosides from Walsura yunnanensis[Reference:
WebLink
]
Four new polyphenolic glycosides (1–4) were isolated from the BuOH extract of the bark of Walsura yunnanenis C. Y. Wu.
METHODS AND RESULTS:
These compounds comprise two lignans, i.e., the 9-O-α-l-arabinopyranosides 1 and 2 of (−)-isolariciresinol and of (+)-5-methoxyisolariciresinol, respectively, and the two phenolic glycosides 3,4,5-trimethoxyphenyl 2-O-(α-l-fucopyranosyl)-β-d-glucopyranoside (3) and 3,5-dihydroxyphenyl 6-O-(4-hydroxy-3,5-dimethoxybenzoyl)-β-d-glucopyranoside (walsuraside; 4). In addition, three known compounds, 3,4,5-trimethoxyphenyl β-d-glucopyranoside, Asperglaucide, and butyl α-d-fructofuranoside were identified. Their structures were elucidated spectroscopically and by chemical transformation (hydrolysis).
CONCLUSIONS:
The new compounds 1, 2, and 4 displayed significant antioxidant activities, with IC50 values in the range of ca. 42 to 49 μg/ml.
Quím Nova, 2003, 26(3):335-9
Isolamento e avaliação da atividade nematicida de constituintes químicos de Mucuna cinerea contra Meloidogyne incognita e Heterodera glycines[Reference:
WebLink
]

METHODS AND RESULTS:
Phytochemical investigation of the aerial parts and roots of mucuna cinerea led to the isolation of a mixture of fatty acids, triacylglicerols, b-sitosterol, stigmasterol, stigmasterol glucoside, daucosterol, Asperglaucide (4) and the isoflavonoids prunetin (1), genistein (2), medicarpin (3), daidzein (5), 7-o-a-glycopiranosyl daidzein (6). an in vitro bioassay was carried out with compounds 1-4, at the concentration of 50 and 5 mg ml-1 against the phytonematodes m. incognita and h. glycines.
CONCLUSIONS:
although the four compounds showed some nematocidal property, the most active was (1), causing 70% mortality of m. incognita at the concentration of 50 mg ml-1.
J Asian Nat Prod Res. 2007 Sep-Dec;9(6-8):763-70.
Dicliptercerebroside, a novel cerebroside from Dicliptera chinensis.[Pubmed:
17994394
]

METHODS AND RESULTS:
A novel cerebroside named dicliptercerebroside (1) was isolated from the whole herb of Dicliptera chinensis, together with two known compounds Asperglaucide (2) and amidoalcohol (3) for the first time from the title plant. Their structures were elucidated using spectroscopic methods.
CONCLUSIONS:
The structure of dicliptercerebroside was determined as 1-O-beta-D-glucopyranosyl-2N-[(2'R)-2'-hydroxy-(9Z)-palmitoleoyl]-2S,3S,4R-C(20)-phytosphingosine.