Aurantiamide benzoate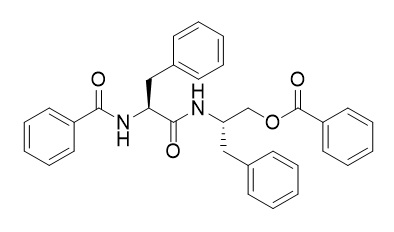 Aurantiamide benzoate exhibits moderate inhibitory activity against xanthine oxidase.
Inquire / Order: manager@chemfaces.com
Technical Inquiries: service@chemfaces.com
Tel: +86-27-84237783
Fax: +86-27-84254680

Address:
1 Building, No. 83, CheCheng Rd., Wuhan Economic and Technological Development Zone, Wuhan, Hubei 430056, PRC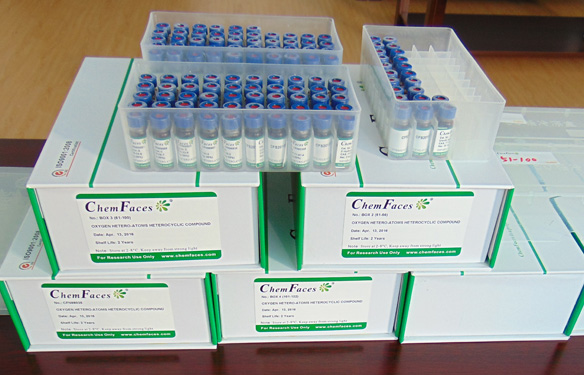 Providing storage is as stated on the product vial and the vial is kept tightly sealed, the product can be stored for up to
24 months(2-8C)
.
Wherever possible, you should prepare and use solutions on the same day. However, if you need to make up stock solutions in advance, we recommend that you store the solution as aliquots in tightly sealed vials at -20C. Generally, these will be useable for up to two weeks. Before use, and prior to opening the vial we recommend that you allow your product to equilibrate to room temperature for at least 1 hour.
Need more advice on solubility, usage and handling? Please email to: service@chemfaces.com
The packaging of the product may have turned upside down during transportation, resulting in the natural compounds adhering to the neck or cap of the vial. take the vial out of its packaging and gently shake to let the compounds fall to the bottom of the vial. for liquid products, centrifuge at 200-500 RPM to gather the liquid at the bottom of the vial. try to avoid loss or contamination during handling.
J Cell Mol Med.2023, 27(10):1423-1435.
Srinagarind Medical Journal2017, 32(1)
Anticancer Res.2020, 40(10):5529-5538.
Front Plant Sci.2020, 10:1705
Evid Based Complement Alternat Med.2021, 2021:8707280.
Biomed Chromatogr.2022, 36(11):e5462.
Molecules.2015, 20(10):19172-88
Processes2021, 9(1), 153.
J Cell Physiol.2021, 236(3):1950-1966.
The Japan Society for Analy. Chem.2017, 66(8):613-617
Yakugaku Zasshi. 2007 Feb;127(2):389-95.
Biological activity tests of chemical constituents from two Brazilian Labiatae plants.[Pubmed:
17268160
]
We studied the bioactivities of constituents from two tropical medicinal plants, Cunila spicata and Hyptis fasciculata. These plants found in Brazil belong to the Labiatae family.
METHODS AND RESULTS:
Four known compounds obtained from these herbs were identified as 3alpha, 24-dihydoxylurs-12-en-28-oic acid, betulinic acid, aurantiamide acetate, and Aurantiamide benzoate by spectroscopic means. 3alpha, 24-Dihydoxylurs-12-en-28-oic acid has potent inhibitory activity against Streptococcus salivarius, Streptococcus pneumoniae, Streptococcus pyogenes, and Porphyromomas gingivalis. Aurantiamide benzoate exhibited moderate inhibitory activity against xanthine oxidase.
CONCLUSIONS:
It was clarified that herbs Cunila spicata and Hyptis fasciculata are effective against bronchitis and gout.
Zhong Yao Cai. 2005 Feb;28(2):102-4.
Studies on constituents from Ligularia narynensis.[Pubmed:
15981879
]
To study the chemical constituents from Ligularia narynensis.
METHODS AND RESULTS:
The constituents were isolated and purified by column chromatography and the structures were identified by physicochemical properties and spectral analysis. Six compounds were obtained as Aurantiamide benzoate (1), aurantiamide acetate (2), 1-O-octacosanoylgerol (3), beta-sitosterol (4), daucesterol (5), ferulic acid (6).
CONCLUSIONS:
All these compounds were obtained from this plant for the first time. Compounds 1 and 2 were isolated for the first time from this genus.