Ajugasterone C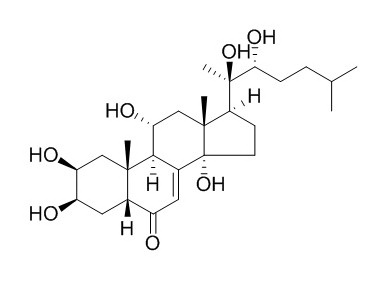 Ajugasterone C shows significant inhibitory effect at 100 mg/kg dose on rat paw oedema development due to carrageenan-induced inflammation in Sprague Dawley rats.
Inquire / Order: manager@chemfaces.com
Technical Inquiries: service@chemfaces.com
Tel: +86-27-84237783
Fax: +86-27-84254680

Address:
1 Building, No. 83, CheCheng Rd., Wuhan Economic and Technological Development Zone, Wuhan, Hubei 430056, PRC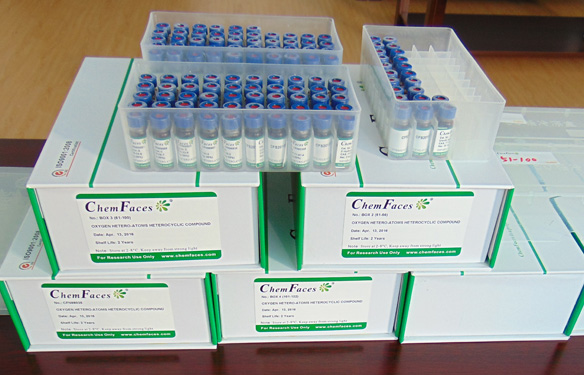 Providing storage is as stated on the product vial and the vial is kept tightly sealed, the product can be stored for up to
24 months(2-8C)
.
Wherever possible, you should prepare and use solutions on the same day. However, if you need to make up stock solutions in advance, we recommend that you store the solution as aliquots in tightly sealed vials at -20C. Generally, these will be useable for up to two weeks. Before use, and prior to opening the vial we recommend that you allow your product to equilibrate to room temperature for at least 1 hour.
Need more advice on solubility, usage and handling? Please email to: service@chemfaces.com
The packaging of the product may have turned upside down during transportation, resulting in the natural compounds adhering to the neck or cap of the vial. take the vial out of its packaging and gently shake to let the compounds fall to the bottom of the vial. for liquid products, centrifuge at 200-500 RPM to gather the liquid at the bottom of the vial. try to avoid loss or contamination during handling.
Sci Rep.2017, 7:46299
Anal Biochem.2019, 569:10-15
Toxicological Research2020, doi: 10.1007.
Applied Biological Chemistry2022, 65(12)
Molecules.2019, 24(2):E343
Molecules.2020, 25(21):5087.
South African J of Botany2020, 135:50-57
Journal of Analytical Chemistry2017, 854-861
The Japan Society for Analy. Chem.2017, 66(8):613-617
PLoS One.2018, 13(11):e0208055
Planta Med. 2013 Jan;79(1):52-9.
Phytoecdysteroids from the stem bark of Vitex doniana and their anti-inflammatory effects.[Pubmed:
23150078
]
With reference to the ethnopharmacological significance of Vitex doniana Sweet (Lamiaceae) leaves in the treatment of stomach and rheumatic pains as well as inflammatory disorders, biological studies on its stem bark extracts have also reported anti-inflammatory and analgesic activities, with no attempt to identify the active components.
METHODS AND RESULTS:
Chromatographic and spectroscopic procedures identified three new phytoecdysteroids: 21-hydroxyshidasterone (1), 11β-hydroxy-20-deoxyshidasterone (2), and 2,3-acetonide-24-hydroxyecdysone (3) from the stem bark methanol extracts along with known ecdysteroids shidasterone (4), Ajugasterone C (5), 24-hydroxyecdysone (6), and 11β,24-hydroxyecdysone (7). The compounds (1-7) showed significant (p ≤ 0.05) inhibitory effect at 100 mg/kg dose on rat paw oedema development due to carrageenan-induced inflammation in Sprague Dawley rats.
CONCLUSIONS:
These results suggest a possible contribution of ecdysteroids to the anti-inflammatory effect of some V. doniana stem bark extracts.