7Beta-Hydroxycholesterol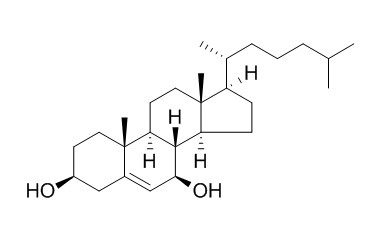 7beta-Hydroxycholesterol, a major cytotoxin in oxidized LDL, induces Ca(2+) oscillations, MAP kinase activation and apoptosis in human aortic smooth muscle cells. 7beta-Hydroxycholesterol and 7-ketocholesterol have dual cytotoxic effects on the cells of the vascular wall by their ability to induce apoptosis in endothelial and smooth muscle cells and necrosis in fibroblasts. 7beta-Hydroxycholesterol can inhibit the proliferation of NCI-H460 cells through apoptosis via caspase activation. It can reinforce the susceptibility of K562 adriamycin-resistant cells to this drug, it also can enhance radiosensitivity in RDM4 cells.
Inquire / Order: manager@chemfaces.com
Technical Inquiries: service@chemfaces.com
Tel: +86-27-84237783
Fax: +86-27-84254680

Address:
1 Building, No. 83, CheCheng Rd., Wuhan Economic and Technological Development Zone, Wuhan, Hubei 430056, PRC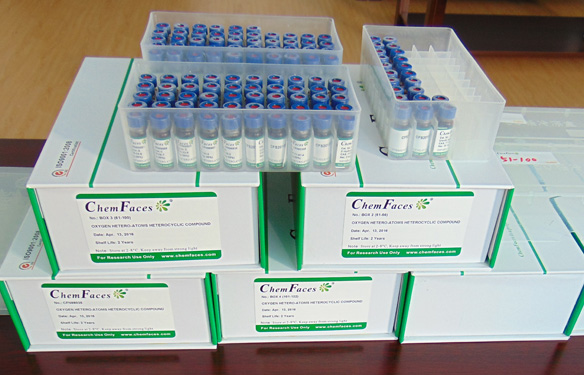 Providing storage is as stated on the product vial and the vial is kept tightly sealed, the product can be stored for up to
24 months(2-8C)
.
Wherever possible, you should prepare and use solutions on the same day. However, if you need to make up stock solutions in advance, we recommend that you store the solution as aliquots in tightly sealed vials at -20C. Generally, these will be useable for up to two weeks. Before use, and prior to opening the vial we recommend that you allow your product to equilibrate to room temperature for at least 1 hour.
Need more advice on solubility, usage and handling? Please email to: service@chemfaces.com
The packaging of the product may have turned upside down during transportation, resulting in the natural compounds adhering to the neck or cap of the vial. take the vial out of its packaging and gently shake to let the compounds fall to the bottom of the vial. for liquid products, centrifuge at 200-500 RPM to gather the liquid at the bottom of the vial. try to avoid loss or contamination during handling.
Biomedicines.2021, 9(8):996.
Journal of Life Science2017, 233-240
Pharmacognosy Journal2019, 11(2): 369-373
Food Res Int.2021, 148:110607.
Antioxidants (Basel).2021, 10(3):379.
Antioxidants (Basel).2020, 9(2): E119
Food Research International2020, 108987
LWT2021, 138:110397.
Chemistry of Natural Compounds2019, 55(1):127-130
Crystals2020, 10(3), 206.
Biol. Pharm. Bull., 2005, 28(8):1377-80.
Cytotoxic effect of 7beta-hydroxycholesterol on human NCI-H460 lung cancer cells.[Pubmed:
16079477
]
The cytotoxic activity of 7Beta-Hydroxycholesterol (7beta-OHC) was evaluated on human NCI-H460 lung cancer cells.
METHODS AND RESULTS:
7beta-OHC decreased clonogenic survival of NCI-H460 in a dose dependent pattern. 7beta-OHC induced apoptosis in NCI-H460, with the characteristic features like increase in sub-G(1) hypodiploid (apoptotic) cells, and apoptotic body formation, as evidenced by flow cytometry and fluorescence microscope, respectively. Apoptosis was also associated with loss of mitochondrial transmembrane potential, and the activation of caspases 9 and 3. 7beta-OHC resulted in generation of reactive oxygen species (ROS) during apoptosis.
CONCLUSIONS:
On the whole, the results indicated that 7beta-OHC inhibited the proliferation of NCI-H460 cells through apoptosis via caspase activation.
Anticancer Res., 2002, 22(2A):943-8.
Effects of combinations of 7beta-hydroxycholesterol and anticancer drugs or ionizing radiation on the proliferation of cultured tumor cells.[Pubmed:
12014676
]
Oxysterols compose a large class of natural substances endowed in a number of cases with marked antiproliferative and cytotoxic activities.
METHODS AND RESULTS:
The consequences of treatments combining 7Beta-Hydroxycholesterol (7beta-OHC) or XG-142 (a galactose-linked hydrosoluble derivative of 7beta-OHC) with drugs used in cancer chemotherapy or gamma radiation has been evaluated upon a variety of tumor cell lines: Hep-G2, U937, K562 cells, its adriamycin-resistant variant K562 Adr+ and RDM4. Proliferation was assessed by the Uptiblue assay and the [3H]Thymidine incorporation test.
CONCLUSIONS:
Results indicated that 7beta-OHC increased the sensitivity of tumor cells to adriamycin, VP-16, 5-FU and bleomycin to various degrees. 7beta-OHC was found to reinforce the susceptibility of K562 adriamycin-resistant cells to this drug. In RDM4 cells, an enhanced radiosensitivity by 7beta-OHC was also obtained, whereas XG-142 was less efficient in provoking such an effect.