Cholesterol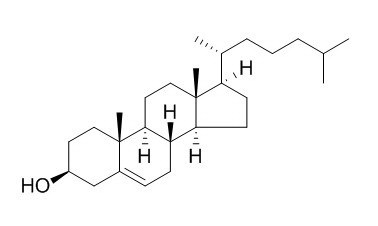 Cholesterol, a major eukaryotic lipid, can markedly modulate protein dynamics.The liposomal single-molecule approach highlighted the significance of the Cholesterol-induced basal force for interhelical interactions, which will aid discussions of complex protein-membrane systems.Cholesterol trafficking as an attractive therapeutic target for cancer treatment.
Inquire / Order: manager@chemfaces.com
Technical Inquiries: service@chemfaces.com
Tel: +86-27-84237783
Fax: +86-27-84254680

Address:
1 Building, No. 83, CheCheng Rd., Wuhan Economic and Technological Development Zone, Wuhan, Hubei 430056, PRC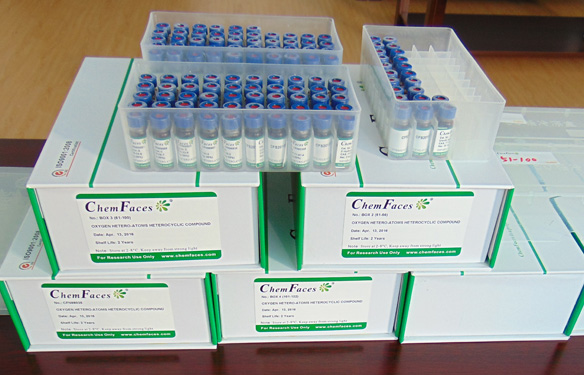 Providing storage is as stated on the product vial and the vial is kept tightly sealed, the product can be stored for up to
24 months(2-8C)
.
Wherever possible, you should prepare and use solutions on the same day. However, if you need to make up stock solutions in advance, we recommend that you store the solution as aliquots in tightly sealed vials at -20C. Generally, these will be useable for up to two weeks. Before use, and prior to opening the vial we recommend that you allow your product to equilibrate to room temperature for at least 1 hour.
Need more advice on solubility, usage and handling? Please email to: service@chemfaces.com
The packaging of the product may have turned upside down during transportation, resulting in the natural compounds adhering to the neck or cap of the vial. take the vial out of its packaging and gently shake to let the compounds fall to the bottom of the vial. for liquid products, centrifuge at 200-500 RPM to gather the liquid at the bottom of the vial. try to avoid loss or contamination during handling.
Molecules.2020, 25(3):734
Korean Journal of Pharmacognosy2018, 49(1):76-83
Industrial Crops and Products2017, 95:286-295
Int J Mol Sci.2019, 20(8):E1855
Antioxidants (Basel).2020, 9(6):544.
PLoS One.2018, 13(4):e0195642
Front Immunol.2018, 9:2091
J. of Med. Plant Research.2013, 90-151
Int J Mol Sci.2017, 18(12)
Biochem Pharmacol.2020, 178:114083
Am J Med. 2015 Apr;128(4):403-9.
Cholesterol treatment and changes in guidelines in an academic medical practice.[Pubmed:
25460526
]
National guidelines are intended to influence physician Cholesterol treatment practices, yet few studies have documented the effect of new guidelines on actual prescribing behaviors and impacts on patient eligibility for treatment. We describe current Cholesterol treatment in an academic practice of Family and Internal Medicine physicians as well the effect of a change in Cholesterol treatment guidelines from 2001 Adult Treatment Panel III (ATPIII) to 2013 American College of Cardiology/American Heart Association (ACC/AHA) guidelines.
METHODS AND RESULTS:
Medical records were extracted from primary care patients aged 40-75 years with at least one outpatient visit from January 1, 2012 to July 31, 2013; patients were included if they had records of Cholesterol testing, blood pressure measurement, sex, race, and smoking status. Patients were classified into ATPIII and ACC/AHA categories based on clinical variables (eg, diabetes, hypertension, atherosclerotic cardiovascular disease), Framingham Risk Score, and 10-year atherosclerotic cardiovascular disease risk. There were 4536 patients included in the analysis. Of these, 71% met ATPIII goals and 56% met ACC/AHA guidelines, a 15% decrease. Forty-three percent of high-risk patients met their low-density lipoprotein goals and 46% were on statins. Overall, 32% of patients would need to be started on a statin, 12% require an increased dose, and 6% could stop statins. Of patients considered low risk by ATPIII guidelines, 271 would be eligible for treatment by ACC/AHA guidelines, whereas 129 patients were shifted from intermediate risk to low risk with the change in guidelines.
CONCLUSIONS:
The ACC/AHA guidelines expand the number of patients recommended to receive statins, particularly among patients who were previously thought to be at moderate risk, and would increase the intensity of treatment for many patients at high risk. Significant numbers of patients at risk for cardiovascular events were not receiving guideline-based treatment. New Cholesterol guidelines may make treatment decisions easier.
Biochem Biophys Res Commun. 2015 Feb 20;457(4):614-20.
Cholesterol reduces the sensitivity to platinum-based chemotherapy via upregulating ABCG2 in lung adenocarcinoma.[Pubmed:
25603057
]
Inoperable lung adenocarcinoma is currently treated with platinum-based chemotherapy. However, the effectiveness of these chemotherapeutic agents is not the same for all patients.
METHODS AND RESULTS:
Patients either show quick chemoresistance (QCR) or delayed chemoresistance (DCR), which are defined by 87 and 242 days of progression-free survival (PFS) after initial platinum-based treatment, respectively. We found that QCR patients displayed an elevated level of serum Cholesterol and that their tumors showed upregulated ABCG2 expression. We propose that chemoresistance may be attributed to Cholesterol-induced ABCG2 expression and hypothesize that blocking ABCG2 may increase the efficacy of platinum-based chemotherapeutic agents. Using the MTT cell viability assay, we observed that cotreatment with ABCG2 blocker Nicardipine and platinum-based drugs Cisplatin, Oxaliplatin or Carboplatin significantly decreased cell viability of tumor cells.
CONCLUSIONS:
Importantly, our results also showed that incubating cells with Cholesterol prior to chemotherapy treatment or cotreatment increased cell viability of tumor cells relative to the controls.
Cancer Lett. 2015 Jun 28;362(1):106-15.
Inhibition of angiogenesis by selective estrogen receptor modulators through blockade of cholesterol trafficking rather than estrogen receptor antagonism.[Pubmed:
25799952
]
Selective estrogen receptor modulators (SERM) including tamoxifen are known to inhibit angiogenesis. However, the underlying mechanism, which is independent of their action on the estrogen receptor (ER), has remained largely unknown.
METHODS AND RESULTS:
In the present study, we found that tamoxifen and other SERM inhibited Cholesterol trafficking in endothelial cells, causing a hyper-accumulation of Cholesterol in late endosomes/lysosomes. Inhibition of Cholesterol trafficking by tamoxifen was accompanied by abnormal subcellular distribution of vascular endothelial growth factor receptor-2 (VEGFR2) and inhibition of the terminal glycosylation of the receptor. Tamoxifen also caused perinuclear positioning of lysosomes, which in turn trapped the mammalian target of rapamycin (mTOR) in the perinuclear region of endothelial cells. Abnormal distribution of VEGFR2 and mTOR and inhibition of VEGFR2 and mTOR activities by tamoxifen were significantly reversed by addition of Cholesterol-cyclodextrin complex to the culture media of endothelial cells. Moreover, high concentrations of tamoxifen inhibited endothelial and breast cancer cell proliferation in a Cholesterol-dependent, but ER-independent, manner.
CONCLUSIONS:
Together, these results unraveled a previously unrecognized mechanism of angiogenesis inhibition by tamoxifen and other SERM, implicating Cholesterol trafficking as an attractive therapeutic target for cancer treatment.
Biochemistry. 2015 Feb 17;54(6):1371-9.
Cholesterol-induced lipophobic interaction between transmembrane helices using ensemble and single-molecule fluorescence resonance energy transfer.[Pubmed:
25629582
]
The solvent environment regulates the conformational dynamics and functions of solvated proteins. In cell membranes, Cholesterol, a major eukaryotic lipid, can markedly modulate protein dynamics.
METHODS AND RESULTS:
To investigate the nonspecific effects of Cholesterol on the dynamics and stability of helical membrane proteins, we monitored association-dissociation dynamics on the antiparallel dimer formation of two simple transmembrane helices (AALALAA)3 with single-molecule fluorescence resonance energy transfer (FRET) using Cy3B- and Cy5-labeled helices in lipid vesicles (time resolution of 17 ms). The incorporation of 30 mol % Cholesterol into phosphatidylcholine bilayers significantly stabilized the helix dimer with average lifetimes of 450-170 ms in 20-35 °C. Ensemble FRET measurements performed at 15-55 °C confirmed the Cholesterol-induced stabilization of the dimer (at 25 °C, ΔΔG(a) = -9 kJ mol(-1) and ΔΔHa = -60 kJ mol(-1)), most of which originated from "lipophobic" interactions by reducing helix-lipid contacts and the lateral pressure in the hydrocarbon core region. The temperature dependence of the dissociation process (activation energy of 48 kJ) was explained by the Kramers-type frictional barrier in membranes without assuming an enthalpically unfavorable transition state. In addition to these observations, Cholesterol-induced tilting of the helices, a positive ΔC(p(a)), and slower dimer formation compared with the random collision rate were consistent with a hypothetical model in which Cholesterol stabilizes the helix dimer into an hourglass shape to relieve the lateral pressure.
CONCLUSIONS:
Thus, the liposomal single-molecule approach highlighted the significance of the Cholesterol-induced basal force for interhelical interactions, which will aid discussions of complex protein-membrane systems.