Ponasterone A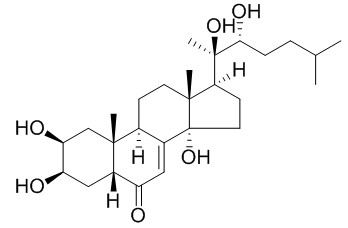 Ponasterone A is insect moulting hormone. Ponasterone A induced death of non-adapted insects may be related to PoA regulating different set of genes when compared to 20E.
Inquire / Order: manager@chemfaces.com
Technical Inquiries: service@chemfaces.com
Tel: +86-27-84237783
Fax: +86-27-84254680

Address:
1 Building, No. 83, CheCheng Rd., Wuhan Economic and Technological Development Zone, Wuhan, Hubei 430056, PRC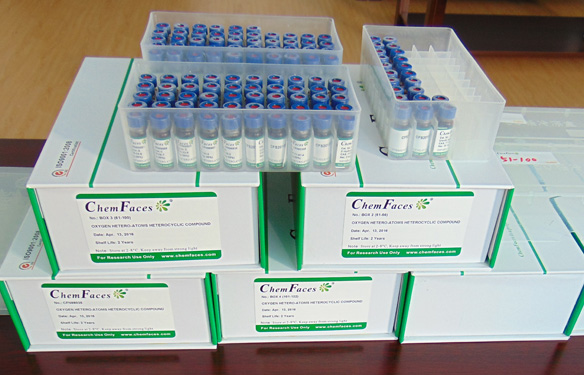 Providing storage is as stated on the product vial and the vial is kept tightly sealed, the product can be stored for up to
24 months(2-8C)
.
Wherever possible, you should prepare and use solutions on the same day. However, if you need to make up stock solutions in advance, we recommend that you store the solution as aliquots in tightly sealed vials at -20C. Generally, these will be useable for up to two weeks. Before use, and prior to opening the vial we recommend that you allow your product to equilibrate to room temperature for at least 1 hour.
Need more advice on solubility, usage and handling? Please email to: service@chemfaces.com
The packaging of the product may have turned upside down during transportation, resulting in the natural compounds adhering to the neck or cap of the vial. take the vial out of its packaging and gently shake to let the compounds fall to the bottom of the vial. for liquid products, centrifuge at 200-500 RPM to gather the liquid at the bottom of the vial. try to avoid loss or contamination during handling.
Natural Product Communications2020, doi: 10.1177.
Antioxidants (Basel).2021, 10(1):112.
Biomed Pharmacother.2020, 131:110673.
Pharmacol Rep.2022, 74(1):175-188.
Biomed Pharmacother.2022, 146:112497.
Malaysian J of Fundamental and Applied Sciences 2018, 14(3):368-373
Molecules.2019, 24(16):E2985
Phytomedicine.2022, 100:154085.
J Insect Sci.2020, 20(5):18.
Appl. Sci. 2021, 11(22),10569
Int J Biochem Cell Biol. 2003 Jan;35(1):79-85.
Development of a ponasterone A-inducible gene expression system for application in cultured skeletal muscle cells.[Pubmed:
12467649
]
The goal of this study was to develop an inducible gene expression system to assess functions of specific proteins in differentiated cultured skeletal muscle.
METHODS AND RESULTS:
We utilized and modified the ecdysone inducible system because others have used this system to express exogenous genes in vitro and in transgenic animals. A limitation of the commercially-available ecdysone system is its constitutive expression in all tissues. Hence, its application in vivo would result in expression of a cloned gene in undifferentiated and differentiated tissues. To target its expression to muscle, we removed the constitutively-active CMV promoter of pVgRXR and replaced it with a skeletal muscle alpha-actin promoter so that the regulatory features of the system would be expressed in differentiated muscle cells. We transfected our newly designed expression system into L8 muscle myoblasts and established stable cell lines via antibiotic selection.
CONCLUSIONS:
We determined that reporter gene activity was induced by Ponasterone A in myotubes, a differentiated muscle phenotype, but not in myoblasts (undifferentiated cells). This proved the validity of the concept of an inducible muscle-specific expression system. We then determined that beta-galactosidase expression was dependent upon the dose of Ponasterone A and duration of exposure to inducer. This creates potential to regulate both the level of expression and duration of expression of a cloned gene in differentiated muscle.
Bioorg Med Chem. 2005 Feb 15;13(4):1333-40.
Classical and three-dimensional QSAR for the inhibition of [3H]ponasterone A binding by diacylhydrazine-type ecdysone agonists to insect Sf-9 cells.[Pubmed:
15670941
]

METHODS AND RESULTS:
The activity of 52 diacylhydrazine congeners was evaluated by measuring the inhibition of the incorporation of [3H]Ponasterone A into intact Sf-9 cells. Eleven compounds were newly synthesized in this study. Results showed that the substitution of the 2-CH3 or 3-OCH3 moiety of methoxyfenozide with other groups or the removal of either group was unfavorable to the activity. The activity was quantitatively analyzed using both classical QSAR (Hansch-Fujita) and three-dimensional QSAR methods (comparative molecular field analysis, CoMFA). Sterically favorable fields were observed at the 3- and 4-positions of the benzene ring opposite from the t-butyl group (B-ring), and a sterically unfavorable field was evidenced at the 2-position. Another sterically unfavorable field developed surrounding the favorable field observed at the 4-position of the B-ring. Electrostatically negative fields were observed near the CO moiety, above the benzene ring, and at the 4-position of the B-ring. The optimum hydrophobicity of compounds in terms of their logP values was calculated to be approximately 4.1. Results of the three dimensional structure-activity relationship analyses were consistent with those obtained from the previously reported classical QSAR for 2-chlorobenzoyl analogs containing various para-substituents. The high activity of potent insecticides such as tebufenozide and chromafenozide were rationalized by CoMFA.
CONCLUSIONS:
Thus, this CoMFA result will be useful in the design of new compounds and in understanding the molecular mechanism of the ligand-receptor interactions.
BMC Genomics. 2011 Sep 29;12:475.
Genome-wide examination of the transcriptional response to ecdysteroids 20-hydroxyecdysone and ponasterone A in Drosophila melanogaster.[Pubmed:
21958154
]

METHODS AND RESULTS:
Four ent-pimarene diterpenoids. ent-18-acetoxy-8(14)-pimarene-15S, 16-diol, ent-18-acetoxy-16-hydroxy-8(14)-pimaren-15-one, ent-16,18-dihydroxy-8(14)-pimaren-15-one and ent-19-nor-4,16,18-trihydroxy-8(14)-pimaren-15-one, together with three known damarane triterpenoids, Richenoic acid, eichleriainic acid and shoreic acid were isolated from the bark of Dysoxyhum hainanense Merr. Their structures were elucidated on the basis of spectroscopic techniques.
CONCLUSIONS:
The absolute configurations of four diterpenoids were assigned as ent-pimarene type by chemical transformation and by co-occurrence in the plant as well as by negative optical rotations for four compounds.
Steroids. 2008 Dec 22;73(14):1452-64.
Synthesis of ponasterone A derivatives with various steroid skeleton moieties and evaluation of their binding to the ecdysone receptor of Kc cells.[Pubmed:
18804484
]
A series of Ponasterone A (PNA) derivatives with various steroid moieties were synthesized to measure their binding activity to the ecdysone receptors of Drosophila Kc cells.
METHODS AND RESULTS:
The activity of compounds was evaluated by determining the concentration required to give the 50% inhibition (IC(50) in M) of the incorporation of [(3)H]Ponasterone A to Drosophila Kc cells. Compounds with no functional groups such as OH and CO group in the steroid skeleton moiety were inactive. By the introduction of functional groups such as the OH and the CO group in the steroidal structure, these compounds became active. Some compounds containing the A/B-trans ring fusion, which is different from that (A/B-cis) of ecdysteroids were also active. The oxidation of CH(2) at 6-position to CO, enhanced the activity 19 times, but the activity was erased by the reduction of oxo to OH group at 6-position. The activity was enhanced about 250 times by the conversion of A/B ring configuration from trans [(20R,22R)-2beta,3beta,20,22-tetrahydroxy-5alpha-cholestan-6-one: pIC(50)=4.84] to cis [(20R,22R)-2beta,3beta,20,22-tetrahydroxy-5beta-cholestan-6-one: pIC(50)=7.23].
CONCLUSIONS:
The latter cis-type compound which is the most potent among compounds synthesized in this study was equipotent to the natural molting hormone, 20-hydroxyecdysone, even though it is 1/50 of Ponasterone A.