Aflavarin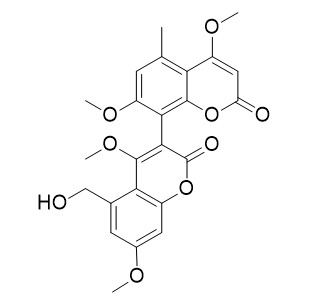 Aflavarin exhibits potent antifeedant activity against the fungivorous beetle Carpophilus hemipterus.
Inquire / Order: manager@chemfaces.com
Technical Inquiries: service@chemfaces.com
Tel: +86-27-84237783
Fax: +86-27-84254680

Address:
1 Building, No. 83, CheCheng Rd., Wuhan Economic and Technological Development Zone, Wuhan, Hubei 430056, PRC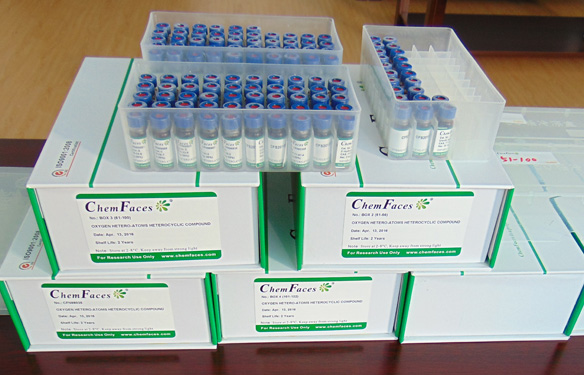 Providing storage is as stated on the product vial and the vial is kept tightly sealed, the product can be stored for up to
24 months(2-8C)
.
Wherever possible, you should prepare and use solutions on the same day. However, if you need to make up stock solutions in advance, we recommend that you store the solution as aliquots in tightly sealed vials at -20C. Generally, these will be useable for up to two weeks. Before use, and prior to opening the vial we recommend that you allow your product to equilibrate to room temperature for at least 1 hour.
Need more advice on solubility, usage and handling? Please email to: service@chemfaces.com
The packaging of the product may have turned upside down during transportation, resulting in the natural compounds adhering to the neck or cap of the vial. take the vial out of its packaging and gently shake to let the compounds fall to the bottom of the vial. for liquid products, centrifuge at 200-500 RPM to gather the liquid at the bottom of the vial. try to avoid loss or contamination during handling.
Chem Biol Interact.2019, 315:108910
Int J Biol Macromol.2018, 112:1093-1103
Pharmacol Rep.2018, 70(6):1195-1201
Cancer Manag Res.2019, 11:483-500
Phytochem Anal.2013, 24(5):493-503
Food Analytical Methods2017, 10:3225¨C3234
Phytother Res.2019, 33(7):1784-1793
Pharmacol Rep.2017, 69(6):1224-1231
Oncology Letters2018, 4690-4696
Drug Test Anal.2018, 10(10):1579-1589
Fungal Genet Biol. 2017 Jul;104:29-37.
Aspergillus flavus aswA, a gene homolog of Aspergillus nidulans oefC, regulates sclerotial development and biosynthesis of sclerotium-associated secondary metabolites.[Pubmed:
28442441
]

METHODS AND RESULTS:
Aspergillus flavus aswA (AFLA_085170) is a gene encoding a Zn(II)2Cys6 DNA-binding domain and a transcriptional activation domain, DUF3468. Disruption of aswA yielded strains that made a truncated gene transcript and generated a fungus that produced a greatly increased number of sclerotia. These sclerotia were odd-shaped and non-pigmented (white) and different from oval and pigmented (dark brown to black) mature sclerotia. Transcriptomic analysis of the ΔaswA strain grown on potato dextrose agar plates and Wickerham agar plates showed that expression of clustering genes involved in the biosynthesis of three sclerotium-associated secondary metabolites was down-regulated. These included gene clusters of asparasone, aflatrem, and Aflavarin. In contrast, those of aflatoxin, cyclopiazonic acid and kojic acid were not affected.
CONCLUSIONS:
Metabolite analyses confirmed that the non-pigmented sclerotia contained aflatoxin and cyclopiazonic acid but not other aforementioned metabolites, three asparasone analogs and dihydroxyaflavinine commonly present in mature sclerotia. Impairment in aswA gene function stalls normal sclerotial development, which in turn prevents biosynthesis and accumulation of sclerotium-specific metabolites.
Journal of Natural Products, 1992, 55(8):1080-1086.
Aflavarin and β-Aflatrem: New Anti-Insectan Metabolites from the Sclerotia of Aspergillus flavus[Reference:
WebLink
]

METHODS AND RESULTS:
Aflavarin [3], a new bicoumarin, and beta-aflatrem [11], an isomer of the tremorgen aflatrem, were isolated from the sclerotia of Aspergillus flavus. The structures were determined through a series of 1D and 2D nmr experiments, assisted by spectral comparisons with known compounds. Aflavarin exhibits potent antifeedant activity against the fungivorous beetle Carpophilus hemipterus. Beta-aflatrem causes a significant reduction in the growth rate of the corn earworm Helicoverpa zea.
CONCLUSIONS:
The presence of nominine [13] as a minor metabolite of A. flavus is reported for the first time.