Daphnoretin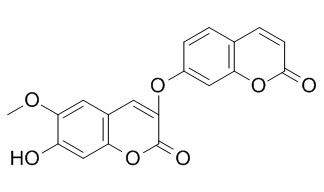 Daphnoretin has strong antiviral activity, mainly on the later phase of the replication cycle. Daphnoretin has anticancer effects on leukemia, osteosarcoma and uterine cervix cancer cells, might through promoting apoptosis in a mitochondria-mediated way; it causes death of HOS cells by blocking cells successively in G2/M phases and activating the caspase-3 pathway.
Inquire / Order: manager@chemfaces.com
Technical Inquiries: service@chemfaces.com
Tel: +86-27-84237783
Fax: +86-27-84254680

Address:
1 Building, No. 83, CheCheng Rd., Wuhan Economic and Technological Development Zone, Wuhan, Hubei 430056, PRC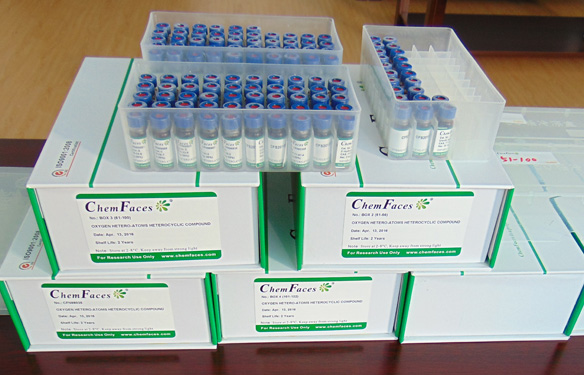 Providing storage is as stated on the product vial and the vial is kept tightly sealed, the product can be stored for up to
24 months(2-8C)
.
Wherever possible, you should prepare and use solutions on the same day. However, if you need to make up stock solutions in advance, we recommend that you store the solution as aliquots in tightly sealed vials at -20C. Generally, these will be useable for up to two weeks. Before use, and prior to opening the vial we recommend that you allow your product to equilibrate to room temperature for at least 1 hour.
Need more advice on solubility, usage and handling? Please email to: service@chemfaces.com
The packaging of the product may have turned upside down during transportation, resulting in the natural compounds adhering to the neck or cap of the vial. take the vial out of its packaging and gently shake to let the compounds fall to the bottom of the vial. for liquid products, centrifuge at 200-500 RPM to gather the liquid at the bottom of the vial. try to avoid loss or contamination during handling.
United States Patent Application2020, 20200038363
Int J Mol Sci.2018, 19(2)
Sci Rep.2019, 9(1):6429
Yakugaku Zasshi.2018, 138(4):571-579
J Ethnopharmacol.2019, 244:112074
Ann Transl Med.2019, 7(23):731
PLoS One.2015, 10(5):e0127060
Evid Based Complement Alternat Med.2018, 2018:4259603
Nat Prod Commun.2017, 12(5):771-778
Pharmacol Rep.2019, 71(2):289-298
Oncol Lett. 2014 Sep;8(3):1139-1142.
Effect of daphnoretin on the proliferation and apoptosis of A549 lung cancer cells in vitro.[Pubmed:
25120673
]
Daphnoretin is an active constituent of Wikstroemia indica C.A. Mey., which is widely distributed in the northwest and southwest regions of China. Previous studies have shown that Daphnoretin has anticancer effects on leukemia, osteosarcoma and uterine cervix cancer cells. However, the effect of Daphnoretin on human lung cancer cells has yet to be elucidated.
METHODS AND RESULTS:
In the present study, Daphnoretin was observed to inhibit A549 lung cancer cell proliferation in a concentration- and time-dependent manner. Fluorescent microscopy and flow cytometric analysis showed that Daphnoretin induced A549 cell apoptosis in a concentration-dependent manner. Western blot analysis also revealed that Daphnoretin induced apoptosis through the regulation of the B-cell lymphoma-2 gene family in A549 cells.
CONCLUSIONS:
These findings indicate that Daphnoretin may have potential as a therapeutic agent for the management of lung cancer.
Molecules. 2012 Jan 9;17(1):598-612.
Daphnoretin induces cell cycle arrest and apoptosis in human osteosarcoma (HOS) cells.[Pubmed:
22231496
]
In this study antiproliferation, cell cycle arrest and apoptosis induced by Daphnoretin in human osteosarcoma (HOS) cells were investigated.
METHODS AND RESULTS:
Antiproliferative activity was measured with the 3-(4,5-dimethylthiazol-2-yl)-2,5-diphenyltetrazolium bromide (MTT) assay. The IC(50) value of Daphnoretin was 3.89 μM after 72 h treatment. Induction of apoptosis was evidenced by apoptotic body appearance and Annexin V-FITC/PI apoptosis detection kit. Flow cytometric analysis indicated Daphnoretin arrested the cell cycle in the G2/M phase. Western-blot assay showed that the G2/M phase arrest was accompanied by down-regulation of cdc2, cyclin A and cyclin B1. Moreover, Daphnoretin inhibited Bcl-2 expression and induced Bax expression to desintegrate the outer mitochondrial membrane and causing cytochrome c release. Mitochondrial cytochrome c release was associated with the activation of caspase-9 and caspase-3 cascade.
CONCLUSIONS:
Our results demonstrated that Daphnoretin caused death of HOS cells by blocking cells successively in G2/M phases and activating the caspase-3 pathway.
Phytother Res. 2010 May;24(5):657-61.
Antiviral activity of daphnoretin isolated from Wikstroemia indica.[Pubmed:
19610034
]

METHODS AND RESULTS:
The ethanol extract of Wikstroemia indica was fractionated with organic solvents of different polarities, and various fractions were screened for their antiviral activity against respiratory syncytial virus (RSV) using a cytopathic effect (CPE) reduction assay. The ethyl acetate fraction was most active against RSV with 50% inhibition concentration (IC(50)) value < 3.9 microg/mL and a selectivity index (SI) > 64.1. Further isolation and purification of the fraction led to a purified compound, Daphnoretin. Daphnoretin was tested for its anti-RSV activity using a plaque reduction assay and found active against RSV, with an IC(50 )value of 5.87 microg/mL and SI value of 28.17.
CONCLUSIONS:
The mode of antiviral action study revealed that Daphnoretin could slightly inhibit the early events of the viral infection but its effect was mainly on the later phase of the replication cycle.
Cytotechnology. 2014 Jan;66(1):51-61.
Daphnoretin-induced apoptosis in HeLa cells: a possible mitochondria-dependent pathway.[Pubmed:
24091880
]
Daphnoretin is a bicoumarin compound isolated from a natural product, Wikstroemia indica, which has been used to treat many diseases. It has strong antiviral and anti-tumor activities. Taking the anti-tumor activity of Daphnoretin as a starting point, the present study aimed to test the pro-apoptotic effect of Daphnoretin and its underlying mechanism in HeLa cells.
METHODS AND RESULTS:
The inhibitory effects of Daphnoretin on viability and proliferation of HeLa cells were determined by the MTT assay. Daphnoretin-induced apoptotic morphological changes were analyzed by mitochondrial membrane potential and Hoechst staining. The number and stage of apoptotic HeLa cells were determined by flow cytometry. Gene expression was determined by reverse-transcription polymerase chain reaction. Protein expression was determined by western blot. The caspase activity of HeLa cells was detected by a caspase-3 and caspase-9 colorimetric assay kit. We found that Daphnoretin significantly inhibited HeLa cells' viability by the MTT assay and flow cytometry. The nuclei of the apoptotic cells exhibited strong, blue fluorescence in Hoechst staining. Bax mRNA and protein levels were increased while bcl-2 mRNA levels were decreased after Daphnoretin treatment. Daphnoretin also activated both caspase-3 and caspase-9.
CONCLUSIONS:
These findings suggest that Daphnoretin promotes apoptosis of HeLa cells in a mitochondria-mediated way. Daphnoretin therefore has potential to be a promising drug to treat uterine cervix cancer.