Triumbelletin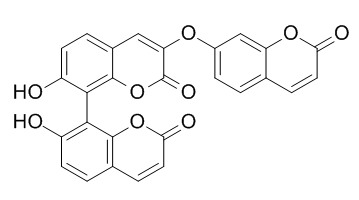 Triumbelletin is a natural product from Wikstroemia indica.
Inquire / Order: manager@chemfaces.com
Technical Inquiries: service@chemfaces.com
Tel: +86-27-84237783
Fax: +86-27-84254680

Address:
1 Building, No. 83, CheCheng Rd., Wuhan Economic and Technological Development Zone, Wuhan, Hubei 430056, PRC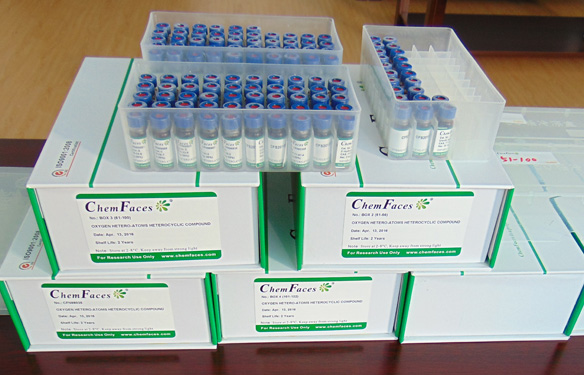 Providing storage is as stated on the product vial and the vial is kept tightly sealed, the product can be stored for up to
24 months(2-8C)
.
Wherever possible, you should prepare and use solutions on the same day. However, if you need to make up stock solutions in advance, we recommend that you store the solution as aliquots in tightly sealed vials at -20C. Generally, these will be useable for up to two weeks. Before use, and prior to opening the vial we recommend that you allow your product to equilibrate to room temperature for at least 1 hour.
Need more advice on solubility, usage and handling? Please email to: service@chemfaces.com
The packaging of the product may have turned upside down during transportation, resulting in the natural compounds adhering to the neck or cap of the vial. take the vial out of its packaging and gently shake to let the compounds fall to the bottom of the vial. for liquid products, centrifuge at 200-500 RPM to gather the liquid at the bottom of the vial. try to avoid loss or contamination during handling.
Br J Pharmacol.2018, 175(6):902-923
Sci Rep.2016, 6:25094
PLoS One.2015, 10(5):e0127060
Biochem Biophys Res Commun.2019, 518(4):732-738
J Adv Res.2019, 17:85-94
Molecules.2015, 20(11):20014-30
Int J Mol Sci.2019, 20(3):E651
J Chromatogr Sci.2015, 53(5):824-9
Food and Fermentation Industries2018, 44(371)
Clin Transl Oncol.2019, 10.1007
Natural Product Research & Development, 2014 , 26 (6) :851-5.
Phenolic Constituents from Rhizome of Wikstroemia indica and Their Anti-tumor Activity[Reference:
WebLink
]

METHODS AND RESULTS:
Seventeen phenolic constituents were isolated from the rhizome of Wikstroemia indica using a combination of various chromatographic methods. Their structures were elucidated and identified as wikstromol( 1),matairesinol( 2),syringaresinol( 3),pinoresinol( 4),isolariciresinol( 5),ciwujiatone( 6),isorhamnetin-3-O-robinobioside( 7),wikstaiwanone A( 8),wikstaiwanone B( 9),kaempferol( 10),rutin( 11),daphnoretin( 12),Triumbelletin( 13),alnusdiol( 14),aloe-emodin-8-O-β-D-glucoside( 15),chlorogenic acid( 16) and p-hydroxybenzoic acid( 17) by physicochemical properties and spectral data including NMR and MS. Compounds 3-9 and 13-16 were isolated from this plant for the first time.
CONCLUSIONS:
The anti-tumor tests showed compounds 1-4,6-9 exhibited different activities against colon cancer cell lines SW480 and SW620,in which compound 6 showed most significant activities against the two cell lines.
J Sep Sci. 2015 Jun;38(12):2093-100.
Ultra high performance liquid chromatography with electrospray ionization tandem mass spectrometry coupled with hierarchical cluster analysis to evaluate Wikstroemia indica (L.) C. A. Mey. from different geographical regions.[Pubmed:
25866087
]

METHODS AND RESULTS:
A sensitive, rapid and simple ultra high performance liquid chromatography with electrospray ionization tandem mass spectrometry method was developed to determine seven constituents (umbelliferone, apigenin, Triumbelletin, daphnoretin, arctigenin, genkwanin and emodin) in Wikstroemia indica (L.) C. A. Mey. The chromatographic analysis was performed on an ACQUITY UPLC® BEH C18 column (2.1 × 50 mm, 1.7 μm) by gradient elution with the mobile phase of 0.05% formic acid aqueous solution (A) and acetonitrile (B).
CONCLUSIONS:
Multiple reaction monitoring mode with positive and negative electrospray ionization interface was carried out to detect the components. This method was validated in terms of specificity, linearity, accuracy, precision and stability.