Pachymic acid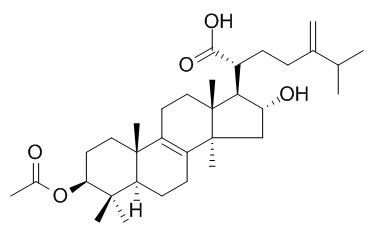 Pachymic acid has sedative-hypnotic, cardioprotective,antioxidant, and anti-inflammatory activities, it has hypoglycemic activity ,can stimulate glucose uptake, GLUT4 gene expression and translocation, and promoting triglyceride accumulation in adipocytes. Pachymic acid may inhibit proliferation and invasion of ovarian carcinoma cell through decreasing β-catenin and COX-2 expression and increasing E-cadherin exprssion. Pachymic acid is suggested to prevent the complications of oral diseases such as inflammation and alveolar destruction of the oral cavity.
Inquire / Order: manager@chemfaces.com
Technical Inquiries: service@chemfaces.com
Tel: +86-27-84237783
Fax: +86-27-84254680

Address:
1 Building, No. 83, CheCheng Rd., Wuhan Economic and Technological Development Zone, Wuhan, Hubei 430056, PRC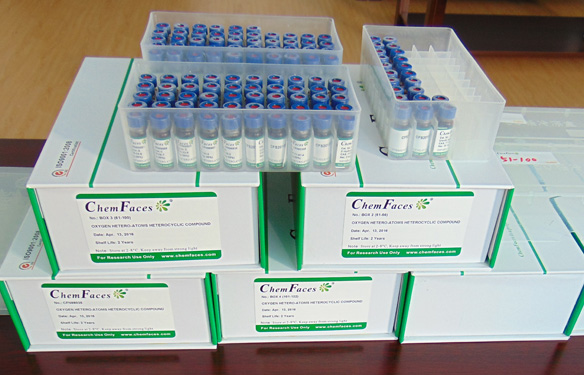 Providing storage is as stated on the product vial and the vial is kept tightly sealed, the product can be stored for up to
24 months(2-8C)
.
Wherever possible, you should prepare and use solutions on the same day. However, if you need to make up stock solutions in advance, we recommend that you store the solution as aliquots in tightly sealed vials at -20C. Generally, these will be useable for up to two weeks. Before use, and prior to opening the vial we recommend that you allow your product to equilibrate to room temperature for at least 1 hour.
Need more advice on solubility, usage and handling? Please email to: service@chemfaces.com
The packaging of the product may have turned upside down during transportation, resulting in the natural compounds adhering to the neck or cap of the vial. take the vial out of its packaging and gently shake to let the compounds fall to the bottom of the vial. for liquid products, centrifuge at 200-500 RPM to gather the liquid at the bottom of the vial. try to avoid loss or contamination during handling.
Food Chem. 2020, 320:126530
Bio-protocol2018, 9(14):e3301
Advances in Traditional Medicine2020, 10.1007
Biochem Pharmacol. 2020, 177:114014.
BMC Complement Altern Med.2019, 19(1):339
Aquaculture2019, 510:392-399
J Food Compos Anal2017, 62:197-204
Sci. Rep.2015, 14-23
Phytomedicine.2015, 22(4):498-503
Front Pharmacol.2018, 9:756
J Endod. 2013 Apr;39(4):461-6.
The antioxidant property of pachymic acid improves bone disturbance against AH plus-induced inflammation in MC-3T3 E1 cells.[Pubmed:
23522537
]
The cytotoxicity of resin-based sealer is influential on the inflammatory reaction and cell survival for oral periapical cells. In this study, Pachymic acid as an antioxidant was investigated for the improvement of bone disturbance against AH Plus (Dentsply DeTrey GmbH, Konstanz, Germany)-induced inflammation in MC-3T3 E1 cells.
METHODS AND RESULTS:
AH Plus was prepared according to the manufacturer's instructions. Using mouse osteoblast cells (MC-3T3 E1), a specimen of AH Plus was eluted with the culture medium for 1 day and was diluted by 30%. The cellular cytotoxicity and reactive oxygen species formation was determined by 3-(4,5-dimethylthiazol-2-yl)-2,5-diphenyltetrazolium bromide and 2',7'-dichlorodihydrofluorescein diacetate with fluorescence-activated cell sorting. The secretion of proinflammatory cytokines was determined by an enzyme-linked immunosorbent assay, and the expression of inflammatory and osteogenic molecules was determined by immunoblotting. Cells with AH Plus elutes showed a decrease of cell viability and ALP activity. However, Pachymic acid and N-acetyl-L-cysteine (control antioxidant) restored cell viability and ALP activity damaged by AH plus. The secretion of nitric oxide, tumor necrosis factor α, and interleukin-1β were increased in AH Plus-stimulated MC-3T3 E1 cells, but Pachymic acid suppressed its production. Furthermore, Pachymic acid reduced the receptor activator of nuclear factor-κB ligand, cyclooxygenase-2, matrix metalloproteinase-2 and -9, increased bone morphogenetic protein-2 and -7, and runt-related transcription factor 2 despite AH Plus stimuli. In addition, Pachymic acid affected the removal effect of reactive oxygen species formation as did N-acetyl-L-cysteine. More importantly, Pachymic acid inhibited nuclear factor-κB translocation.
CONCLUSIONS:
The property of Pachymic acid can mitigate the unfavorable conditions induced by AH Plus stimuli. Therefore, the use of Pachymic acid is suggested to prevent the complications of oral diseases such as inflammation and alveolar destruction of the oral cavity.
Eur J Pharmacol. 2010 Dec 1;648(1-3):39-49.
Pachymic acid stimulates glucose uptake through enhanced GLUT4 expression and translocation.[Pubmed:
20816811
]
In an effort to investigate the effect and mechanism of Poria cocos on glucose uptake, six lanostane-type triterpenoids were isolated and analyzed.
METHODS AND RESULTS:
Among them, Pachymic acid displayed the most significant stimulating activity on glucose uptake in 3T3-L1 adipocytes. The effect of Pachymic acid on the expression profile of glucose transporters in differentiated 3T3-L1 adipocytes was also analyzed. Our results demonstrated that Pachymic acid induced an increase in GLUT4, but not GLUT1, expression at both the mRNA and protein levels. The role of GLUT4 was further confirmed using the lentiviral vector-derived GLUT4 short hairpin RNA (shRNA). The stimulating activity of Pachymic acid on glucose uptake was abolished when the endogenous GLUT4 expression was suppressed in 3T3-L1 adipocytes. In addition to increased GLUT4 expression, Pachymic acid stimulated GLUT4 redistribution from intracellular vesicles to the plasma membrane in adipocytes. Exposure of the differentiated adipocytes to Pachymic acid increased the phosphorylation of insulin receptor substrate (IRS)-1, AKT and AMP-activated kinase (AMPK). The involvement of PI3K and AMPK in the action of Pachymic acid was further confirmed as PI3K and AMPK inhibitors completely blocked the Pachymic acid-mediated activities in adipocytes. In addition, Pachymic acid was shown to induce triglyceride accumulation and inhibit lipolysis in differentiated adipocytes.
CONCLUSIONS:
Taken together, we demonstrated the insulin-like activities of this compound in stimulating glucose uptake, GLUT4 gene expression and translocation, and promoting triglyceride accumulation in adipocytes. Our study provides important insights into the underlying mechanism of hypoglycemic activity of P. cocos.
Biomol Ther (Seoul). 2014 Jul; 22(4): 314–20.
Pachymic Acid Enhances Pentobarbital-Induced Sleeping Behaviors via GABAA-ergic Systems in Mice[Pubmed:
25143810
]
This study was investigated to know whether Pachymic acid (PA), one of the predominant triterpenoids in Poria cocos (Hoelen) has the sedative-hypnotic effects, and underlying mechanisms are mediated via γ-aminobutyric acid (GABA)-ergic systems.
METHODS AND RESULTS:
Oral administration of PA markedly suppressed locomotion activity in mice. This compound also prolonged sleeping time, and reduced sleep latency showing synergic effects with muscimol (0.2 mg/kg) in shortening sleep onset and enhancing sleep time induced by pentobarbital, both at the hypnotic (40 mg/kg) and sub-hypnotic (28 mg/kg) doses. Additionally, PA elevated intracellular chloride levels in hypothalamic primary cultured neuronal cells of rats. Moreover, Western blotting quantitative results showed that PA increased the amount of protein level expression of GAD65/67 over a broader range of doses. PA increased α- and β-subunits protein levels, but decreased γ-subunit protein levels in GABAA receptors. The present experiment provides evidence for the hypnotic effects as PA enhanced pentobarbital-induced sleeping behaviors via GABAA-ergic mechanisms in rodents.
CONCLUSIONS:
Taken together, it is proposed that PA may be useful for the treatment of sleep disturbed subjects with insomnia.
Int J Clin Exp Pathol. 2015 Feb 1;8(2):2235-41. eCollection 2015.
Inhibition of ovarian cancer proliferation and invasion by pachymic acid.[Pubmed:
25973134
]
To determine the effect of Pachymic acid (PA) on proliferation, cell cycle, and invasion in human ovarian carcinoma cell lines HO-8910 and explore some possible mechanisms, HO-8910 cells was treated with different concentrations of PA (0.5, 1, 2 μM).
METHODS AND RESULTS:
CCK-8 assay, propidium iodide staining, was applied to measuring the growth inhibiting rates of HO-8910 cells. Cell cycle was measured by flow cytometry. In addition, the activity of PA against HO-8910 cells invasion was evaluated in transwell assay. Western blot detected the proteins expression of E-cadherin, β-catenin and COX-2 of different groups treated with PA in different concentrations (0.5, 1, 2 μM) for 48 h. Our results showed that PA could effectively inhibit the in vitro growth of HO-8910 cells in dose-dependent manners in 72 h, suppressed migration and invasion of HO-8910 cells in concentration-dependent manners at 24 h, caused the increased accumulation of G1 phase cells, and caused down-regulation of β-catenin and COX-2 and up-regulation of E-cadherin expression level.
CONCLUSIONS:
Taken together, it could conclude that PA might inhibit proliferation and invasion of ovarian carcinoma cell through decreasing β-catenin and COX-2 expression and increasing E-cadherin expression.
Mol Med Rep. 2015 Apr 30. doi: 10.3892/mmr.2015.3712.
Pachymic acid protects H9c2 cardiomyocytes from lipopolysaccharide-induced inflammation and apoptosis by inhibiting the extracellular signal-regulated kinase 1/2 and p38 pathways.[Pubmed:
25936656
]
Pachymic acid (PA), a lanostane-type triterpenoid and the major component of Poria cocos alcoholic extracts, has various pharmacological effects, including anti-inflammatory, anti-oxidative and anti-apoptotic. However, few studies have investigated the effects of PA on lipopolysaccharide (LPS)-induced H9c2 cell apoptosis and inflammation, or identified the possible mechanisms underlying these effects.
CONCLUSIONS:
In the present study, H9c2 cardiomyocytes were stimulated by LPS and treated with or without PA. The increased mRNA expression levels of tumor necrosis factor-α, interleukin (IL)-1 and IL-6 induced by LPS were attenuated following treatment with PA. PA also attenuated LPS-induced apoptosis, as determined by a terminal deoxynucleotidyl transferase dUTP nick end labeling assay, and regulated the LPS-induced protein expression levels of caspase 3, 8 and 9. Furthermore, the phosphorylations of extracellular-regulated kinase (Erk)1/2 and p38 in the LPS-treated H9c2 cells were inhibited by PA.
CONCLUSIONS:
These results suggested that treatment with PA prevented the LPS-induced inflammatory and apoptotic response in cardiomyocytes, which may be mediated by inhibition of the Erk1/2 and p38 pathways.