5'-Methoxynobiletin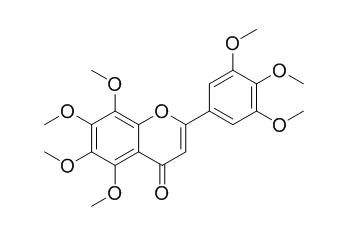 5'-Methoxynobiletin may exhibit antinociceptive and anti-inflammatory activities in both formalin phases.
Inquire / Order: manager@chemfaces.com
Technical Inquiries: service@chemfaces.com
Tel: +86-27-84237783
Fax: +86-27-84254680

Address:
1 Building, No. 83, CheCheng Rd., Wuhan Economic and Technological Development Zone, Wuhan, Hubei 430056, PRC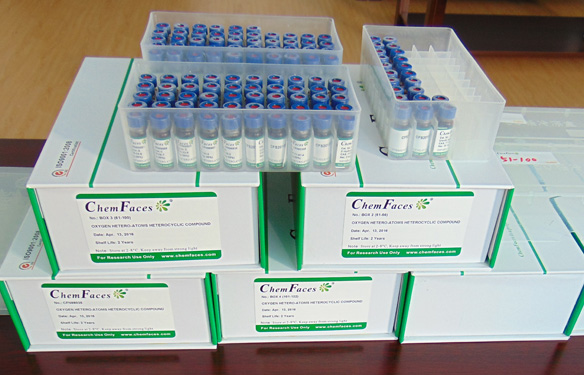 Providing storage is as stated on the product vial and the vial is kept tightly sealed, the product can be stored for up to
24 months(2-8C)
.
Wherever possible, you should prepare and use solutions on the same day. However, if you need to make up stock solutions in advance, we recommend that you store the solution as aliquots in tightly sealed vials at -20C. Generally, these will be useable for up to two weeks. Before use, and prior to opening the vial we recommend that you allow your product to equilibrate to room temperature for at least 1 hour.
Need more advice on solubility, usage and handling? Please email to: service@chemfaces.com
The packaging of the product may have turned upside down during transportation, resulting in the natural compounds adhering to the neck or cap of the vial. take the vial out of its packaging and gently shake to let the compounds fall to the bottom of the vial. for liquid products, centrifuge at 200-500 RPM to gather the liquid at the bottom of the vial. try to avoid loss or contamination during handling.
Anal Bioanal Chem. 2016, 408(15)
Cytotechnology.2017, 69(5):765-773
Oxid Med Cell Longev.2022, 2022:9139338.
Plants (Basel).2021, 10(2):278.
Mol Pharm.2017, 14(9):3164-3177
Trop J Nat Prod Res.2019, 3(1):6-9
Pharm Biol.2016, 54(7):1255-62
Int J Biol Macromol.2020, 169:342-351
J Nat Med.2020, 74(3):550-560.
Mediators Inflamm. 2016, 2016:6189590
J Ethnopharmacol. 2016 Dec 24;194:369-377.
Antinociceptive and anti-inflammatory activities of standardized extract of polymethoxyflavones from Ageratum conyzoides.[Pubmed:
27633406
]
Ageratum conyzoides L. is a plant widely used in traditional medicine in tropical and subtropical regions of the world due to its anti-inflammatory, antinociceptive and antibacterial properties. To characterize the standardized extract of polymethoxyflavones (SEPAc) from the plant and evaluate its antinociceptive and anti-inflammatory effects.
METHODS AND RESULTS:
The SEPAc purified from the ethanol extract of the plant leaves was characterized by high resolution mass spectrometry and the methoxyflavones were quantified by a validated UPLC-PDA method. The antinociceptive and anti-inflammatory activities of the SEPAc were evaluated after oral administration on the acute nocifensive behavior of mice induced by formalin, prostaglandin E2 (PGE2) and proinflammatory cytokines (interleukin-1beta (IL-1β)) and tumor necrosis factor-alpha (TNF-α) in mice. Qualitative analyses revealed the presence of seven methoxyflavones in the SEPAc, also a simple UPLC-PDA method was developed and validated for the quantification of 5,6,7,3',4',5'-hexametoxyflavone; nobiletin; 5'-Methoxynobiletin and eupalestin, major compounds in the extract. The SEPAc exhibited antinociceptive and anti-inflammatory activities in both formalin phases, with significant inhibition of the paw edema formation and significant reduction of the nocifensive response induced by an intraplantar injection of PGE2 and intrathecal injection of interleukin-1β.
CONCLUSIONS:
The SEPAc exhibited significant antinociceptive and anti-inflammatory effects. These results provided scientific suggestion of its potential as a source of new medicines to treat inflammatory diseases, such rheumatoid arthritis.
J Pharm Biomed Anal. 2017 Oct 25;145:621-628.
Simultaneous identification and quantification of polymethoxyflavones, coumarin and phenolic acids in Ageratum conyzoides by UPLC-ESI-QToF-MS and UPLC-PDA.[Pubmed:
29843205
]
Ageratum conyzoides L. is a plant widely used in traditional medicine of tropical and subtropical regions for its anti-inflammatory and antinociceptive properties. Nevertheless, the chemical composition of its medicinal preparation has not been yet accurately established.
METHODS AND RESULTS:
In this study, chromatographic methods were developed for the simultaneous identification and quantification of the main compounds in A. conyzoides aqueous extract, using UPLC-PDA-ESI-QToF-MS. The qualitative analyses defined by MS/MS analysis allowed the identification of 27 compounds in the aqueous extract, including the toxic pyrrolizidine alkaloids, phenolic acids, coumarin and polymethoxyflavones. Among the metabolites, twelve were detected for the first time in the species.
CONCLUSIONS:
The quantitative method was validated according to the official guidelines, demonstrating to be specific, linear, precise, accurate and sensitive for the quantification of chlorogenic acid, coumaric acid, coumarin (1,2-benzopyranone), 5,6,7,3',4',5'-hexamethoxyflavone, nobiletin, 5'-Methoxynobiletin and eupalestin.