Arteanoflavone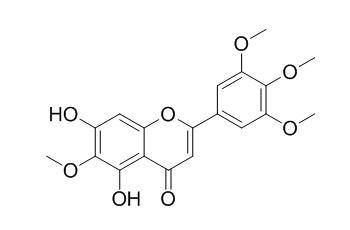 Arteanoflavone is a natural product from Artemisia hispanica.
Inquire / Order: manager@chemfaces.com
Technical Inquiries: service@chemfaces.com
Tel: +86-27-84237783
Fax: +86-27-84254680

Address:
1 Building, No. 83, CheCheng Rd., Wuhan Economic and Technological Development Zone, Wuhan, Hubei 430056, PRC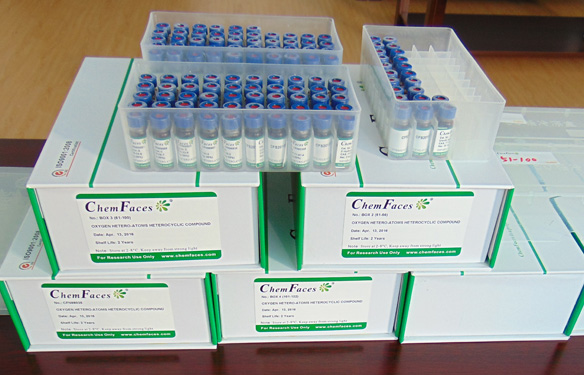 Providing storage is as stated on the product vial and the vial is kept tightly sealed, the product can be stored for up to
24 months(2-8C)
.
Wherever possible, you should prepare and use solutions on the same day. However, if you need to make up stock solutions in advance, we recommend that you store the solution as aliquots in tightly sealed vials at -20C. Generally, these will be useable for up to two weeks. Before use, and prior to opening the vial we recommend that you allow your product to equilibrate to room temperature for at least 1 hour.
Need more advice on solubility, usage and handling? Please email to: service@chemfaces.com
The packaging of the product may have turned upside down during transportation, resulting in the natural compounds adhering to the neck or cap of the vial. take the vial out of its packaging and gently shake to let the compounds fall to the bottom of the vial. for liquid products, centrifuge at 200-500 RPM to gather the liquid at the bottom of the vial. try to avoid loss or contamination during handling.
Evid Based Complement Alternat Med.2017, 2017:7383104
Sains Malaysiana2022, 51(4):1143-1154
J Appl Microbiol.2022, 132(2):949-963.
Evid Based Complement Alternat Med.2018, 2018:4259603
Molecules2022, 27(9):2992.
Chem Biol Interact.2016, 258:59-68
J Sep Sci.2021, 44(22):4064-4081.
Metabolites2022, 12(6),507.
Int J Mol Sci.2022, 23(13):7115.
J Agric Food Chem.2021, 69(14):4210-4222.
Biomed Res Int. 2017;2017:7375615.
Inhibitory Effect of Chemical Constituents Isolated from Artemisia iwayomogi on Polyol Pathway and Simultaneous Quantification of Major Bioactive Compounds.[Pubmed:
28512639
]
Blocking the polyol pathway plays an important role preventing diabetic complications. Therefore, aldose reductase (AR) and advanced glycation endproducts (AGEs) formation has significant effect on diabetic complications. Artemisia iwayomogi has long been used as treatment of various diseases in Korea. However, no literatures have reported on AR and AGEs formation inhibitory activities of A. iwayomogi. For these reasons, we aimed to assess that A. iwayomogi had potential as anti-diabetic complications agents.
METHODS AND RESULTS:
We led to isolation of two coumarins (1 and 2), nine flavonoids (3-11), five caffeoylquinic acids (12-16), three diterpene glycosides (17-19), and one phenolic compound (20) from A. iwayomogi. Among them, hispidulin (4), 6-methoxytricin (6), Arteanoflavone (7), quercetin-3-gentiobioside (10), 1,3-di-O-caffeoylquinic acid (13), and suavioside A (18) were first reported on the isolation from A. iwayomogi. Not only two coumarins (1 and 2), nine flavonoids (3-11), and five caffeoylquinic acids (12-16) but also extracts showed significant inhibitor on AR and AGEs formation activities. We analyzed contents of major bioactive compounds in Korea's various regions of A. iwayomogi.
CONCLUSIONS:
Overall, we selected Yangyang, Gangwon-do, from June, which contained the highest amounts of bioactive compounds, as suitable areas for cultivating A. iwayomogi as preventive or therapeutic agent in the treatment of diabetic complications.
Phytochemistry, 1988, 27(10):3155-3159.
Flavonoids and other phenolics from Artemisia hispanica.[Reference:
WebLink
]
Extraction of aerial parts of Artemisia hispanica and chromatographic separation yielded chrysosplenetin, chrysosplenol D, 5,7,3′,4′-tetrahydroxy-6,5′-dimethoxyflavone, 5,7,3′-trihydroxy-6,4′,5′-trimethoxyflavone, Arteanoflavone, cirsilineol, penduletin, axillarin, jaceosidin, apigenin, luteolin, p-hydroxyacetophenone, 4-(p-hydroxyphenyl) butan-2-one, methyl caffeate, esculetin, apigenin 7-glucoside, luteolin 7-glucoside and the new flavonoids 5,3′,4′-trihydroxy-6,7,5′-trimethoxyflavone and isoetin 5′-glucoside.