5,7-Diacetoxyflavone
5,7-Diacetoxyflavone is a natural product from Oroxylum indicum.
Inquire / Order: manager@chemfaces.com
Technical Inquiries: service@chemfaces.com
Tel: +86-27-84237783
Fax: +86-27-84254680

Address:
1 Building, No. 83, CheCheng Rd., Wuhan Economic and Technological Development Zone, Wuhan, Hubei 430056, PRC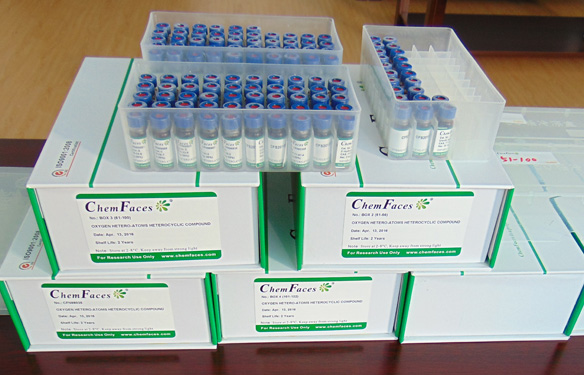 Providing storage is as stated on the product vial and the vial is kept tightly sealed, the product can be stored for up to
24 months(2-8C)
.
Wherever possible, you should prepare and use solutions on the same day. However, if you need to make up stock solutions in advance, we recommend that you store the solution as aliquots in tightly sealed vials at -20C. Generally, these will be useable for up to two weeks. Before use, and prior to opening the vial we recommend that you allow your product to equilibrate to room temperature for at least 1 hour.
Need more advice on solubility, usage and handling? Please email to: service@chemfaces.com
The packaging of the product may have turned upside down during transportation, resulting in the natural compounds adhering to the neck or cap of the vial. take the vial out of its packaging and gently shake to let the compounds fall to the bottom of the vial. for liquid products, centrifuge at 200-500 RPM to gather the liquid at the bottom of the vial. try to avoid loss or contamination during handling.
Int J Biol Macromol.2020, 161:1230-1239.
Curr Res Virol Sci.2022, 3:100019.
Anat Rec2018, 24264
Front Immunol.2017, 8:1542
J Mol Histol.2019, 50(4):343-354
Eur J Neurosci.2021, 53(11):3548-3560.
Journal of Food Composition and Analysis2021, 100:103905.
Int J Mol Sci.2019, 20(16):E4015
Phytochemistry Letters2017, 449-455
Molecules.2019, 24(17):E3127
Journal of Membrane Science, 1997 , 125 (1) :177-187
Hydrolysis and regioselective transesterification catalyzed by immobilized lipases in membrane bioreactors[Reference:
WebLink
]
An experimental study of two types of immobilized lipase membrane reactors for the bioconversion of lipophilic substrates is reported.
METHODS AND RESULTS:
In one part of the work, the performance of biphasic membrane reactors has been investigated as a function of selected operating conditions for the hydrolysis of olive oil. In this type of reactor, aqueous and organic phases flow tangentially past the two surfaces of an enzyme containing membrane; intramembrane mass transfer is diffusive.Another part of the study refers to the regioselective transesterification of 5,7-Diacetoxyflavone in a monophasic non-aqueous membrane reactor wherein an organic phase solution of substrate is crossflow filtered through the wall of a tubular enzyme-loaded membrane; in this case, intramembrane mass transfer is convective.Immobilization of the enzyme both within the interior of the membranes and at their surfaces is considered.The influence of fluid dynamics parameters and immobilization site on the biphasic reactors performance has been studied using lipase from Candida rugosa.
CONCLUSIONS:
The effect of immobilization, of the amount of immobilized enzyme on the catalytic activity and regioselectivity efficiency in non aqueous system have been investigated using lipase from Pseudomonas cepacea.