3-O-(2'E,4'Z-Decadienoyl)ingenol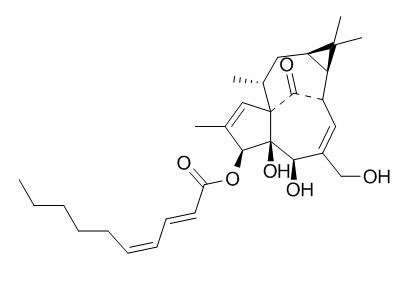 Kansuiphorin C and 3-O-(2′E,4′Z-decadienoyl)-ingenol exhibit significant anticomplement activity with respective 50% inhibitory concentration values of 44.1±3.8 and 89.5±5.5 uM. 20-O-acetyl-[3-O-(2'E,4'Z)-decadienoyl]-ingenol and 3-O-(2'E,4'Z)-decadienoylingenol show the same antinematodal activity against the nematode, Bursaphelenchus xylophilus, at a minimum effective dose (MED) of 5 microg/cotton ball.
Inquire / Order: manager@chemfaces.com
Technical Inquiries: service@chemfaces.com
Tel: +86-27-84237783
Fax: +86-27-84254680

Address:
1 Building, No. 83, CheCheng Rd., Wuhan Economic and Technological Development Zone, Wuhan, Hubei 430056, PRC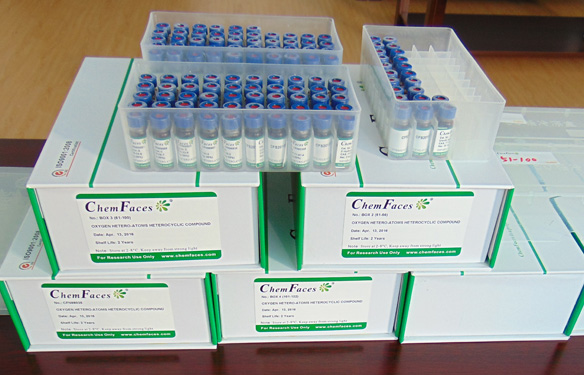 Providing storage is as stated on the product vial and the vial is kept tightly sealed, the product can be stored for up to
24 months(2-8C)
.
Wherever possible, you should prepare and use solutions on the same day. However, if you need to make up stock solutions in advance, we recommend that you store the solution as aliquots in tightly sealed vials at -20C. Generally, these will be useable for up to two weeks. Before use, and prior to opening the vial we recommend that you allow your product to equilibrate to room temperature for at least 1 hour.
Need more advice on solubility, usage and handling? Please email to: service@chemfaces.com
The packaging of the product may have turned upside down during transportation, resulting in the natural compounds adhering to the neck or cap of the vial. take the vial out of its packaging and gently shake to let the compounds fall to the bottom of the vial. for liquid products, centrifuge at 200-500 RPM to gather the liquid at the bottom of the vial. try to avoid loss or contamination during handling.
Plant Archives2020, 2(1),2929-2934
Phytomedicine.2016, 23(4):331-9
Molecules.2020, 25(9):2081.
ARPN Journal of Eng.& Applied Sci.2016, 2199-2204
Front Pharmacol.2021, 12:762829.
Anticancer Res.2014, 34(7):3505-9
Agronomy2020, 10(10),1489
Molecules 2022, 27(3),960.
Front Aging Neurosci.2018, 10:269
Phytother Res.2015, 29(7):1088-96
Cancer Sci. 2010 Feb;101(2):374-8.
Analysis of inhibition of topoisomerase IIalpha and cancer cell proliferation by ingenolEZ.[Pubmed:
20175785
]
We previously reported that many ingenol compounds derived from Euphorbia kansui exhibit topoisomerase inhibitory activity and/or inhibitory activity of cell proliferation.
METHODS AND RESULTS:
The inhibitory effects of 20-O-(2'E,4'Z-decadienoyl) ingenol and 3-O-(2'E,4'Z-Decadienoyl)ingenol among these compounds on topoisomerase II activity and on the cell proliferative activity and arrest phase of the cell cycle were studied using a mouse breast cancer (MMT) cell line. Although 20-O-ingenolEZ exerted inhibitory effects on both topoisomerase II activity and cell proliferative activity, 3-O-ingenolEZ exerted inhibitory activity on neither. The 20-O-ingenolEZ-induced cell arrest of MMT-cell proliferation led to a cell cycle arrest in the G2/M phase. Topoisomerase II inhibition can be divided into the poison and catalytic inhibitor types. A checkpoint mechanism is activated when cells are treated with these topoisomerase II inhibitors.
CONCLUSIONS:
Poison-type inhibition occurs via induction of the DNA damage checkpoint and the catalytic-type inhibition occurs via induction of the DNA-decatenation checkpoint, suggestive of distinct checkpoint reactions. 20-O-ingenolEZ inhibited topoisomerase IIalpha activity through inhibition of ATPase, and induced DNA-decatenation checkpoint without signaling for phosphorylation of H2AX.
BMC Complem. Altern. M., 2016, 16(1):1-8.
Ultra-performance liquid chromatography-quadrupole/time-of-flight mass spectrometry analysis of the impact of processing on toxic components of Kansui Radix.[Reference:
WebLink
]

METHODS AND RESULTS:
An ultra-high-performance liquid chromatography in conjunction with ultra-high resolution quadrupole time-of-flight mass spectrometry (UHPLC UHD Q-TOF MS/MS) method was developed for the analysis of chemical profiles of vinegar-processed and raw Gansui in this study.Results showed that processing with vinegar caused conspicuous chemical changes. Among the altered components, 11 toxic terpenoids, 3-O-benzoyl-13-O- dodecanoylingenol/20-O-benzoyl-13-O-dodecanoylingenol, kansuinine D, kansuinine A, 3-O-benzoyl-13-O-dodecanoylingenol/20-O-benzoyl-13-O-dodecanoylingenol, 3-O- benzoylingenol/20-O-benzoylingenol, 20-O-(2′E,4′Z-decadienoyl)ingenol/20-O-(2′E,4′E- decadienoyl)ingenol/3-O-(2′E,4′Z-decadienoyl)ingenol/3-O-(2′E,4′E-decadienoyl)ingenol, 3-O-(2′E,4′Z-decadienoyl)-20-deoxyingenol,3-O-(2′E,4′Z-,ecadienoyl)-5-O-acetylingenol,3-O-(2′E,4′Z-decadienoyl)-20-O-acetylingenol,3-O-(2,3-dimethylbutanoyl)-13-O-dodecanoylingenol, were tentatively identified. The contents of most of these terpenoids were obviously decreased after processing with reductions of 6.66–95.25 %.
CONCLUSIONS:
Our findings could help us understand the chemical basis for the toxicity reduction of Gansui afforded by processing with vinegar. Further investigations are warranted to establish the relationship between processing-induced chemical changes and the reduction of toxicity of Gansui.