11-Keto-beta-boswellic acid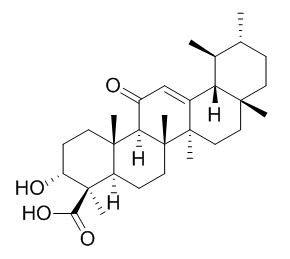 11-Keto-beta-boswellic acid, a novel Nrf2 activator, and a selective 5-lipoxygenase (5-LOX) inhibitor; it exerts dose dependent cardioprotective effect manifested by dose-dependent reduction in serum lactate dehydrogenase; and it can increase the Nrf2 and HO-1 expression, which provides protection against oxygen and glucose deprivation (OGD)-induced oxidative insult. 11-Keto-beta-boswellic acid possesses significant anti-inflammatory, and anti-tumoral activities.
Inquire / Order: manager@chemfaces.com
Technical Inquiries: service@chemfaces.com
Tel: +86-27-84237783
Fax: +86-27-84254680

Address:
1 Building, No. 83, CheCheng Rd., Wuhan Economic and Technological Development Zone, Wuhan, Hubei 430056, PRC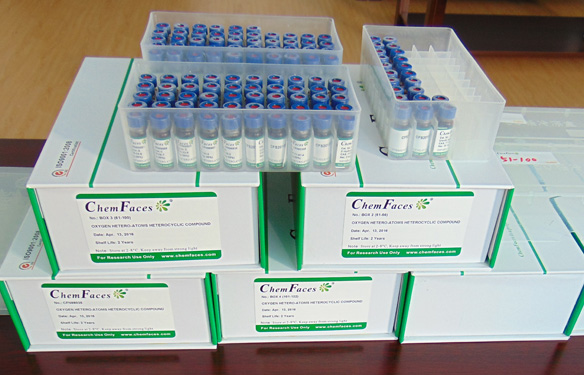 Providing storage is as stated on the product vial and the vial is kept tightly sealed, the product can be stored for up to
24 months(2-8C)
.
Wherever possible, you should prepare and use solutions on the same day. However, if you need to make up stock solutions in advance, we recommend that you store the solution as aliquots in tightly sealed vials at -20C. Generally, these will be useable for up to two weeks. Before use, and prior to opening the vial we recommend that you allow your product to equilibrate to room temperature for at least 1 hour.
Need more advice on solubility, usage and handling? Please email to: service@chemfaces.com
The packaging of the product may have turned upside down during transportation, resulting in the natural compounds adhering to the neck or cap of the vial. take the vial out of its packaging and gently shake to let the compounds fall to the bottom of the vial. for liquid products, centrifuge at 200-500 RPM to gather the liquid at the bottom of the vial. try to avoid loss or contamination during handling.
Oncol Rep.2019, 41(4):2453-2463
Phytomedicine.2015, 22(11):1027-36
Mol Cells.2015, 38(9):765-72
Enzyme Microb Technol.2019, 122:64-73
Chem Biol Interact.2018, 290:44-51
Molecules.2015, 20(10):19172-88
Evid Based Complement Alternat Med.2016, 2016:4357656
Front Pharmacol.2019, 10:1025
BMC Complement Altern Med.2019, 19(1):325
Molecules.2019, 24(4):E744
Phytochemistry. 2013 Dec;96:330-6.
Biotransformation of 11-keto-β-boswellic acid by Cunninghamella blakesleana.[Pubmed:
23962801
]
11-Keto-beta-boswellic acid (KBA), as one of the active constituents in the gum resin of Boswellia serrata, possesses significant biological activities including anti-inflammatory activity. However, its extensive metabolism and low polarity has limited the systemic availability of 11-Keto-beta-boswellic acid. The present research was aimed to obtain and explore the various possible derivatives of 11-Keto-beta-boswellic acid through biotransformation by Cunninghamella blakesleana AS 3.970.
METHODS AND RESULTS:
A total of ten transformed compounds were isolated and purified, and their chemical structures were characterized as 7β-hydroxy-11-keto-β-boswellic acid; 7β, 15α-dihydroxy-11-keto-β-boswellic acid ; 7β, 16β-dihydroxy-11-keto-β-boswellic acid; 7β, 16α-dihydroxy-11-keto-β-boswellic acid; 7β, 22β-dihydroxy-11-keto-β-boswellic acid; 7β, 21β-dihydroxy-11-keto-β-boswellic acid; 7β, 20β-dihydroxy-11-keto-β-boswellic acid; 7β, 30-dihydroxy-11-keto-β-boswellic acid; 3α, 7β-dihydroxy-11-oxours-12-ene-24, 30-dioic acid and 3α, 7β-dihydroxy-30-(2-hydroxypropanoyloxy)-11-oxours-12-en-24-oic acid by various spectroscopic methods. The biotransformation processes include hydroxylation, oxidation and esterification. Primary structure-activity relationships (SAR) of inhibitory effects on NO production in RAW 264.7 macrophage cells are discussed.
Eur J Med Chem. 2015 Jul 15;100:98-105.
11-Keto-boswellic acid derived amides and monodesmosidic saponins induce apoptosis in breast and cervical cancers cells.[Pubmed:
26073487
]
Beta-boswellic acids are considered the main bioactive components of frankincense. Their potential to act as cytotoxic agents, as well as that of their derivatives remained unexploited so far.
METHODS AND RESULTS:
In this study we were able to prepare derivatives of 11-keto-β-boswellic acid (KBA) that showed lower IC50 values as determined by a sulphorhodamine B (SRB) assay using several different human tumour cell lines. Monodesmosidic saponins of KBA are as cytotoxic as 3-acetyl-KBA. The presence of a free hydroxyl group at position C-3 seems to lower cytotoxicity while the presence of an amide function at C-24 improves cytotoxicity. The most active compound of this series gave IC50 values as low as 4.5 μM.
CONCLUSIONS:
Cell death proceeded mainly via apoptosis.
Mol Neurobiol. 2015 Dec;52(3):1430-1439.
Posttreatment with 11-Keto-β-Boswellic Acid Ameliorates Cerebral Ischemia-Reperfusion Injury: Nrf2/HO-1 Pathway as a Potential Mechanism.[Pubmed:
25452227
]
Oxidative stress is well known to play a pivotal role in cerebral ischemia-reperfusion injury. The nuclear factor erythroid-2-related factor 2 (Nrf2)/heme oxygenase-1 (HO-1) pathway has been considered a potential target for neuroprotection in stroke. 11-Keto-beta-boswellic acid(KBA) is a triterpenoid compound from extracts of Boswellia serrata. The aim of the present study was to determine whether KBA, a novel Nrf2 activator, can protect against cerebral ischemic injury.
METHODS AND RESULTS:
Middle cerebral artery occlusion (MCAO) was operated on male Sprague-Dawley rats. KBA (25 mg/kg) applied 1 h after reperfusion significantly reduced infarct volumes and apoptotic cells as well as increased neurologic scores at 48 h after reperfusion. Meanwhile, posttreatment with KBA significantly decreased malondialdehyde (MDA) levels, restored the superoxide dismutase (SOD) activity, and increased the protein Nrf2 and HO-1 expression in brain tissues. In primary cultured astrocytes, KBA increased the Nrf2 and HO-1 expression, which provided protection against oxygen and glucose deprivation (OGD)-induced oxidative insult. But knockdown of Nrf2 or HO-1 attenuated the protective effect of KBA.
CONCLUSIONS:
In conclusion, these findings provide evidence that the neuroprotection of KBA against oxidative stress-induced ischemic injury involves the Nrf2/HO-1 pathway.
Mol Carcinog. 2012 Sep;51(9):679-95.
A novel cyano derivative of 11-keto-β-boswellic acid causes apoptotic death by disrupting PI3K/AKT/Hsp-90 cascade, mitochondrial integrity, and other cell survival signaling events in HL-60 cells.[Pubmed:
21751262
]
Intervention of apoptosis is a promising strategy for discovery of novel anti-cancer therapeutics. In this study, we examined the ability of a novel cyano derivative of 11-Keto-beta-boswellic acid , that is, butyl 2-cyano-3,11-dioxours-1,12-dien-24-oate (BCDD) to induce apoptosis in cancer cells.
METHODS AND RESULTS:
BCDD inhibited cell proliferation with 48 h IC(50) of 0.67 μM in HL-60, 1 μM in Molt4, and 1.5 μM in THP1 cells. The mechanism of cell death was investigated in HL-60 cells where it caused apoptosis by acting against several potential apoptosis suppressive targets. It inhibited phosphatidylinositol-3-kinase (PI3K)/AKT activity, NF-κB, Hsp-90, and survivin which may enhance the sensitivity of cells to apoptosis. Also, BCDD decreased the activity of Bid and Bax in cytosol, caused ΔΨ(mt) loss, releasing pro-apoptotic cytochrome c, SMAC/DIABLO leading to caspase-9-mediated down stream activation of caspase-3, ICAD, and PARP1 cleavage. Translocation of apoptotis-inducing factor (AIF) from mitochondria to the nucleus indicated some caspases-independent apoptosis. Though it upregulated DR-5 and caspase-8, the caspase inhibitor yet had no effect on apoptosis as against 75% inhibition by caspase-9 inhibitor. Attempts were made to examine any acclaimed role of AIF in the activation of caspase-8 using siRNA where it had no effect on caspase-8 activity while the Bax-siRNA inhibited caspase-3 activation suggesting predominance of intrinsic signaling.
CONCLUSIONS:
Our studies thus demonstrated that BCDD exerts multi-focal action in cancer cells while it required 10-fold higher the concentration to produce cytotoxicity in normal human PBMC and gingival cell line, and therefore, may find usefulness in the management of human leukemia.
Chem Biol Interact. 2011 Jan 15;189(1-2):60-71.
A propionyloxy derivative of 11-keto-β-boswellic acid induces apoptosis in HL-60 cells mediated through topoisomerase I & II inhibition.[Pubmed:
21056033
]
Boswellic acids have invariably been reported for their antiproliferative potential in various cell systems. In the present study the growth inhibitory effect of propionyloxy derivative of 11-Keto-beta-boswellic acid (PKBA; a semisynthetic analogue of 11-keto-β-boswellic acid) on HL-60 promyelocytic leukemia cells is being reported for the first time.
METHODS AND RESULTS:
In the preliminary studies, in vitro cytotoxicity of PKBA was investigated against eight human cancer cell lines viz., IMR-32, SF-295 (both neuroblastoma), PC-3 (prostate), Colo-205 (colon), MCF-7 (breast), OVCAR-5 (ovary), HL-60, Molt-4 (both leukemia) and their respective IC(50) values were found to be 5.95, 7.11, 15.2, 14.5, 15, 15.9, 8.7 & 9.5μg/ml, respectively. For determining the mechanism of cell death in HL-60 cells, PKBA was subjected to different mechanistic studies. DNA relaxation assay of PKBA revealed inhibition of both topoisomerases I & II. The fragmentation analysis of DNA revealed typical ladders indicating the cytotoxic effect to be mediated by induction of apoptosis. The morphologic studies of PKBA showed the presence of true apoptotic bodies. Apoptosis was confirmed further by flow-cytometric detection of sub-G(1) peaks and enhanced annexin-V-FITC binding of the cells. The activation of apoptotic cascade by PKBA in HL-60 cells was found to be associated with the loss of mitochondrial membrane potential, release of cytochrome c, activation of initiator and executioner caspases and cleavage of poly ADP ribose polymerase (PARP). In vivo studies of PKBA revealed anti-tumoral activity against both ascitic and solid murine tumor models.
CONCLUSIONS:
These studies thus demonstrate PKBA to induce apoptosis in HL-60 cells due to the inhibition of topoisomerases I and II.
Naunyn Schmiedebergs Arch Pharmacol. 2013 Sep;386(9):823-33.
The selective 5-LOX inhibitor 11-keto-β-boswellic acid protects against myocardial ischemia reperfusion injury in rats: involvement of redox and inflammatory cascades.[Pubmed:
23771412
]
Myocardial ischemia induces 5-lipoxygenase (LOX) translocation and leukotriene production in the heart. Leukotrienes increase inflammatory responses aggravating, thereby, ischemia-reperfusion (I/R) injury. This study aimed to investigate whether the selective 5-LOX inhibitor 11-Keto-beta-boswellic acid (11-keto BA), in three different dose levels, exert a protective effect on myocardial I/R injury in an in vivo rat heart model.
METHODS AND RESULTS:
Sixty male Wister rats were used in this study and divided into five equal groups (n=12): GP1, sham-operated receiving normal saline; Gp 2, rats were subjected to 45 min left anterior descending coronary artery ligation followed by 4 h reperfusion to serve as I/R group. Gps 3-5 received 11-keto BA in doses 250, 500, 1,000 mg/kg, respectively, via an oral gavage for 7 days then were exposed to I/R. I/R injury induced a significant elevation in myeloperoxidase activity and gene expression of intracellular adhesion molecules, cyclooxygenase-2, 5-lipooxygenasae, nuclear factor kappa-beta, tumor necrosis factor alpha, nuclear factor (erythroid-derived 2)-like 2, and hemeoxygenease-1 consequently with reduction in glutathione peroxidase in heart tissues. Furthermore, immunohistochemical examination of the heart tissues showed positive immuostaining for both 3-nitrotyrosine and caspase-3 with DNA-ladder formation in all diseased rats.
CONCLUSIONS:
11-keto BA in three dose levels exerted dose dependent cardioprotective effect manifested by dose-dependent reduction in serum lactate dehydrogenase and infract size through mechanisms related to enhancement of antioxidant capacity and prevention of inflammatory cascades.