Wulignan A1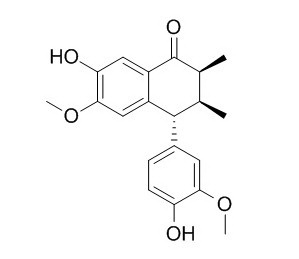 Wulignan A1 exhibits activity against leukemia P-388 in vitro; it also may have anti-influenza virus H1N1 and H1N1-TR (a Tamiflu drug resistant virus strain) activities.
Inquire / Order: manager@chemfaces.com
Technical Inquiries: service@chemfaces.com
Tel: +86-27-84237783
Fax: +86-27-84254680

Address:
1 Building, No. 83, CheCheng Rd., Wuhan Economic and Technological Development Zone, Wuhan, Hubei 430056, PRC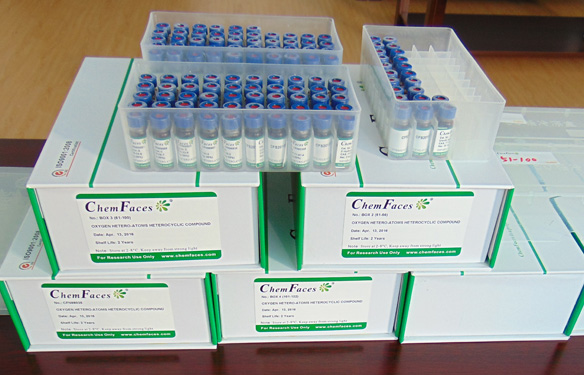 Providing storage is as stated on the product vial and the vial is kept tightly sealed, the product can be stored for up to
24 months(2-8C)
.
Wherever possible, you should prepare and use solutions on the same day. However, if you need to make up stock solutions in advance, we recommend that you store the solution as aliquots in tightly sealed vials at -20C. Generally, these will be useable for up to two weeks. Before use, and prior to opening the vial we recommend that you allow your product to equilibrate to room temperature for at least 1 hour.
Need more advice on solubility, usage and handling? Please email to: service@chemfaces.com
The packaging of the product may have turned upside down during transportation, resulting in the natural compounds adhering to the neck or cap of the vial. take the vial out of its packaging and gently shake to let the compounds fall to the bottom of the vial. for liquid products, centrifuge at 200-500 RPM to gather the liquid at the bottom of the vial. try to avoid loss or contamination during handling.
Molecules. 2017 Jun 2;
Braz J Med Biol Res. 2016 Jul 4;49(7).
Current Pharmaceutical AnalysisIssue 5, 2017
Int J Biol Macromol. 2018 Feb 12.
International Journal of Mol. Med.2015 Mar 6.
Journal of Medicinal Plant Research.2013 Nov 7
Fitoterapia. 2018 Jan;
Nutrients.2017 Dec 29;
Acta Physiologiae Plantarum.2014 10.
Chem Biol Interact.2018 Mar 1;
Acta Chimica Sinica,1988, 46(5):483-8.
Studies on the Constituents of Schisandra Henryi Ⅴ. The Structures of Wulignan A1, A2, Epiwulignan A1 and Epischisandrone)[Reference:
WebLink
]

METHODS AND RESULTS:
Four new lignan compounds named Wulignan A1 (4), A_2(5), epiWulignan A1 (6) and epischisandrone(7), and three known lignan compounds, enshicine(1), epienshicine(2) and schisandrone(3), were isolated from the fruits of Schisandra henryi Clarke collected in the district of Yibin, Sichuan Province.
CONCLUSIONS:
In anticancer screening all the four new compounds exhibit the activity against leukemia P-388 in vitro. Wulignan A1(4),
US 8414938 B2[P]. 2013.
Schisandrae fructus extracts for inhibition or prevention of H1N1 influenza virus infection and its application thereof[Reference:
WebLink
]
Disclosed are an Schisandrae fructus extract for inhibition or prevention of influenza and its application, wherein the Schisandrae fructus extract is obtained by water, methanol, or ethanol extraction process and the extract comprises compounds such as schisandrone, benzoylgomisin P, Wulignan A1, epigomisin O, epiWulignan A1, and tigloylgomisin P. The extracts and purified compounds of Schisandrae fructus has anti-influenza virus H1N1 and H1N1-TR (a Tamiflu drug resistant virus strain) activities, therefore the extracts and the purified compounds of Schisandrae fructus can be applied as an inhitibory agent of a pharmaceutical composition for treatment or prevention agent for influenza infection.
Chem Pharm Bull (Tokyo). 2009 Apr;57(4):405-7.
Two new lignans from Schisandra henryi.[Pubmed:
19336937
]

METHODS AND RESULTS:
Two new lignans, henricines A (1) and B (2), were isolated along with the eight known lignans, ganshisandrine (3), wulignan A2 (4), epiwulignan A(1) (5), deoxyschisandrin (6), Wulignan A1 (7), epischisandrone (8), schisantherin A (9), and schisandrol A (10), from the stems of Schisandra henryi.
CONCLUSIONS:
The structures of the new compounds were elucidated based on the spectral analysis, including 1D and 2D NMR experiments.