Tubuloside A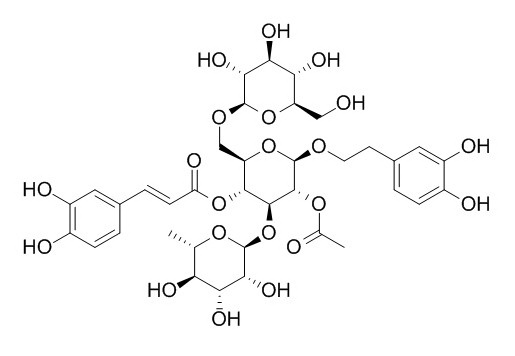 Tubuloside A has anti-inflammatory, antioxidative and hepatoprotective activities. Tubuloside A shows stronger free radical scavenging activities than alpha-tocopherol on 1,1-diphenyl-2-picrylhydrazyl (DPPH) radical and xanthine/xanthine oxidase (XOD) generated superoxide anion radical (O2-.).
Inquire / Order: manager@chemfaces.com
Technical Inquiries: service@chemfaces.com
Tel: +86-27-84237783
Fax: +86-27-84254680

Address:
1 Building, No. 83, CheCheng Rd., Wuhan Economic and Technological Development Zone, Wuhan, Hubei 430056, PRC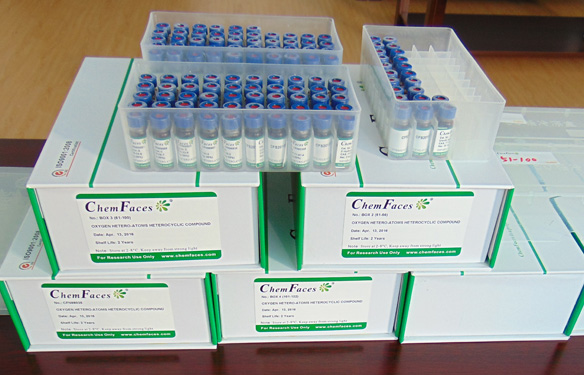 Providing storage is as stated on the product vial and the vial is kept tightly sealed, the product can be stored for up to
24 months(2-8C)
.
Wherever possible, you should prepare and use solutions on the same day. However, if you need to make up stock solutions in advance, we recommend that you store the solution as aliquots in tightly sealed vials at -20C. Generally, these will be useable for up to two weeks. Before use, and prior to opening the vial we recommend that you allow your product to equilibrate to room temperature for at least 1 hour.
Need more advice on solubility, usage and handling? Please email to: service@chemfaces.com
The packaging of the product may have turned upside down during transportation, resulting in the natural compounds adhering to the neck or cap of the vial. take the vial out of its packaging and gently shake to let the compounds fall to the bottom of the vial. for liquid products, centrifuge at 200-500 RPM to gather the liquid at the bottom of the vial. try to avoid loss or contamination during handling.
Korean Journal of Pharmacognosy2018, 49(1):76-83
Nat Prod Sci.2018, 24(2):109-114
Horticulture Research2020, 7:111.
BMC Complement Med Ther. 2020, 20(1):91.
Korean Herb. Med. Inf.2020, 8(2):233-242.
Evid Based Complement Alternat Med.2019, 2019:2135351
Research on Crops.2017, 18(3):569
Front Pharmacol.2019, 10:1226
Korean J of Medicinal Crop Science2018, 220-226
Food and Fermentation Industries2018, 44(371)
Plant Biotechnology 12(1), 46-54, 1995-04-01
Studies on the Tissue Culture of Cistanche Plants: I. Callus Induction and Shoot Differentiation from the Seed of Cistanche tubulosa Wight[Reference:
WebLink
]
Cistanche tubulosa Wight. is an important herbal medicine including such phenylethanoide glycosides as echinacoside (E), Tubuloside A (TA), acteoside (A) and 2′-acetylacteoside (2′AA), and is a holoparasitic plant distributed in a wide range from the North African to Chinese in and and semi arid regions.
METHODS AND RESULTS:
In this plant, seed germination occured without a host plant by the addition of gibberellic acid to the medium and the removal of the seed coat. Callus were induced on 1/2MS medium containing 2.5mg/l indol-3-acetic acid and 0.5mg/l kinetin, and with chilling treatment (at 4°C for 3 months) of the seeds. With this condition, a shoot differentiated from the callus in 6 weeks, but a parasitic root did not form. The shape of the vascular bundle of the shoot and that of the mother plant was slightly different.The largest value for phenylethanoide glycosides contained in the shoot was 10 fold that of the mother plant.
Eur J Pharmacol. 2000 Jul 14;400(1):137-44.
Inhibition of nitric oxide by phenylethanoids in activated macrophages.[Pubmed:
10913595
]
Nitric oxide (NO) is one of the pro-inflammatory molecules. Some phenylethanoids have been previously shown to possess anti-inflammatory effects.
METHODS AND RESULTS:
Seven phenylethanoids from the stems of Cistanche deserticola, viz. isoacteoside, tubuloside B, acteoside, 2'-O-acetylacteoside, echinacoside, cistanoside A and Tubuloside A, were tested for their effect on NO radical generation by activated murine macrophages. At the concentration of 100-200 microM, all the phenylethanoids reduced (6.3-62.3%) nitrite accumulation in lipopolysaccharide (0.1 microgram/ml)-stimulated J774.1 cells. At 200 microM, they inhibited by 32.2-72.4% nitrite accumulation induced by lipopolysaccharide (0.1 microgram/ml)/interferon-gamma (100 U/ml) in mouse peritoneal exudate macrophages. However, these compounds did not affect the expression of inducible nitric oxide (iNOS) mRNA, the iNOS protein level, or the iNOS activity in lipopolysaccharide-stimulated J774.1 cells. Instead, they showed a clear scavenging effect (6.9-43.9%) at the low concentrations of 2-10 microM of about 12 microM nitrite generated from an NO donor, 1-propanamine-3-hydroxy-2-nitroso-1-propylhydrazino (PAPA NONOate).
CONCLUSIONS:
These results indicate that the phenylethanoids have NO radical-scavenging activity, which possibly contributes to their anti-inflammatory effects.
Bioorg Med Chem. 2010 Mar 1;18(5):1882-90.
Acylated phenylethanoid oligoglycosides with hepatoprotective activity from the desert plant Cistanche tubulosa.[Pubmed:
20159656
]
The methanolic extract from fresh stems of Cistanche tubulosa (Orobanchaceae) was found to show hepatoprotective effects against D-galactosamine (D-GalN)/lipopolysaccharide (LPS)-induced liver injury in mice.
METHODS AND RESULTS:
From the extract, three new phenylethanoid oligoglycosides, kankanosides H(1) (1), H(2) (2), and I (3), were isolated together with 16 phenylethanoid glycosides (4-19) and two acylated oligosugars (20, 21). The structures of 1-3 were determined on the basis of spectroscopic properties as well as of chemical evidence. Among the isolates, echinacoside (4, IC(50)=10.2 microM), acteoside (5, 4.6 microM), isoacteoside (6, 5.3 microM), 2'-acetylacteoside (8, 4.8 microM), and Tubuloside A (10, 8.6 microM) inhibited D-GalN-induced death of hepatocytes. These five isolates, 4 (31.1 microM), 5 (17.8 microM), 6 (22.7 microM), 8 (25.7 microM), and 10 (23.2 microM), and cistantubuloside B(1) (11, 21.4 microM) also reduced TNF-alpha-induced cytotoxicity in L929 cells. Moreover, principal constituents (4-6) exhibited in vivo hepatoprotective effects at doses of 25-100mg/kg, po.
Biol Pharm Bull. 1996 Dec;19(12):1580-5.
Antioxidative effects of phenylethanoids from Cistanche deserticola.[Pubmed:
8996643
]

METHODS AND RESULTS:
The acetone-H2O (9:1) extract from the stem of Cistanche deserticola showed a strong free radical scavenging activity. Nine major phenylethanoid compounds were isolated from this extract. They were identified by NMR as acteoside, isoacteoside, 2'-acetylacteoside, tubuloside B, echinacoside, Tubuloside A, syringalide A 3'-alpha-rhamnopyranoside, cistanoside A and cistanoside F. All of these compounds showed stronger free radical scavenging activities than alpha-tocopherol on 1,1-diphenyl-2-picrylhydrazyl (DPPH) radical and xanthine/xanthine oxidase (XOD) generated superoxide anion radical (O2-.). Among the nine compounds, isoacteoside and tubuloside B, whose caffeoyl moiety is at 6'-position of the glucose, showed an inhibitory effect on XOD. We further studied the effects of these phenylethanoids on the lipid peroxidation in rat liver microsomes induced by enzymatic and non-enzymatic methods. As expected, each of them exhibited significant inhibition on both ascorbic acid/Fe2+ and ADP/NADPH/Fe3+ induced lipid peroxidation in rat liver microsomes, which were more potent than alpha-tocopherol of caffeic acid.
CONCLUSIONS:
The antioxidative effect was found to be potentiated by an increase in the number of phenolic hydroxyl groups in the molecule.