Torachrysone 8-O-glucoside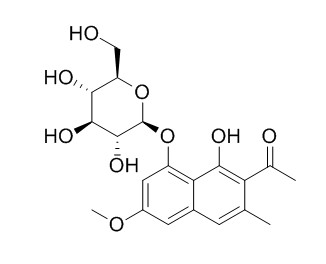 Torachryson-8-O-glucoside shows alpha-glucosidase inhibitory activities, it may be used for the management of type 2 diabetes.
Inquire / Order: manager@chemfaces.com
Technical Inquiries: service@chemfaces.com
Tel: +86-27-84237783
Fax: +86-27-84254680

Address:
1 Building, No. 83, CheCheng Rd., Wuhan Economic and Technological Development Zone, Wuhan, Hubei 430056, PRC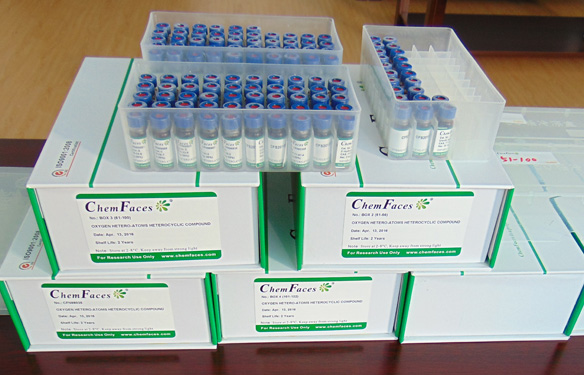 Providing storage is as stated on the product vial and the vial is kept tightly sealed, the product can be stored for up to
24 months(2-8C)
.
Wherever possible, you should prepare and use solutions on the same day. However, if you need to make up stock solutions in advance, we recommend that you store the solution as aliquots in tightly sealed vials at -20C. Generally, these will be useable for up to two weeks. Before use, and prior to opening the vial we recommend that you allow your product to equilibrate to room temperature for at least 1 hour.
Need more advice on solubility, usage and handling? Please email to: service@chemfaces.com
The packaging of the product may have turned upside down during transportation, resulting in the natural compounds adhering to the neck or cap of the vial. take the vial out of its packaging and gently shake to let the compounds fall to the bottom of the vial. for liquid products, centrifuge at 200-500 RPM to gather the liquid at the bottom of the vial. try to avoid loss or contamination during handling.
Int J Food Sci Nutr.2019, 70(7):825-833
ARPN Journal of Eng.& Applied Sci.2016, 2199-2204
Chemistr of plant2016, 2016021195
Evid Based Complement Alternat Med.2017, 2017:1401279
Front Plant Sci.2018, 9:1424
Nutrients.2018, 11(1):E17
FEBS Lett.2015, 589(1):182-7
Anal Bioanal Chem.2018, 410(5):1561-1569
J Ethnopharmacol.2019, 228:132-141
BMB Rep.2018, 51(5):249-254
Anal. Methods-UK. 2014, 6(10):3353-9.
The screening of potential α-glucosidase inhibitors from the Polygonum multiflorum extract using ultrafiltration combined with liquid chromatography-tandem mass spectrometry[Reference:
WebLink
]
α-Glucosidase inhibitors have been used for the management of type 2 diabetes (T2DM) for a long time. The natural α-glucosidase inhibitors from Chinese herbal medicine have become an attractive therapeutic approach for treating T2DM due to their low toxicity.
METHODS AND RESULTS:
In this study, a new kind of in vitro α-glucosidase inhibition assay based on using maltose as the substrate was developed, and this new established method was used to determine the α-glucosidase inhibitory activities of Polygonum multiflorum and four anthraquinone compounds. As a result, Polygonum multiflorum showed 50% α-glucosidase inhibition at the concentration of 0.0032 mg mL−1 and four anthraquinone compounds including emodin, aloe-emodin, physcion and rhein showed strong α-glucosidase inhibitory activities with IC50 values ranging from 4.12 μM to 5.68 μM, respectively. Moreover, the centrifugal ultrafiltration with LC-ESI-MSn was used to screen and identify active α-glucosidase inhibitors from Polygonum multiflorum extract and nine small-molecule active compounds were successfully identified as potential α-glucosidase inhibitors.
CONCLUSIONS:
Five compounds belonged to the anthraquinone group including emodin, physcion, aloe-emodin, rhein and physcion-8-O-glucoside, while the others were catechin, resveratrol, 2,3,5,4′-tetrahydroxystilbene-2-O-glucoside and Torachrysone 8-O-glucoside.