Theviridoside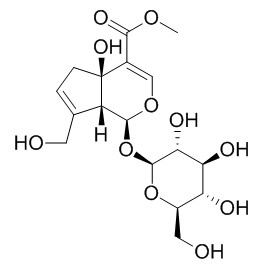 Theviridoside has cytotoxicity.
Inquire / Order: manager@chemfaces.com
Technical Inquiries: service@chemfaces.com
Tel: +86-27-84237783
Fax: +86-27-84254680

Address:
1 Building, No. 83, CheCheng Rd., Wuhan Economic and Technological Development Zone, Wuhan, Hubei 430056, PRC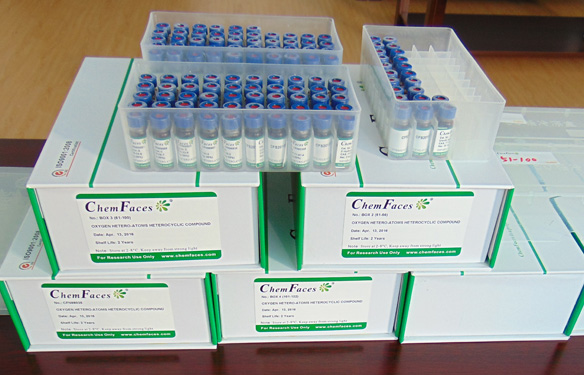 Providing storage is as stated on the product vial and the vial is kept tightly sealed, the product can be stored for up to
24 months(2-8C)
.
Wherever possible, you should prepare and use solutions on the same day. However, if you need to make up stock solutions in advance, we recommend that you store the solution as aliquots in tightly sealed vials at -20C. Generally, these will be useable for up to two weeks. Before use, and prior to opening the vial we recommend that you allow your product to equilibrate to room temperature for at least 1 hour.
Need more advice on solubility, usage and handling? Please email to: service@chemfaces.com
The packaging of the product may have turned upside down during transportation, resulting in the natural compounds adhering to the neck or cap of the vial. take the vial out of its packaging and gently shake to let the compounds fall to the bottom of the vial. for liquid products, centrifuge at 200-500 RPM to gather the liquid at the bottom of the vial. try to avoid loss or contamination during handling.
Int J Mol Sci.2017, 18(12)
Oncotarget.2015, 6(31):30831-49
Evid Based Complement Alternat Med.2018, 2018:3610494
J Nat Prod.2019, 82(4):1002-1008
Antiviral Res.2013, 98(3):386-93
Curr Eye Res.2018, 43(1):27-34
Arch Pharm Res.2015, 38(6):1080-9
Pharmacol Rep.2017, 69(6):1224-1231
BMC Complement Altern Med.2014, 14:352
Fitoterapia.2015, 100:179-86
Nat Prod Res. 2014;28(18):1507-12.
Cytotoxicity studies of semi-synthetic derivatives of theveside derived from the aqueous extract of leaves of 'suicide tree' Cerbera odollam.[Pubmed:
24805359
]

METHODS AND RESULTS:
We report the isolation of two known iridoid glucosides Theviridoside (1) and theveside (2) from the aqueous extract of leaves of Cerbera odollam and semi-synthetic derivatisation of theveside prepared in a single step under protection group-free conditions. Derivatives 2a-j were evaluated for cytotoxicity towards five human cancer cell lines of different origins, namely SKBR3 (breast), HeLa (cervical), A375 (skin), HepG2 (liver) and HCT-116 (colon), and IC50 values were determined.
CONCLUSIONS:
Derivatives 2b and 2h exhibited moderate cytotoxicity against HCT-116 and A375 cell lines, respectively.
Yao Xue Xue Bao. 1992;27(7):515-21.
Studies on chemical constituents of the roots of Lantana camara.[Pubmed:
1442083
]

METHODS AND RESULTS:
Six oligosaccharides (I-VI) and six iridoid glucosides (VII-XII) isolated from the ethanolic extract of Lantana camara roots were identified as stachyose (I), verbascose (II), ajugose (III), verbascotetracose (IV), alpha-D-galac-(1-[-6)-alpha-D-galac(-1](3)-6-D-gluc(V ) , alpha-D-galac-(1-6)-alpha-D-galac(-1]-(4)6-D-)gluc(VI) , theveside (VII), 8-epiloganin (VIII), shanzhsid methyl ester (IX), Theviridoside (X), lamiridoside (XI) and geniposide (XII), on the basis of spectral analysis (1H-NMR, 13C-NMR, FD-MS, GC-MS), physico-chemical constants and preparation of derivatives.
CONCLUSIONS:
V and VI were new compounds named lantanose A and lantanose B, respectively. The others were isolated from this plant for the first time.