Genipin-1-O-gentiobioside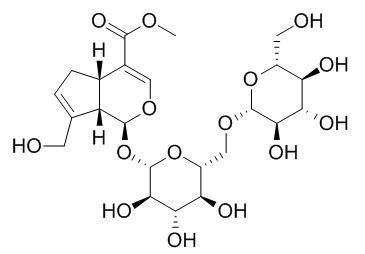 Reference standards.
Inquire / Order: manager@chemfaces.com
Technical Inquiries: service@chemfaces.com
Tel: +86-27-84237783
Fax: +86-27-84254680

Address:
1 Building, No. 83, CheCheng Rd., Wuhan Economic and Technological Development Zone, Wuhan, Hubei 430056, PRC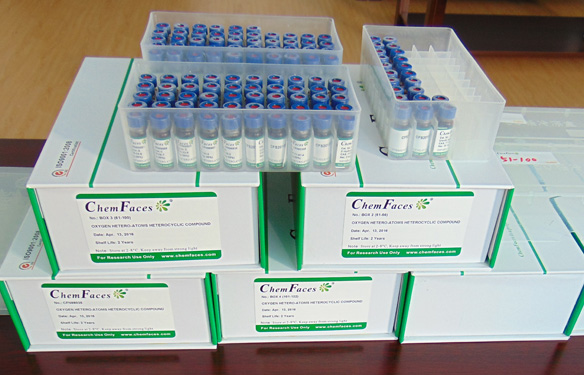 Providing storage is as stated on the product vial and the vial is kept tightly sealed, the product can be stored for up to
24 months(2-8C)
.
Wherever possible, you should prepare and use solutions on the same day. However, if you need to make up stock solutions in advance, we recommend that you store the solution as aliquots in tightly sealed vials at -20C. Generally, these will be useable for up to two weeks. Before use, and prior to opening the vial we recommend that you allow your product to equilibrate to room temperature for at least 1 hour.
Need more advice on solubility, usage and handling? Please email to: service@chemfaces.com
The packaging of the product may have turned upside down during transportation, resulting in the natural compounds adhering to the neck or cap of the vial. take the vial out of its packaging and gently shake to let the compounds fall to the bottom of the vial. for liquid products, centrifuge at 200-500 RPM to gather the liquid at the bottom of the vial. try to avoid loss or contamination during handling.
Molecules.2019, 25(1):E103
Analytical methods2019, 11(6)
J Chromatogr Sci.2015, 53(5):824-9
Exp Parasitol.2017, 183:160-166
University of Limpopo2016, 1-237
Sci Rep.2016, 6:25094
Food Chem.2019, 279:80-87
Molecules.2015, 20(10):19172-88
The Pharmaceutical Society of Japan2018, 138(4):571-579
Fitoterapia.2018, 124:92-102
Phytochemistry, 2009, 70(6):779-784.
Iridoid glycosides from Gardeniae Fructus for treatment of ankle sprain.[Reference:
WebLink
]

METHODS AND RESULTS:
The iridoid glycosides, genipin 1-O-β-d-isomaltoside (Genipin-1-O-gentiobioside,1) and genipin 1,10-di-O-β-d-glucopyranoside (2), together with six known iridoid glycosides, genipin 1-O-β-d-gentiobioside (3), geniposide (4), scandoside methyl ester (5), deacetylasperulosidic acid methyl ester (6), 6-O-methyldeacetylasperulosidic acid methyl ester (7), and gardenoside (8) were isolated from an EtOH extract of Gardeniae Fructus. The structures and relative stereochemistries of the metabolites were elucidated on the basis of 1D- and 2D-NMR spectroscopic techniques, high-resolution mass spectrometry, and chemical evidence. Geniposide (4), one of the main compounds of Gardeniae Fructus, was tested for treatment of ankle sprain using an ankle sprain model in rats. From the second to fifth day, the geniposide (4) (100 mg/ml) treated group exhibited significant differences (p < 0.01) with ∼21–34% reduction in swelling ratio compared with those of the vehicle treated control group.
CONCLUSIONS:
This indicated the potential effect of geniposide (4) for the treatment of disorders such as ankle sprain.
Journal of separation science, 2018,41(13):2759-2766.
Preparation of five high-purity iridoid glycosides from Gardenia jasminoides Eills by molecularly imprinted solid-phase extraction integrated with preparative liquid chromatography.[Pubmed:
29676851
]

METHODS AND RESULTS:
Five iridoid glycosides were prepared using molecularly imprinted solid-phase extraction combined with preparative high-performance liquid chromatography. Hydrophilic molecularly imprinted polymers were synthesized using α-1-allyl-2-N-acetyl glucosamine, which introduced an abundance of hydrophilic groups into the polymers. Using molecularly imprinted solid-phase extraction as the sample pretreatment procedure, five iridoid glycosides, gardenoside, geniposide, shanzhiside, geniposidic acid, and Genipin-1-O-gentiobioside, were selectively enriched from Gardenia fructus extracts. Preparative high-performance liquid chromatography then provided iridoid glycosides with a purity >98%. The structures were elucidated by using nuclear magnetic resonance spectroscopy, optical rotation and melting point measurements, and mass spectrometry.
CONCLUSIONS:
The results demonstrate that molecularly imprinted solid-phase extraction combined with preparative high-performance liquid chromatography was an efficient, rapid, and economical method for the preparation of bioactive compounds from natural products.