Tanshinone I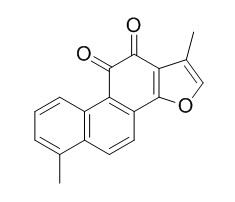 Tanshinone I is an inhibitor of type IIA human recombinant sPLA2 (IC50=11 μM) and rabbit recombinant cPLA2 (IC50=82 μM). Tanshinone I possesses hepatocyte protective, anticancer, neuroprotection, and nephroprotective properties. Tanshinone I pretreatment causes significant suppression of skin cell death induces by solar simulated UV and riboflavin-sensitized UVA.
Inquire / Order: manager@chemfaces.com
Technical Inquiries: service@chemfaces.com
Tel: +86-27-84237783
Fax: +86-27-84254680

Address:
1 Building, No. 83, CheCheng Rd., Wuhan Economic and Technological Development Zone, Wuhan, Hubei 430056, PRC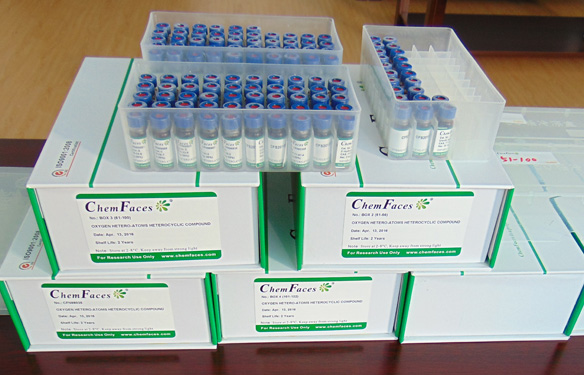 Providing storage is as stated on the product vial and the vial is kept tightly sealed, the product can be stored for up to
24 months(2-8C)
.
Wherever possible, you should prepare and use solutions on the same day. However, if you need to make up stock solutions in advance, we recommend that you store the solution as aliquots in tightly sealed vials at -20C. Generally, these will be useable for up to two weeks. Before use, and prior to opening the vial we recommend that you allow your product to equilibrate to room temperature for at least 1 hour.
Need more advice on solubility, usage and handling? Please email to: service@chemfaces.com
The packaging of the product may have turned upside down during transportation, resulting in the natural compounds adhering to the neck or cap of the vial. take the vial out of its packaging and gently shake to let the compounds fall to the bottom of the vial. for liquid products, centrifuge at 200-500 RPM to gather the liquid at the bottom of the vial. try to avoid loss or contamination during handling.
Pharmacognosy Magazine2017, 13(52):868-874
Jour. of Stored Pro & Postharvest Res.2016, 7(3):32-36
Nat Plants.2016, 3:16205
Pharmacognosy Magazine2018, 14(56):418-424
Nutrients.2019, 11(4):E936
J Drug Target.2016, 24:1-28
Mol Pharm.2018, 15(8):3285-3296
Molecules.2019, 24(24):E4536
United States Patent Application2020, 20200038363
J Ethnopharmacol.2017, 198:205-213
Fitoterapia. 2015 Mar;101:162-8.
Tanshinone I induces cyclin D1 proteasomal degradation in an ERK1/2 dependent way in human colorectal cancer cells.[Pubmed:
25615593
]
Tanshinone I (TAN I) as one of the naturally occurring diterpenes from Salvia miltiorrhizae Bunge (Danshen) has been reported to exhibit an anti-cancer activity. However, the underlying mechanisms are still poorly understood. Thus, we performed in vitro study to elucidate the biological mechanism by which TAN I may induce the inhibition of cell growth in human colorectal cancer cells.
METHODS AND RESULTS:
The treatment of TAN I suppressed the cell proliferation in HCT116 and SW480 cells and decreased the level of cyclin D1 protein. However, the mRNA level of cyclin D1 did not changed by TAN I treatment. Inhibition of proteasomal degradation by MG132 blocked TAN I-mediated cyclin D1 downregulation and the half-life of cyclin D1 was decreased in the cells treated with TAN I. In addition, phosphorylation of cyclin D1 at threonine-286 was increased by TAN I and a point mutation of threonine-286 to alanine attenuated TAN I-mediated cyclin D1 downregulation. Inhibition of ERK1/2 suppressed cyclin D1 phosphorylation and subsequent downregulation by TAN I. From these results, we suggest that TAN I-mediated cyclin D1 downregulation may result from proteasomal degradation through its ERK1/2-mediated phosphorylation of threonine-286.
CONCLUSIONS:
In conclusion, the current study provides new mechanistic link between TAN I, cyclin D1 downregulation and cell growth in human colorectal cancer cells.
J Ethnopharmacol. 2015 Apr 22;164:247-55.
Tanshinone I selectively suppresses pro-inflammatory genes expression in activated microglia and prevents nigrostriatal dopaminergic neurodegeneration in a mouse model of Parkinson's disease.[Pubmed:
25666429
]
Radix Salviae Miltiorrhizae, known as Danshen, is a well-known traditional Chinese herb which has been used extensively for the treatment of various diseases, including cardiovascular and cerebrovascular disease and neurodegenerative diseases for thousands of years. Tanshinone I is one of major bioactive flavonoids of Radix Salviae Miltiorrhizae. Modulation of microglial over-reaction may represent a therapeutic target to alleviate the progression of neurodegenerative diseases. Here, we tested the effect of Tanshinone I on neuro-inflammation and whether it can provide neuroprotection through inhibition of neuro-inflammation.
METHODS AND RESULTS:
The effects of Tanshinone I on the production and/or mRNA expression of pro-inflammatory and anti-inflammatory factors in lipopolysaccharide(LPS)-induced BV-2 microglia cells were tested by Griess reaction, enzyme-linked immunosorbent assay (Elisa) or real time polymerase chain reaction. Activation of nuclear factor κ B (NF-κB) was measured by the nuclear translocation p65 and DNA binding activity. A model of Parkinson׳s disease was established by treatment of 1-methyl-4-phenyl-1,2,3,6-tetrahydropyridine (MPTP) in C57BL/6 mice. The effect of Tanshinone I on the behavioral changes, dopamine and its metabolites levels, expression of tyrosine hydroxylase (TH) and IBA-1, production of cytokines in the midbrain were investigated by the rotarod test, high-performance liquid chromatography (HPLC)-ECD, immunohistochemistry and Elisa. 1-methyl-4-phenylpyridinium (MPP+) concentration was tested by HPLC. Liver toxicity was determined by biochemical assay and histochemistry. We found that the productions and/or expressions of several pro-inflammatory M1 factors such as nitric oxide (NO), tumor necrosis factor-α (TNF-α), interleukin-1β (IL-1β) and IL-6 were highly suppressed by Tanshinone I in LPS-induced microglia. Interestingly, it did not affect the enhancement of expression of some anti-inflammatory M2 microglia markers, including IL-10, IL-1 receptor antagonist (IL-1Ra) and Cox-2. But it could significantly inhibit LPS-induced granulocyte colony-stimulating factor (G-CSF) expression. Tanshinone I could also inhibit LPS-induced NF-κB activation in microglia. Furthermore, it improved motor functions, normalized striatal neurotransmitters, and provided dopaminergic neuronal protection in MPTP-intoxicated mice. In vivo results also indicated that Tanshinone I could modulate MPTP-induced microglial activation, attenuated the increase of TNF-α, reserved the increase of IL-10 concentrain of MPTP-intoxicated mice. Tanshinone I does not alter MPTP toxic metabolite (MPP+) concentration. Oral administration of Tanshinone I at 10mg/kg daily for 2 weeks did not show liver toxicity.
CONCLUSIONS:
Tanshinone I selectively suppressed pro-inflammatory M1 genes expression in activated microglia, interestingly, partially reserved anti-inflammatory M2 genes expression. It also could provide neuroprotection in a mouse model of Parkinson׳s disease. These data indicated that Tanshinone I could make the most of the beneficial side and minimize the detrimental side of activated microglia simultaneously, and provide neuroprotection by modulating the immune response of microglia.
Environ Toxicol Pharmacol. 2013 Nov;36(3):850-7.
Tanshinone I protects mice from aristolochic acid I-induced kidney injury by induction of CYP1A.[Pubmed:
23981375
]
Hepatic CYP1A especially CYP1A2 plays an important role in the reduction of aristolochic acid I (AAI) nephrotoxicity.
METHODS AND RESULTS:
In this study, we investigated the effects of Tanshinone I, a strong inducer of Cyp1a, on the nephrotoxicity induced by AAI. Histopathology and blood biochemistry assays showed that Tanshinone I could reduce AAI-induced acute kidney injury. Pharmacokinetics analysis revealed that Tanshinone I markedly decreased AUC of AAI in plasma and the content of AAI in both liver and kidney, indicating the enhancement of AAI metabolism. Real-time PCR and Western blot analysis confirmed that Tanshinone I effectively increased the mRNA and protein levels of hepatic CYP1A1 and CYP1A2 in vivo. Luciferase assay showed that Tanshinone I strongly increased the transcriptional activity of CYP1A1 and CYP1A2 in the similar extent.
CONCLUSIONS:
In summary, our data suggested that Tanshinone I facilitated the metabolism of AAI and prevented AAI-induced kidney injury by induction of hepatic CYP1A 1/2 in vivo.
Food Chem Toxicol. 2013 Dec;62:407-12.
Protective properties of tanshinone I against oxidative DNA damage and cytotoxicity.[Pubmed:
24021569
]
Tanshinone I, a naturally occurring diterpene from Danshen, has been shown to possess hepatocyte protective, anticancer, and memory enhancing properties. However, there are few stringent pharmacological tests for neuroprotection of Tanshinone I thus far. Since peroxynitrite is involved in the pathogenesis of neurodegenerative disorders, this study was undertaken to investigate whether the neuroprotective effect of Tanshinone I is associated with inhibition of peroxynitrite-caused DNA damage, a critical event leading to peroxynitrite-induced cytotoxicity.
METHODS AND RESULTS:
Our results show that Tanshinone I can significantly inhibit peroxynitrite-induced DNA damage both in φX-174 plasmid DNA and rat primary astrocytes. EPR spectroscopy indicates that Tanshinone I potently diminished the DMPO-hydroxyl radical adduct signal from peroxynitrite.
CONCLUSIONS:
Taken together, these results demonstrate for the first time that Tanshinone I can protect against peroxynitrite-induced DNA damage, hydroxyl radical formation and cytotoxicity, which might have implications for Tanshinone I-mediated neuroprotection.
Redox Biol. 2013 Oct 29;1:532-41.
The Nrf2-inducers tanshinone I and dihydrotanshinone protect human skin cells and reconstructed human skin against solar simulated UV.[Pubmed:
24273736
]
Exposure to solar ultraviolet (UV) radiation is a causative factor in skin photocarcinogenesis and photoaging, and an urgent need exists for improved strategies for skin photoprotection. The redox-sensitive transcription factor Nrf2 (nuclear factor-E2-related factor 2), a master regulator of the cellular antioxidant defense against environmental electrophilic insult, has recently emerged as an important determinant of cutaneous damage from solar UV, and the concept of pharmacological activation of Nrf2 has attracted considerable attention as a novel approach to skin photoprotection. In this study, we examined feasibility of using tanshinones, a novel class of phenanthrenequinone-based cytoprotective Nrf2 inducers derived from the medicinal plant Salvia miltiorrhiza, for protection of cultured human skin cells and reconstructed human skin against solar simulated UV.
METHODS AND RESULTS:
Using a dual luciferase reporter assay in human Hs27 dermal fibroblasts pronounced transcriptional activation of Nrf2 by four major tanshinones [Tanshinone I (T-I), dihydrotanshinone (DHT), Tanshinone IIA (T-II-A) and cryptotanshinone (CT)] was detected. In fibroblasts, the more potent tanshinones T-I and DHT caused a significant increase in Nrf2 protein half-life via blockage of ubiquitination, ultimately resulting in upregulated expression of cytoprotective Nrf2 target genes (GCLC, NQO1) with the elevation of cellular glutathione levels. Similar tanshinone-induced changes were also observed in HaCaT keratinocytes. T-I and DHT pretreatment caused significant suppression of skin cell death induced by solar simulated UV and riboflavin-sensitized UVA. Moreover, feasibility of tanshinone-based cutaneous photoprotection was tested employing a human skin reconstruct exposed to solar simulated UV (80 mJ/cm(2) UVB; 1.53 J/cm(2) UVA). The occurrence of markers of epidermal solar insult (cleaved procaspase 3, pycnotic nuclei, eosinophilic cytoplasm, acellular cavities) was significantly attenuated in DHT-treated reconstructs that displayed increased immunohistochemical staining for Nrf2 and γ-GCS together with the elevation of total glutathione levels.
CONCLUSIONS:
Taken together, our data suggest the feasibility of achieving tanshinone-based cutaneous Nrf2-activation and photoprotection.
Int J Mol Med. 2008 Nov;22(5):613-8.
Growth inhibition and apoptosis induction by tanshinone I in human colon cancer Colo 205 cells.[Pubmed:
18949381
]
Tanshinone I (Tan-I) and Tanshinone IIA (Tan-IIA) were isolated from Danshen (Salviae Miltiorrhizae Radix), a widely prescribed traditional herbal medicine that is used to treat cardiovascular and dysmenorrhea diseases. In our previous study, Tan-IIA was demonstrated to induce apoptosis in human colon cancer Colo 205 cells. However, the effect of Tan-I on human colon cancer cells is not clearly understood yet.
METHODS AND RESULTS:
In this study, the anti-growth and apoptosis-eliciting effects of Tan-I, as well as its cellular mechanisms of actions, were investigated in Colo 205 human colon cancer cells. Tan-I reduced cell growth in a concentration-dependent manner, inducing apoptosis accompanied by an increase in TUNEL staining and in cells in the sub-G1 fraction. The expression of p53, p21, bax and caspase-3 increased in Tan-I-treated cells. In addition, the cell cycle analysis showed G0/G1 arrest.
CONCLUSIONS:
These findings suggest that Tan-I induces apoptosis in Colo 205 cells through both mitochondrial-mediated intrinsic cell-death pathways and p21-mediated G0/G1cell cycle arrest. Accordingly, the therapeutic potential of Tan-I for colon cancer deserves further study.
Neurochem. Res., 2016,41(8):1958-68.
Tanshinone I Enhances Neurogenesis in the Mouse Hippocampal Dentate Gyrus via Increasing Wnt-3, Phosphorylated Glycogen Synthase Kinase-3β and β-Catenin Immunoreactivities.[Pubmed:
27053301
]
Tanshinone I (TsI), a lipophilic diterpene extracted from Danshan (Radix Salvia miltiorrhizae), exerts neuroprotection in cerebrovascular diseases including transient ischemic attack. In this study, we examined effects of TsI on cell proliferation and neuronal differentiation in the subgranular zone (SGZ) of the mouse dentate gyrus (DG) using Ki-67, BrdU and doublecortin (DCX) immunohistochemistry.
METHODS AND RESULTS:
Mice were treated with 1 and 2 mg/kg TsI for 28 days. In the 1 mg/kg TsI-treated-group, distribution patterns of BrdU, Ki-67 and DCX positive ((+)) cells in the SGZ were similar to those in the vehicle-treated-group. However, in the 2 mg/kg TsI-treated-group, double labeled BrdU(+)/NeuN(+) cells, which are mature neurons, as well as Ki-67(+), DCX(+) and BrdU(+) cells were significantly increased compared with those in the vehicle-treated-group. On the other hand, immunoreactivities and protein levels of Wnt-3, β-catenin and serine-9-glycogen synthase kinase-3β (p-GSK-3β), which are related with morphogenesis, were significantly increased in the granule cell layer of the DG only in the 2 mg/kg TsI-treated-group.
CONCLUSIONS:
Therefore, these findings indicate that TsI can promote neurogenesis in the mouse DG and that the neurogenesis is related with increases of Wnt-3, p-GSK-3β and β-catenin immunoreactivities.