Przewaquinone C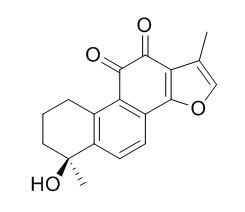 Przewaquinone C shows antioxidant properties.
Inquire / Order: manager@chemfaces.com
Technical Inquiries: service@chemfaces.com
Tel: +86-27-84237783
Fax: +86-27-84254680

Address:
1 Building, No. 83, CheCheng Rd., Wuhan Economic and Technological Development Zone, Wuhan, Hubei 430056, PRC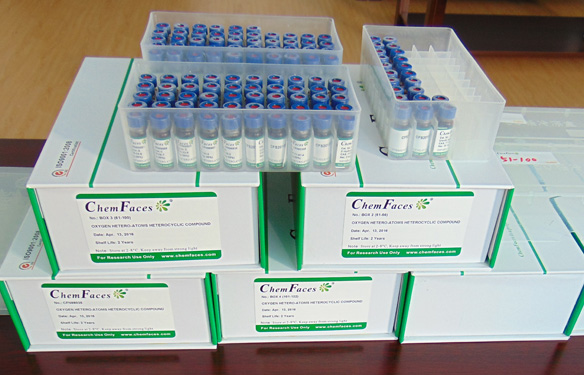 Providing storage is as stated on the product vial and the vial is kept tightly sealed, the product can be stored for up to
24 months(2-8C)
.
Wherever possible, you should prepare and use solutions on the same day. However, if you need to make up stock solutions in advance, we recommend that you store the solution as aliquots in tightly sealed vials at -20C. Generally, these will be useable for up to two weeks. Before use, and prior to opening the vial we recommend that you allow your product to equilibrate to room temperature for at least 1 hour.
Need more advice on solubility, usage and handling? Please email to: service@chemfaces.com
The packaging of the product may have turned upside down during transportation, resulting in the natural compounds adhering to the neck or cap of the vial. take the vial out of its packaging and gently shake to let the compounds fall to the bottom of the vial. for liquid products, centrifuge at 200-500 RPM to gather the liquid at the bottom of the vial. try to avoid loss or contamination during handling.
Ind Crops Prod.2015, 67:185-191
Am J Chin Med.2016, 44(8):1719-1735
Molecules.2019, 24(4):E744
Life Sci.2019, 216:259-270
Food Funct.2020, 10.1039
Phytomedicine.2019, 57:95-104
Sci Rep.2017, 7:467-479
Industrial Crops and Products2020, 146:112186
Molecules.2018, 23(9):E2121
Phytomedicine.2019, 62:152962
Phytochem. Lett., 2016,12.6.
Determination of phenolic compounds and diterpenes in roots of Salvia miltiorrhiza and Salvia przewalskii by two LC–MS tools: Multi-stage and high resolution tandem mass spectrometry with assessment of antioxidant capacity[Reference:
WebLink
]

METHODS AND RESULTS:
Comparative phytochemical analyses of hydroalcoholic (50% EtOH) extracts from roots of S. miltiorrhiza (SM) and S. przewalskii (SP) were performed using two complementary LC–MS systems: the first system HPLC-DAD-MSⁿ an ion trap mass spectrometer and the second system consisted high resolution MS/MS Orbitrap mass spectrometer. The individual compounds were identified using a previously published approach via comparison of the exact molecular masses, mass spectra and retention times to those of standard compounds, online available databases and literature data. Moreover, the determination of antioxidative activities of extracts by DPPH and FRAP methods was carried out.
CONCLUSIONS:
Analysis allowed to identify 39 chemical compounds in extracts from both species. Extract from root of SP differs from SM in the presence of several metabolites such as: przewalskinic acid and their derivatives, Przewaquinone C, przewaquinonate A, glycosides of rosmarinic acid, methyltanshinonate, whereas tanshinones, salvianolic acids and lithospermic acids occurred in both species. Moreover, it was shown that hydroalcoholic extract from roots of SM exerted stronger antioxidant properties in a FRAP test (max. 323.92 μM Fe²⁺/L) and in DPPH test (max. 78.64 nM TE) in comparison with SP extract.