Sipeimine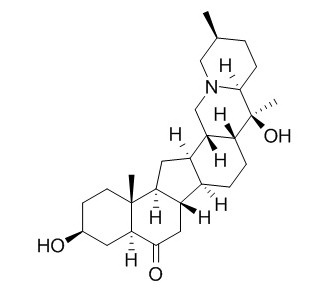 Sipeimine is a natural product from Fritillaria ussuriensis.
Inquire / Order: manager@chemfaces.com
Technical Inquiries: service@chemfaces.com
Tel: +86-27-84237783
Fax: +86-27-84254680

Address:
1 Building, No. 83, CheCheng Rd., Wuhan Economic and Technological Development Zone, Wuhan, Hubei 430056, PRC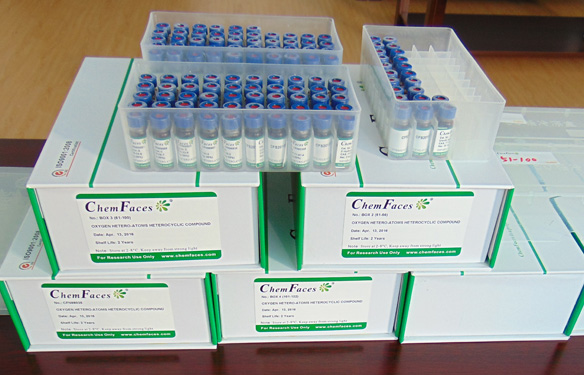 Providing storage is as stated on the product vial and the vial is kept tightly sealed, the product can be stored for up to
24 months(2-8C)
.
Wherever possible, you should prepare and use solutions on the same day. However, if you need to make up stock solutions in advance, we recommend that you store the solution as aliquots in tightly sealed vials at -20C. Generally, these will be useable for up to two weeks. Before use, and prior to opening the vial we recommend that you allow your product to equilibrate to room temperature for at least 1 hour.
Need more advice on solubility, usage and handling? Please email to: service@chemfaces.com
The packaging of the product may have turned upside down during transportation, resulting in the natural compounds adhering to the neck or cap of the vial. take the vial out of its packaging and gently shake to let the compounds fall to the bottom of the vial. for liquid products, centrifuge at 200-500 RPM to gather the liquid at the bottom of the vial. try to avoid loss or contamination during handling.
SBRAS2016, 12
Universidade Estadual Paulista2017, 11449
Process Biochemistry2019, 85:106-115
Chem Biol Interact.2018, 290:44-51
Food Sci Biotechnol.2016, 25(5):1437-1442
The Korea Journal of Herbology2019, 34(2):25-32
Sci Rep.2017, 7:46299
PLoS One.2018, 13(4):e0195642
Anal Bioanal Chem.2018, 410(5):1561-1569
PLoS One.2018, 13(3):e0193386
Yao Xue Xue Bao. 2010 Dec;45(12):1541-4.
[Simultaneous determination of peimisine and sipeimine in Fritillaria walujewii regel and Fritillaria pallidiflora Schrenk by UPLC-ELSD].[Pubmed:
21351494
]
The paper reports the establishment of a method for simultaneous determination of peimisine and Sipeimine contents in Fritillaria walujewii Regel and Fritillaria pallidiflora Schrenk.
METHODS AND RESULTS:
The analyses were performed on an ultra-performance liquid chromatography with evaporative light scattering detection (UPLC-ELSD), equipped with a binary solvent manager, a sampler manager and a column compartment, and connected to Waters Empower 2 software. An Acquity UPLC BEH C18 column (100 mm x 2.1 mm, 1.7 microm) was used for all analysis. The investigated compounds were separated with gradient mobile phase consisting of acetonitrile-0.02% triethylamine-water. The temperature of sample manager was set at 25 degrees C. Drift tube temperature was 40 degrees C, and spray parameter was 40% with injection volume of 1 microL. The investigated compounds including peimisine and Sipeimine had good linearity (r > or = 0.9991) over the tested ranges. The average recovery was 94.5% and 98.1% with RSD < or = 2.36%.
CONCLUSIONS:
The UPLC-ELSD method is simple, sensitive and accurate with good repeatability, which is available for quality control of F. walujewii Regel and F. pallidiflora Schrenk.
Z Naturforsch C. 2008 Nov-Dec;63(11-12):789-93.
Sipeimine-producing endophytic fungus isolated from Fritillaria ussuriensis.[Pubmed:
19227824
]

METHODS AND RESULTS:
Ten strains of endophytic fungi were isolated from the bulbs of the traditional Chinese medicinal plant Fritillaria ussuriensis. The extract from one of them, Fu7, showed a positive reaction with Dragendorff's reagent and the same Rf value in thin-layer chromatography (TLC) analysis as authentic Sipeimine. A further TLC scan and high-performance liquid chromatography-evaporative light-scattering detection (HPLC-ELSD) showed that one ingredient of the extract of strain Fu7 had a similar absorption curve in the range 200-700 nm and the same retention time as authentic Sipeimine.
CONCLUSIONS:
Thus, the fungus produces the bioactive ingredient Sipeimine, as does its host plant, and could be used for the production of Sipeimine by fermentation.