Edpetiline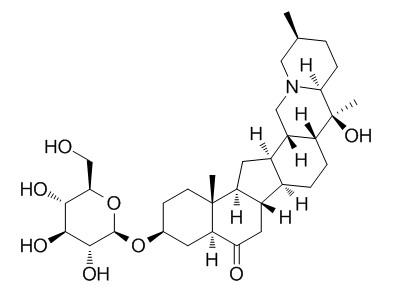 Edpetiline is a natural product from Petilium eduardi.
Inquire / Order: manager@chemfaces.com
Technical Inquiries: service@chemfaces.com
Tel: +86-27-84237783
Fax: +86-27-84254680

Address:
1 Building, No. 83, CheCheng Rd., Wuhan Economic and Technological Development Zone, Wuhan, Hubei 430056, PRC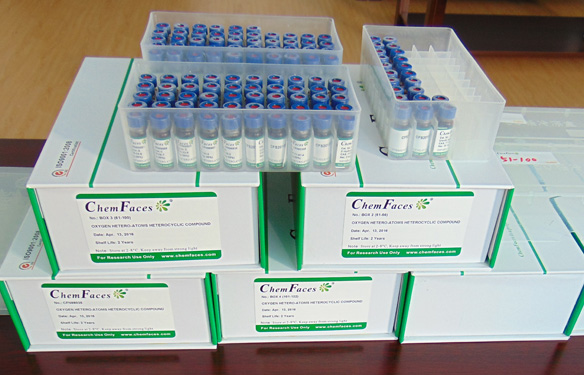 Providing storage is as stated on the product vial and the vial is kept tightly sealed, the product can be stored for up to
24 months(2-8C)
.
Wherever possible, you should prepare and use solutions on the same day. However, if you need to make up stock solutions in advance, we recommend that you store the solution as aliquots in tightly sealed vials at -20C. Generally, these will be useable for up to two weeks. Before use, and prior to opening the vial we recommend that you allow your product to equilibrate to room temperature for at least 1 hour.
Need more advice on solubility, usage and handling? Please email to: service@chemfaces.com
The packaging of the product may have turned upside down during transportation, resulting in the natural compounds adhering to the neck or cap of the vial. take the vial out of its packaging and gently shake to let the compounds fall to the bottom of the vial. for liquid products, centrifuge at 200-500 RPM to gather the liquid at the bottom of the vial. try to avoid loss or contamination during handling.
Cell Mol Biol(Noisy-le-grand)2019, 65(7):77-83
Academic J of Second Military Medical University2019, 40(1)
Molecules.2019, 24(4):E744
Molecules.2019, 24(10):E1926
Sci Rep.2019, 9(1):6429
Phytomedicine.2018, 38:12-23
Front Pharmacol.2019, 10:1226
Polytechnic University of Catalonia2017, 105826
Phytochem Anal.2016, 27(5):296-303
Cancer Manag Res.2019, 11:483-500
Chemistry of Natural Compounds, 2003 , 39 (6) :603-4.
Accumulation Dynamics of Alkaloids in Petilium eduardi[Reference:
WebLink
]

METHODS AND RESULTS:
In continuation of studies of alkaloids from P. eduardi Rgl. [3, 4], we investigated the accumulation dynamics of alkaloids from plants collected in the South Pamir-Alai mountains on slopes of Gissarsk ridge near Shargun, Zivar, in Khanaka and Babatag. Samples of the air-dried raw material were treated with ammonia (10%). Alkaloids were extracted with CHCl 3 in a Soxhlet apparatus. After the extraction was complete, the extract was decanted, concentrated to a small volume, and extracted with H 2 SO 4 (5%). The acidic solution of bases was washed with ether and made basic with ammonia (25%). Alkaloids from the basic solution were extracted with CHCl 3. The total alkaloids were treated with acetone to isolate imperialine and a glycoalkaloid of imperialine, Edpetiline (CH 3 OH) [5-7]. Imperialine and Edpetiline are the principal alkaloids from P. eduardi. Table 1 shows that the bulbs in the early period of vegetation contain the maximum total alkaloids. The maximum content of the main alkaloid, imperialine, occurs in the aerial part during the start of flowering. The second principal alkal oid, Edpetiline, is observed in relatively small amounts compared with imperialine, from 1.2 to 6.7% of the total alkaloids. Their content is lowest during fruiting and flowering of the aerial part of plants collected in Khanaka and the Botanical Garden. We were unable to isolate pure alkaloids from the specimen introduced into the Botanical Garden (Table 1).
CONCLUSIONS:
Thus, a comparison of the total content and pure alkaloids isolated from plants of different vegetative stages and habitats revealed the effect of soil and climate conditions on their quality and quantity.