Sinensetin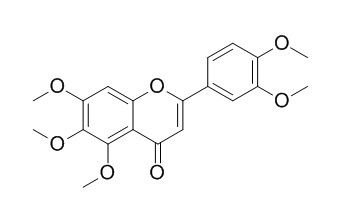 Sinensetin is a polymethoxylated flavonoids in citrus fruit, as a novel antiangiogenesis agent, has potential for anti-carcinogenesis, antitumor, and cardiovascular protective activities. Sinensetin has antioxidative effect and has anti-inflammatory by regulating the protein level of inhibitorκB-α, it enhances adipogenesis and lipolysis by increasing cAMP levels in adipocytes.
Inquire / Order: manager@chemfaces.com
Technical Inquiries: service@chemfaces.com
Tel: +86-27-84237783
Fax: +86-27-84254680

Address:
1 Building, No. 83, CheCheng Rd., Wuhan Economic and Technological Development Zone, Wuhan, Hubei 430056, PRC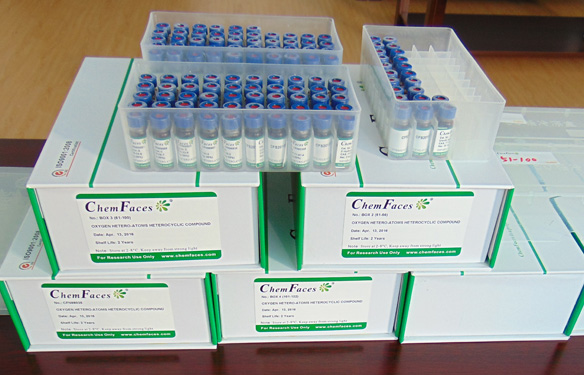 Providing storage is as stated on the product vial and the vial is kept tightly sealed, the product can be stored for up to
24 months(2-8C)
.
Wherever possible, you should prepare and use solutions on the same day. However, if you need to make up stock solutions in advance, we recommend that you store the solution as aliquots in tightly sealed vials at -20C. Generally, these will be useable for up to two weeks. Before use, and prior to opening the vial we recommend that you allow your product to equilibrate to room temperature for at least 1 hour.
Need more advice on solubility, usage and handling? Please email to: service@chemfaces.com
The packaging of the product may have turned upside down during transportation, resulting in the natural compounds adhering to the neck or cap of the vial. take the vial out of its packaging and gently shake to let the compounds fall to the bottom of the vial. for liquid products, centrifuge at 200-500 RPM to gather the liquid at the bottom of the vial. try to avoid loss or contamination during handling.
Industrial Crops and Products2019, 140:111612
Food Sci Biotechnol.2021, 30(2):217-226.
BMB Rep.2018, 51(5):249-254
Regul Toxicol Pharmacol.2023, 142:105433.
Exp Parasitol.2015, 153:160-4
Int J Mol Sci.2019, 20(23):E6071
Molecules.2021, 26(9):2765.
Phytomedicine.2018, 41:62-66
Heliyon.2022, 8(12):e12031.
Drug Dev Res.2022, 83(7):1673-1682.
Biol Pharm Bull. 2015 Apr 1;38(4):552-8.
Sinensetin Enhances Adipogenesis and Lipolysis by Increasing Cyclic Adenosine Monophosphate Levels in 3T3-L1 Adipocytes.[Pubmed:
25735898
]
Sinensetin is a rare polymethoxylated flavone (PMF) found in certain citrus fruits.
METHODS AND RESULTS:
In this study, we investigated the effects of Sinensetin on lipid metabolism in 3T3-L1 cells. Sinensetin promoted adipogenesis in 3T3-L1 preadipocytes growing in incomplete differentiation medium, which did not contain 3-isobutyl-1-methylxanthine. Sinensetin up-regulated expression of the adipogenic transcription factors peroxisome proliferator-activated receptor γ, CCAAT/enhancer-binding protein (C/EBP) α, and sterol regulatory element-binding protein 1c. It also potentiated expression of C/EBPβ and activation of cAMP-responsive element-binding protein. Sinensetin enhanced activation of protein kinase A and increased intracellular cAMP levels in 3T3-L1 preadipocytes. In mature 3T3-L1 adipocytes, Sinensetin stimulated lipolysis via a cAMP pathway.
CONCLUSIONS:
Taken together, these results suggest that Sinensetin enhances adipogenesis and lipolysis by increasing cAMP levels in adipocytes..
Planta Med. 2012 May;78(8):779-86.
Flavonoids eupatorin and sinensetin present in Orthosiphon stamineus leaves inhibit inflammatory gene expression and STAT1 activation.[Pubmed:
22516932
]
Cytokines and other inflammatory mediators, such as prostaglandin E₂ (PGE₂) and nitric oxide (NO) produced by cyclooxygenase-2 (COX-2) and inducible nitric oxide synthase (iNOS), respectively, activate and drive inflammation and therefore serve as targets for anti-inflammatory drug development. Orthosiphon stamineus is an indigenous medicinal plant of Southeast Asia that has been traditionally used in the treatment of rheumatoid arthritis, gout, and other inflammatory disorders.
METHODS AND RESULTS:
The present study investigated the anti-inflammatory properties of Orthosiphon stamineus leaf chloroform extract (CE), its flavonoid-containing CE fraction 2 (CF2), and the flavonoids eupatorin, eupatorin-5-methyl ether (TMF), and Sinensetin, identified from the CF2. It was found that CE (20 and 50 μg/mL) and CF2 (20 and 50 μg/mL) inhibited iNOS expression and NO production, as well as PGE₂ production. Eupatorin and Sinensetin inhibited iNOS and COX-2 expression and the production of NO (IC₅₀ 5.2 μM and 9.2 μM for eupatorin and Sinensetin, respectively) and PGE₂ (IC₅₀ 5.0 μM and 2.7 μM for eupatorin and Sinensetin, respectively) in a dose-dependent manner. The extracts and the compounds also inhibited tumor necrosis factor α (TNF-α) production (IC₅₀ 5.0 μM and 2.7 μM for eupatorin and Sinensetin, respectively). Eupatorin and Sinensetin inhibited lipopolysaccharide (LPS)-induced activation of transcription factor signal transducers and activators of transcription 1α (STAT1α). Furthermore, eupatorin (50 mg/kg i. p.) and Sinensetin (50 mg/kg i. p.) inhibited carrageenan-induced paw inflammation in mice.
CONCLUSIONS:
The results suggest that CE and CF2, as well as the known constituents of CF2, i.e., eupatorin and Sinensetin, have meaningful anti-inflammatory properties which may be utilized in the development of novel anti-inflammatory treatments.
Mol Nutr Food Res. 2012 Jun;56(6):945-56.
In vitro and in vivo structure and activity relationship analysis of polymethoxylated flavonoids: identifying sinensetin as a novel antiangiogenesis agent.[Pubmed:
22707269
]
Polymethoxylated flavonoids are present in citrus fruit in a range of chemical structures and abundance. These compounds have potential for anticarcinogenesis, antitumor, and cardiovascular protective activity, but the effect on angiogenesis has not been well studied.
METHODS AND RESULTS:
Human umbilical vein endothelial cells (HUVECs) in vitro and zebrafish (Danio rerio) in vivo models were used to screen and identify the antiangiogenesis activity of seven polymethoxylated flavonoids; namely, hesperetin, naringin, neohesperidin, nobiletin, scutellarein, scutellarein tetramethylether, and Sinensetin. Five, excluding naringin and neohesperidin, showed different degrees of potency of antiangiogenesis activity. Sinensetin, which had the most potent antiangiogenesis activity and the lowest toxicity, inhibited angiogenesis by inducing cell cycle arrest in the G0/G1 phase in HUVEC culture and downregulating the mRNA expressions of angiogenesis genes flt1, kdrl, and hras in zebrafish.
CONCLUSIONS:
The in vivo structure-activity relationship (SAR) analysis indicated that a flavonoid with a methoxylated group at the C3' position offers a stronger antiangiogenesis activity, whereas the absence of a methoxylated group at the C8 position offers lower lethal toxicity in addition to enhancing the antiangiogenesis activity. This study provides new insight into how modification of the chemical structure of polymethoxylated flavonoids affects this newly identified antiangiogenesis activity.
Food Chem., 2009, 113(1): 185-90.
Sinensetin, rutin, 3'-hydroxy-5, 6, 7, 4'-tetramethoxyflavone and rosmarinic acid contents and antioxidative effect of the skin of apple fruit[Reference:
WebLink
]

METHODS AND RESULTS:
A GC–MS method was developed for the separation and quantifiation of three flavones: Sinensetin (SEN), rutin (RU) and 3′-hydroxy-5, 6, 7, 4′-tetramethoxyflavone (TMF) and rosmarinic acid (RA), a caffeic acid derivative, in the skin of apple fruit collected from different local markets of Bangladesh. The results showed significant variation in the amount of these markers in methanolic extracts of skin samples from different markets of Bangladesh, even though the values were almost identical for most of the cases. A variation in antioxidant activities, ranging from 62.82 to 92.34%, and variations in total phenolics, ranging from 6.69 to 10.20 mg caffeic acid/g dry weight of the methanol extracts, were observed.
CONCLUSIONS:
Antioxidative potency of the methanolic extracts was comparable to that of pure quercetin and the synthetic antioxidant butylated hydroxylanisole (BHA).