Siegeskaurolic acid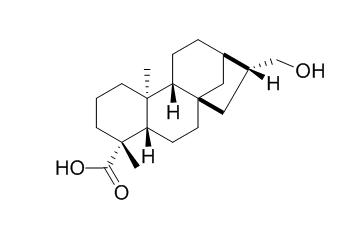 Siegeskaurolic acid exhibits anti-inflammatory and antinociceptive effects, which due to the inhibition of iNOS and COX-2 expression in RAW 264.7 macrophages via NF-kappaB inactivation.
Inquire / Order: manager@chemfaces.com
Technical Inquiries: service@chemfaces.com
Tel: +86-27-84237783
Fax: +86-27-84254680

Address:
1 Building, No. 83, CheCheng Rd., Wuhan Economic and Technological Development Zone, Wuhan, Hubei 430056, PRC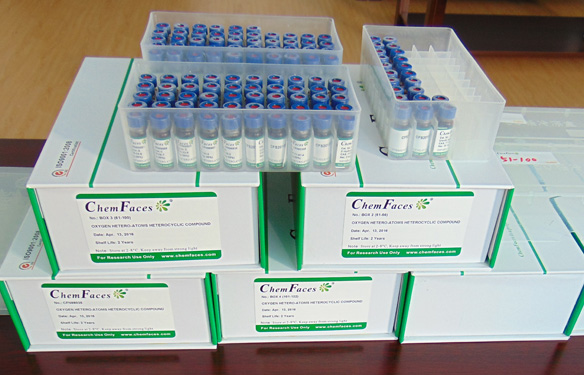 Providing storage is as stated on the product vial and the vial is kept tightly sealed, the product can be stored for up to
24 months(2-8C)
.
Wherever possible, you should prepare and use solutions on the same day. However, if you need to make up stock solutions in advance, we recommend that you store the solution as aliquots in tightly sealed vials at -20C. Generally, these will be useable for up to two weeks. Before use, and prior to opening the vial we recommend that you allow your product to equilibrate to room temperature for at least 1 hour.
Need more advice on solubility, usage and handling? Please email to: service@chemfaces.com
The packaging of the product may have turned upside down during transportation, resulting in the natural compounds adhering to the neck or cap of the vial. take the vial out of its packaging and gently shake to let the compounds fall to the bottom of the vial. for liquid products, centrifuge at 200-500 RPM to gather the liquid at the bottom of the vial. try to avoid loss or contamination during handling.
Biomed Pharmacother.2019, 111:262-269
Food Analytical Methods2017, 10:3225ĘC3234
PLoS One.2018, 13(11):e0208055
Biochem Biophys Res Commun.2019, 518(4):732-738
J Nat Med.2017, 71(2):457-462
Evid Based Complement Alternat Med.2016, 2016:1739760
J of Physics Conference Series2019, 1349(1)
Front Cell Infect Microbiol.2018, 8:292
Analytical methods2019, 11(6)
Korean j.of Pharm.2017, 70-76
Eur J Pharmacol. 2007 Mar 8;558(1-3):185-93.
Anti-inflammatory activities of ent-16alphaH,17-hydroxy-kauran-19-oic acid isolated from the roots of Siegesbeckia pubescens are due to the inhibition of iNOS and COX-2 expression in RAW 264.7 macrophages via NF-kappaB inactivation.[Pubmed:
17207792
]
To isolate the anti-inflammatory components in Siegesbeckia pubescens root, we performed activity-guided fractionation using a carrageenan-induced edema rat model.
METHODS AND RESULTS:
Antinociceptive effects were followed using acetic acid-induced abdominal constriction and hot plate tests in mice. Chloroform extract was subjected to silica gel and octadesyl silane (ODS) column chromatography, and a diterpene was isolated which was identified as ent-16alphaH,17-hydroxy-kauran-19-oic acid (Siegeskaurolic acid). Pretreatment with Siegeskaurolic acid (20 or 30 mg/kg/day, p.o.) exhibited anti-inflammatory and antinociceptive effects in these animal models. To investigate the mechanisms underlying this anti-inflammatory action, we investigated the effect of Siegeskaurolic acid on lipopolysaccharide (LPS)-induced responses in a murine macrophage cell line, RAW 264.7. Siegeskaurolic acid was found to significantly inhibit the productions of nitric oxide (NO), prostaglandin E(2) (PGE(2)), and tumor necrosis factor-alpha (TNF-alpha). Consistent with these findings, inducible nitric oxide synthase (iNOS) and cyclooxygenase-2 (COX-2) proteins, and iNOS, COX-2, and TNF-alpha mRNAs were found to be inhibited by Siegeskaurolic acid. Furthermore, Siegeskaurolic acid inhibited the nuclear factor-kappaB (NF-kappaB) activation induced by LPS, and this was associated with the prevention of inhibitor kappaB degradation (I kappaB), and subsequently with decreased nuclear p65 and p50 protein levels.
CONCLUSIONS:
Taken together, our data indicate that the anti-inflammatory and antinociceptive properties of Siegeskaurolic acid may be due to iNOS, COX-2 and TNF-alpha inhibition via the down-regulation of NF-kappaB binding activity.