Quercetin 3-O-neohesperidoside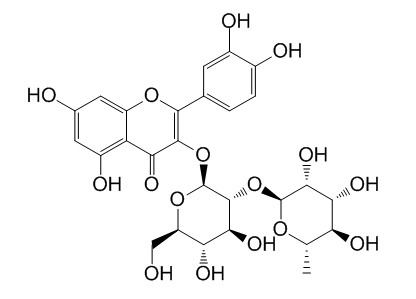 Quercetin 3-O-neohesperidoside shows anti-atherosclerosis, and antiplatelet aggregation activities.
Inquire / Order: manager@chemfaces.com
Technical Inquiries: service@chemfaces.com
Tel: +86-27-84237783
Fax: +86-27-84254680

Address:
1 Building, No. 83, CheCheng Rd., Wuhan Economic and Technological Development Zone, Wuhan, Hubei 430056, PRC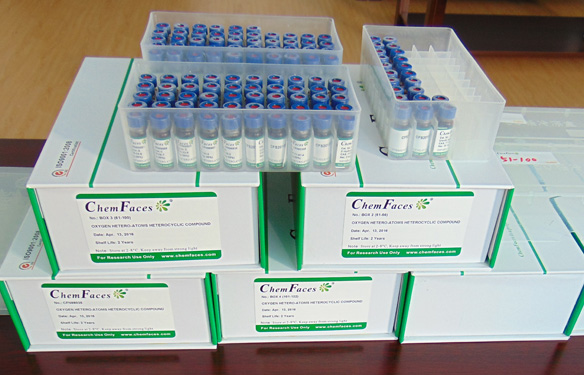 Providing storage is as stated on the product vial and the vial is kept tightly sealed, the product can be stored for up to
24 months(2-8C)
.
Wherever possible, you should prepare and use solutions on the same day. However, if you need to make up stock solutions in advance, we recommend that you store the solution as aliquots in tightly sealed vials at -20C. Generally, these will be useable for up to two weeks. Before use, and prior to opening the vial we recommend that you allow your product to equilibrate to room temperature for at least 1 hour.
Need more advice on solubility, usage and handling? Please email to: service@chemfaces.com
The packaging of the product may have turned upside down during transportation, resulting in the natural compounds adhering to the neck or cap of the vial. take the vial out of its packaging and gently shake to let the compounds fall to the bottom of the vial. for liquid products, centrifuge at 200-500 RPM to gather the liquid at the bottom of the vial. try to avoid loss or contamination during handling.
J. of The Korean Society of Food Culture2017, 144-149
Journal of Ginseng Research2019, 10.1016
Sci Rep. 2017, 8207(7)
Korean Journal of Pharmacognosy.2015, 46(4):352-364
Br J Pharmacol.2018, 175(6):902-923
Sci Rep.2016, 6:25094
Biomolecules.2019, 9(11):E696
J Pharmaceut Biomed2020, 182:113110
Front Immunol.2018, 9:2655
Current Pharmaceutical Analysis2017, 13(5)
Zhongguo Zhong Yao Za Zhi. 2015 Aug;40(16):3187-93.
Study on antiplatelet and antithrombin activitives and effective components variation of Puhuang-Wulingzhi before and after compatibility.[Pubmed:
26790290
]
The changes of bioactive constituents were analyzed for Puhuang-Wulingzhi before and after compatibility and the antiplatelet and antithrombin activitives were evaluated in order to elucidate the scientific and reasonable of Puhuang-Wulingzhi compatibility.
METHODS AND RESULTS:
UPLC-QTOF-MA-Markerlynx, principal component analysis (PCA) and orthogonal partial least-squares discriminant analysis were used for data analysis and tracking changes of chemical composition during the decocting process. In vitro platelet aggregation induced by ADP, thrombin time(TT) and prothrombin time (PT) were investigated for Puhuang-Wulingzhi before and after compatibility. The results showed that significant differences were found between the mixed decoction and codecoction of Wulingzhi and Puhuang. Five compounds changed obviously were identified as typhaneoside, naringenin, isorhamnetin-3-O-ruinoside, Quercetin 3-O-neohesperidoside, kaempferol-3-O-neohesperidoside.
CONCLUSIONS:
The codecoction, comparing with the single decoction, was more significant in antiplatelet aggregation and could prolong thrombin time. In the same crude drug dose, the thrombin time (TT) elongation were greater. These data could provide references for elucidation of bioactive components for this herb pair.
PLoS One. 2015 Feb 20;10(2):e0116601.
Cell-based screening identifies the active ingredients from Traditional Chinese Medicine formula Shixiao San as the inhibitors of atherosclerotic endothelial dysfunction.[Pubmed:
25699522
]
In this study, we performed a phenotypic screening in human endothelial cells exposed to oxidized low density lipoprotein (an in vitro model of atherosclerotic endothelial dysfunction) to identify the effective compounds in Shixiao San.
METHODS AND RESULTS:
After investigating the suitability and reliability of the cell-based screening method using atorvastatin as the positive control drug, this method was applied in screening Shixiao San and its extracts. The treatment of n-butanol fraction on endothelial cells exhibited stronger healing effects against oxidized low density lipoprotein-induced insult when compared with other fractions. Cell viability, the level of nitric oxide, endothelial nitric oxide synthase and endothelin-1 were measured, respectively. The assays revealed n-butanol fraction significantly elevated the survival ratio of impaired cells in culture. In parallel, n-butanol fraction exhibited the highest inhibition of inflammation. The generation of prostaglandin-2 and adhesion molecule (soluble intercellular adhesion molecule-1) was obviously declined. Furthermore, n-butanol fraction suppressed the production of reactive oxygen species and malondialdehyde, and restored the activity of superoxide dismutase. Compounds identification of the n-butanol fraction was carried out by ultra high liquid chromatography coupled to quadrupole time-of-flight tandem mass spectrometry. The active ingredients including quercetin-3-O-(2G-α-l-rhamnosyl)-rutinoside, Quercetin 3-O-neohesperidoside, isorhamnetin-3-O-neohesperidoside and isorhamnetin-3-O-rutinoside revealed the ability of anti-atherosclerosis after exposing on endothelial cells.
CONCLUSIONS:
The current work illustrated the pharmacology effect of Shixiao San and clearly indicated the major active components in Shixiao San. More importantly, the proposed cell-based screening method might be particularly suitable for fast evaluating the anti-atherosclerosis efficacy of Traditional Chinese Medicines and screening out the interesting ingredients of Traditional Chinese Medicines.