Glycitin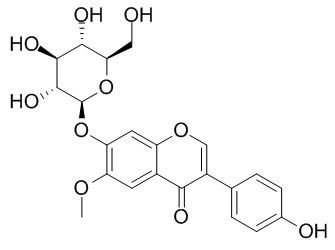 Glycitin has antibacterial, antiviral, anti-obese,anti-diabetic and estrogenic activities and may exert preventative effects on alcoholism, osteonecrosis,cardiovascular and cerebrovascular diseases and some types of cancer. It has a protective effect on skin aging by inhibiting of MMP-1 and increasing of collagen through ERK/JNK/P38 down-regulation, shows good inhibitory effect on α-glucosidase with IC50 of 0.5646 mg/mL.
Inquire / Order: manager@chemfaces.com
Technical Inquiries: service@chemfaces.com
Tel: +86-27-84237783
Fax: +86-27-84254680

Address:
1 Building, No. 83, CheCheng Rd., Wuhan Economic and Technological Development Zone, Wuhan, Hubei 430056, PRC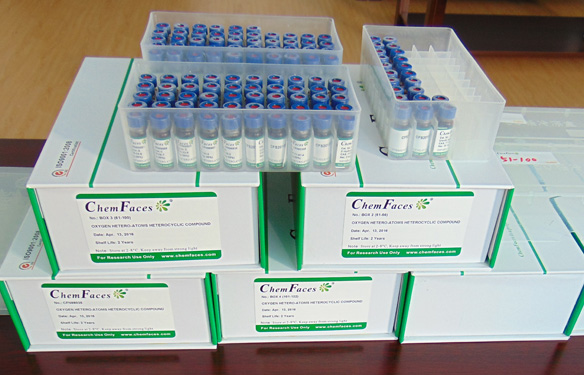 Providing storage is as stated on the product vial and the vial is kept tightly sealed, the product can be stored for up to
24 months(2-8C)
.
Wherever possible, you should prepare and use solutions on the same day. However, if you need to make up stock solutions in advance, we recommend that you store the solution as aliquots in tightly sealed vials at -20C. Generally, these will be useable for up to two weeks. Before use, and prior to opening the vial we recommend that you allow your product to equilibrate to room temperature for at least 1 hour.
Need more advice on solubility, usage and handling? Please email to: service@chemfaces.com
The packaging of the product may have turned upside down during transportation, resulting in the natural compounds adhering to the neck or cap of the vial. take the vial out of its packaging and gently shake to let the compounds fall to the bottom of the vial. for liquid products, centrifuge at 200-500 RPM to gather the liquid at the bottom of the vial. try to avoid loss or contamination during handling.
HortTechnology2016, 26(6):816-819
Integr Med Res.2017, 6(4):395-403
J Sep Sci.2019, 42(21):3352-3362
Nat Prod Sci.2014, 20(3):182-190
Int J Mol Sci.2019, 21(1):E265
Sci Adv.2018, 4(10)
Current Pharmaceutical Analysis2017, 13(5)
Chem Biol Interact.2018, 283:59-74
J Pharm Biomed Anal.2019, 164:119-127
J Ethnopharmacol.2017, 209:305-316
Acta Pharmacol. Sin., 2005, 26(9):1081-6.
Effects of genistein, daidzein and glycitein on the osteogenic and adipogenic differentiation of bone marrow stromal cells and on the adipogenic trans-differentiation of osteoblasts[Reference:
WebLink
]

METHODS AND RESULTS:
The 3-(4, 5-dimethylthiazol-2-yl)-2, 5-diphenyl tetrazolium bromide (MTT), alkaline phosphatase (ALP) activity and oil red O assays were used to examine the effects of genistein, diadzein and glycitein on the osteogenic and adipogenic differentiation of primary mouse bone marrow stromal cells (MSCs) and the adipogenic trans-differentiation of primary mouse osteoblasts. The results indicated that daidzein, genistein and glycitein at concentrations from 1 × 10−8mol/L to 1×10−5 mol/L promoted the proliferation of MSCs and osteoblasts; genistein, daidzein and glycitein promoted osteogenic differentiation and inhibited adipogenic differentiation of MSCs, and inhibited adipocytic transdifferentiation of osteoblasts at appropriate concentrations as 17β-estradiol.
CONCLUSIONS:
It suggests that genistein, daidzein and glycitein regulate a dual differentiational process of MSCs into the osteogenic and adipogenic lineages, and trans-differentiational process of primary osteoblasts into the adipocyte lineages, causing a lineage shift toward osteoblast. Protective effects of them on bone may be mediated by a reversal of adipogenesis which may promote the proliferation, differentiation and mineralization of osteoblasts, and make adipocytes secrete less cytokines which may promote osteoclast formation and activation. In addition, the results also indicated that genistein, daidzein and glycitein may be helpful in preventing the development of steroid induced osteonecrosis.
Biosci Biotechnol Biochem. 2015 Jan;79(1):117-23.
Anti-obese and anti-diabetic effects of a mixture of daidzin and glycitin on C57BL/6J mice fed with a high-fat diet.[Pubmed:
25209298
]

METHODS AND RESULTS:
We investigated the effects of a mixture of daidzin and Glycitin, which are the glycoside-form isoflavones of daidzein and glycitein, respectively, on body weight, lipid levels, diabetic markers, and metabolism in a high-fat diet (HF) fed C57BL/6J mice for 92 days. The mice were divided into basic diet group (CON), HF group, and HF companied with the isoflavone mixture group (HFISO). Results showed that mice in HFISO had a significantly lower body weight and adipose tissue compared to HF group. Blood glucose, serum HbA1c, and serum insulin also showed lower levels in HFISO group. In addition, higher hepatic GSH level and lower serum 8-hydroxy-2'-deoxyguanosine (8-OHdG) level were found in HFISO group mice.
CONCLUSIONS:
This suggests that the regulation of oxidative stress by daidzin and Glycitin was closely related to the suppression of adipose tissue and the progression of diabetes.
J. Korean Soc. App. Bi., 2014, 57(4):463-8.
The Protective Effect of Glycitin on UV-induced Skin Photoaging in Human Primary Dermal Fibroblast[Reference:
WebLink
]
Exposure of strong and repeated UV on the skin leads to skin aging, characterized with wrinkling, sagging, dyspigmentation, and laxity. Numerous studies revealed that Matrix metalloproteinases are related to skin aging and functions as degrading enzyme of various types of collagen.
METHODS AND RESULTS:
Here, we attempted to evaluate the effectiveness of Glycitin (4'-hydroxy-6-methoxy-isoflavone-7-D-glucoside) on skin aging and mechanisms of action in UV-irradiated human dermal fibroblasts. Especially we focused on the expression of Matrix metalloproteinase-1 (MMP-1), which degrades procollagen type-I in dermis, by 3-(4,5-dimethylthiazol-2-yl)-2,5-diphenyltetrazolium bromide assay, Western blot, and reverse transcription polymerase chain reaction in cell lysates or media. Our results showed that Glycitin increased the viability of human dermal fibroblast and alleviated MMP-1 expression caused by UV irradiation. In addition, synthesis of type-I collagen was increased and UV-induced phosphorylation of ERK/JNK/p38 was decreased in dose-dependent manners. Taken together, we demonstrated that treatment with glycitein have a protective effect on skin aging by inhibiting of MMP-1 and increasing of collagen through ERK/JNK/P38 down-regulation, which may be mediated by the inhibition of ERK, JNK, and p38 mitogen-activated protein kinases.
CONCLUSIONS:
We suggest that Glycitin is a potential agent for the treatment of skin ageing.
Biotechnol Lett. 2012 Jan;34(1):125-9.
Characterization of a β-glucosidase from Sulfolobus solfataricus for isoflavone glycosides.[Pubmed:
21898127
]
The specific activity of a recombinant β-glucosidase from Sulfolobus solfataricus for isoflavones was: daidzin > Glycitin > genistin > malonyl genistin > malonyl daidzin > malonyl Glycitin. The hydrolytic activity of this enzyme for daidzin was highest at pH 5.5 and 90°C with a half-life of 18 h, a K (m) of 0.5 mM, and a k (cat) of 2532 s(-1). The enzyme converted 1 mM daidzin to 1 mM daidzein after 1 h with a molar yield of 100% and a productivity of 1 mM h(-1). Among β-glucosidases, that from S. solfataricus β had the highest thermostability, k (cat), k (cat)/K (m), conversion yield, and productivity in the hydrolysis of daidzin.
Sci. Technol. Rev., 2014, 32(16):29-33.
Research on Structure Identification of Glycitin from Glycyrrhiza and Its Inhibitory Activity Against α-Glucosidase[Reference:
WebLink
]
An isoflavone Glycitin is isolated from the licorice, which has some inhibitory effect on α-glucosidase. The compound has been isolated from Glycyrrhiza for the first time. The inhibition activity against α-glucosidase is tested in vitro, and this compound shows good inhibition effect on α-glucosidase with IC50of 0.5646 mg·mL- 1, better than the position control acarbose. The results of kinetic experiments show that the depressant effect of Glycitin is non competitive inhibition and the constant of Kmis 8.1571 mol·L-1. The value of Kiis 1.318 mg·mL-1 calculated by the Dixon equation.
Exp Ther Med. 2016 Nov;12(5):3063-3067.
Glycitin regulates osteoblasts through TGF-β or AKT signaling pathways in bone marrow stem cells.[Pubmed:
27882117
]
Cell lines:Bone marrow stem cells (BMSCs)
Concentrations: 0.01, 0.5, 1, 5 and 10 μM
Incubation Time:  7 days
Method:
BMSCs (1-2×106 cells or 1-2×104 per well) are cultured in 6- or 96-well culture plates overnight at 37°C in an atmosphere containing 5% CO2. Glycitin is added to the wells at final concentrations of 0.01, 0.5, 1, 5 and 10 μM and cultured for 7 days. In cells cultured in 6-well culture plates, BMSCs are determined using Oil Red O staining and observed via light microscopy at 510 nm. BMSCs are fixed using 5% precooled paraformaldehyde for 30 min at 4°C and stained with 0.6% (w/v) Oil Red O solution for 15 min at room temperature. Cells stained with Oil Red O are washed with water (3×5 min) to remove unbound dye, and culture dishes are stained with 1 ml isopropyl alcohol for 10 min. In cells cultured in 96-well culture plates, BMSCs are determined via MTT assay. A total of 20 μl MTT (5 g/l) are added to each well and cultured for 4 h. The supernatant is removed and 200 μl dimethylsulfoxide are added to each well for 15 min. Optical density (OD) is measured using a microplate spectrophotometer at 570 nm. Proliferation rate is calculated using: OD treated / OD control × 100%.

Biol Pharm Bull. 2001 Apr;24(4):368-72.
Comparative study on reduction of bone loss and lipid metabolism abnormality in ovariectomized rats by soy isoflavones, daidzin, genistin, and glycitin.[Pubmed:
11305597
]
Animal Models: Female Sprague-Dawley rats
Formulation: suspended in water containing 1% hydroxypropyl cellulose
Dosages:25, 50 or 100 mg/kg/d
Administration: p.o.