Pulsatilla saponin H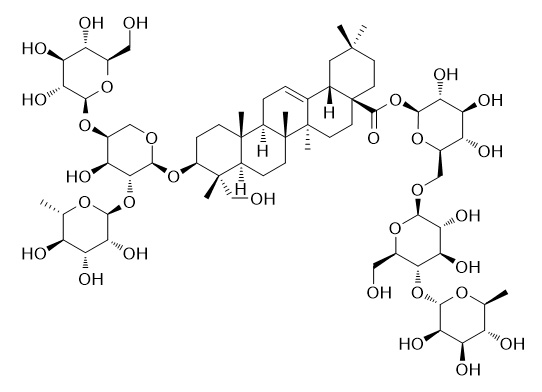 Reference standards.
Inquire / Order: manager@chemfaces.com
Technical Inquiries: service@chemfaces.com
Tel: +86-27-84237783
Fax: +86-27-84254680

Address:
1 Building, No. 83, CheCheng Rd., Wuhan Economic and Technological Development Zone, Wuhan, Hubei 430056, PRC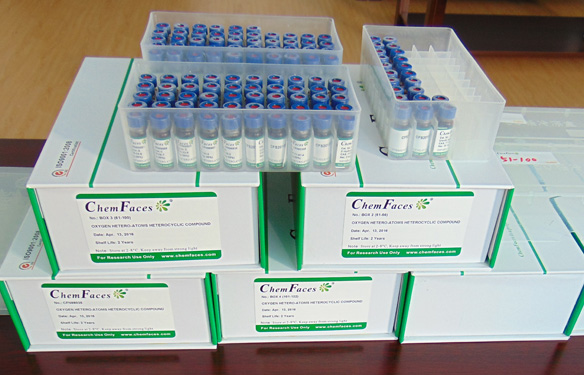 Providing storage is as stated on the product vial and the vial is kept tightly sealed, the product can be stored for up to
24 months(2-8C)
.
Wherever possible, you should prepare and use solutions on the same day. However, if you need to make up stock solutions in advance, we recommend that you store the solution as aliquots in tightly sealed vials at -20C. Generally, these will be useable for up to two weeks. Before use, and prior to opening the vial we recommend that you allow your product to equilibrate to room temperature for at least 1 hour.
Need more advice on solubility, usage and handling? Please email to: service@chemfaces.com
The packaging of the product may have turned upside down during transportation, resulting in the natural compounds adhering to the neck or cap of the vial. take the vial out of its packaging and gently shake to let the compounds fall to the bottom of the vial. for liquid products, centrifuge at 200-500 RPM to gather the liquid at the bottom of the vial. try to avoid loss or contamination during handling.
J Ethnopharmacol.2020, 260:112988.
J Sep Sci.2018, 41(9):1938-1946
J Microbiol Biotechnol.2020, 30(2):178-186.
LWT2020, 126:109313
Acta Biochim Pol.2015, 62(2):253-8
J Agric Food Chem.2017, 65(13):2670-2676
Institut Pasteur Korea2020, doi: 10.21203.
Evid Based Complement Alternat Med.2019, 2019:2135351
Research on Crops.2017, 18(2)
BMC Complement Med Ther. 2020, 20(1):91.
Phytochemical Analysis, 2010, 21(4):314-321.
Quality Control of Pulsatilla koreana Based on the Simultaneous Determination of Triterpenoidal Saponins by HPLC-ELSD and Principal Component Analysis[Reference:
WebLink
]
Pulsatilla koreana Nakai, with triterpenoidal saponins as its main pharmacological effective compounds, is known to have several biological activities, including hypoglycaemic, antitumour, cognition-enhancing, neuroprotective, cytotoxic and antiangiogenic activities. However, few analytical methods have been reported on the quality assessment of P. koreana roots.
METHODS AND RESULTS:
To establish a high-performance liquid chromatography coupled with evaporative light scattering detection for the simultaneous determination of five triterpenoidal saponins, including pulsatilloside E (1), Pulsatilla saponin H (2), anemoside B4 (3), hederacolchiside E (4) and cussosaponin C (5) in P. koreana. The chromatographic separation was performed on a Shiseido CapCell PAK C18 analytical column efficiently using gradient elution with acetonitrile and water. All calibration curves showed excellent linear regressions (R(2) > 0.9996) within the range of tested concentrations. The intra- and inter-day variations were below 4.78% in terms of RSD. The recoveries were 94.82-102.97% with RSD of 0.27-3.92% for spiked P. koreana samples.
CONCLUSIONS:
The validated method was successfully used for the analysis of five saponins in P. koreana from different locations. Moreover, the different samples were clustered in accordance with contents of triterpenoidal saponins based on aglycon type by a principal component analysis.