Hederacoside C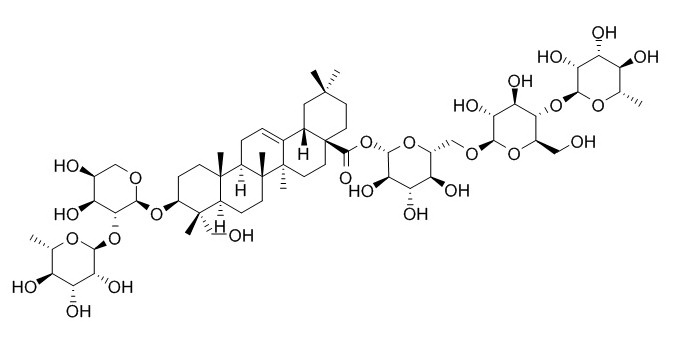 Hederacoside C is one of the active ingredients in Hedera helix leaf extract (Ivy Ex.) and AG NPP709, a new botanical drug to treat acute respiratory infection and chronic inflammatory bronchitis. Hederacoside C has antispasmodic activity. Hederacoside C is a potent competitive inhibitor for serine protease porcine pancreatic elastase, shows comparable IC 50 value is 40.6 uM; it also non-competitively inhibits hyaluronidase activity in a dose- dependent fashion, shows comparable IC 50 value is 280.4 uM.
Inquire / Order: manager@chemfaces.com
Technical Inquiries: service@chemfaces.com
Tel: +86-27-84237783
Fax: +86-27-84254680

Address:
1 Building, No. 83, CheCheng Rd., Wuhan Economic and Technological Development Zone, Wuhan, Hubei 430056, PRC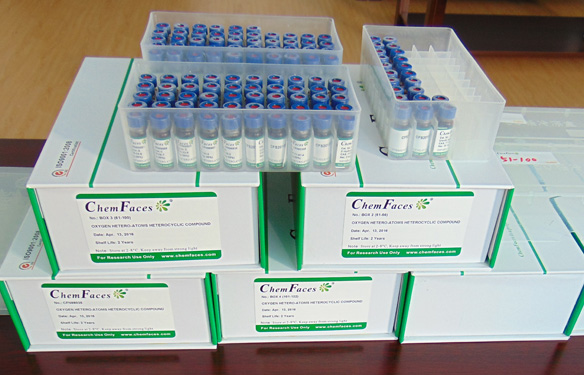 Providing storage is as stated on the product vial and the vial is kept tightly sealed, the product can be stored for up to
24 months(2-8C)
.
Wherever possible, you should prepare and use solutions on the same day. However, if you need to make up stock solutions in advance, we recommend that you store the solution as aliquots in tightly sealed vials at -20C. Generally, these will be useable for up to two weeks. Before use, and prior to opening the vial we recommend that you allow your product to equilibrate to room temperature for at least 1 hour.
Need more advice on solubility, usage and handling? Please email to: service@chemfaces.com
The packaging of the product may have turned upside down during transportation, resulting in the natural compounds adhering to the neck or cap of the vial. take the vial out of its packaging and gently shake to let the compounds fall to the bottom of the vial. for liquid products, centrifuge at 200-500 RPM to gather the liquid at the bottom of the vial. try to avoid loss or contamination during handling.
Med Sci Monit.2019, 25:9499-9508
Molecules.2020, 25(20):4851.
Plant Cell Tiss Org2020, 1-16
Molecules.2017, 22(3)
Evid Based Complement Alternat Med.2020, 2020:9416962.
Oncotarget.2017, 8(53):90925-90947
Molecules2020, 25(4):892
Biomed Chromatogr.2020, e5021.
Molecules.2020, 25(9):2081.
J Agric Food Chem.2017, 65(13):2670-2676
Phytomedicine. 2011 Jan 15;18(2-3):214-8.
Pre-treatment with α-hederin increases β-adrenoceptor mediated relaxation of airway smooth muscle.[Pubmed:
20637581
]
Preparations of ivy leaves dry extract with secretolytic and bronchiolytic efficacy are widely used for the treatment of acute and chronic obstructive airway diseases. The mechanism by which ivy preparations improve lung functions is not fully understood.
METHODS AND RESULTS:
Here, we tested the influence of the three main saponins of ivy, α-hederin, Hederacoside C and hederagenin, on the contraction and relaxation behaviour of isolated bovine tracheal smooth muscle strips by isometric tension measurements. None of the tested compounds altered histamine or methacholine-induced contraction of the smooth muscle strips. In contrast, the isoprenaline-induced relaxation of 100μM methacholine precontracted muscle strips was significantly enhanced when pre-treated with 1μM of α-hederin for 18h. The pre-treatment with Hederacoside C or hederagenin had no effect on isoprenaline-induced relaxation.
CONCLUSIONS:
For the first time the bronchiolytic effect of α-hederin was demonstrated by isometric tension measurements using bovine tracheal smooth muscle strips. α-Hederin increases isoprenaline-induced relaxation indirectly, probably by inhibiting heterologous desensitization induced by high concentrations of muscarinic ligands like methacholine.
J Ethnopharmacol. 2011 Apr 12;134(3):796-802.
The effect of the whole extract of common ivy (Hedera helix) leaves and selected active substances on the motoric activity of rat isolated stomach strips.[Pubmed:
21291987
]
The long tradition of using the dry extract of Hedera helix (common ivy) leaves in traditional and contemporary alternative medicine caused that many biological and pharmacological studies have been aimed at evaluating the effects of ivy. Some of the results suggest that Hedera helix extract possesses bronchodilatatory and antispasmodic activity. On the other hand, the symptoms of ivy intoxication in human and animals, as well as adverse-reactions observed during the therapy with ivy-based pharmaceuticals, indicate rather stimulant effect of the plant on smooth muscle. Thus, the aim of this study was to evaluate the effect of two main active substances extracted from the plant (α-hederin and Hederacoside C) and the whole dry extract of Hedera helix on the gut motility.
METHODS AND RESULTS:
The experiments were carried out on isolated stomach corpus and fundus strips. The tissues were isolated from rats. The experiments were performed in isotonic conditions. The results are expressed as the percent of the reaction caused by a reference contractile substance, acetylcholine. The obtained results revealed that α-hederin applied in the concentration ranged from 25 to 320μM significantly changed the spontaneous motoric activity of rat stomach smooth muscle. The observed reaction had always the same character, a contraction, and its force was concentration dependent. The second tested saponin, Hederacoside C, did not alter the motility of rat isolated stomach corpus and fundus strips when administered in the concentration up to 100 μM, however, if applied in the concentration of 350 μM it induced a remarkable concentration of smooth muscle. Eventually, the whole extract of Hedera helix in a dose containing 60 μM of Hederacoside C produced a strong contraction which strength was comparable with the reaction generated by acetylcholine.
CONCLUSIONS:
According to the results, it is very likely that α-hederin, but not Hederacoside C contributes to the contractile response of isolated stomach corpus and fundus strips to the application of Hedera helix leaves' extract.
Planta Med. 1997 Apr;63(2):125-9.
In vitro antispasmodic compounds of the dry extract obtained from Hedera helix.[Pubmed:
9140224
]
Commercial dry extract of Hedera helix L. is used for the treatment of disorders of the respiratory tract; it is standardized towards papaverine (papaverine equivalent value, PE, activity of 1 g test substance equivalent to the activity of x mg papaverine) by in vitro antispasmodic activity on isolated guinea-pig ileum with acetylcholine as spasmogen.
METHODS AND RESULTS:
In order to determine the phytochemical basis for the antispasmodic activity, bioassay guided fractionation and subsequent isolation of phenolic compounds (flavonols, caffeoylquinic acids) and saponins (Hederacoside C, alpha-hederin, hederagenin) was carried out. Fractions and isolates obtained were investigated for antispasmodic activity and their contribution to the activity of the extract was calculated. Significant activity was found for both saponins and phenolic compounds, the PE values being approx. 55 and 49 for alpha-hederin and hederagenin, 54 and 143 for quercetin and kaempferol, and 22 for 3,5-dicaffeoylquinic acid, respectively. In view of their relative high concentration the saponins contribute most to the anti-spasmodic activity, followed by dicaffeoylquinic acids and the flavonol derivatives.
CONCLUSIONS:
The results indicate that the summed PE value of the compounds mentioned is an acceptable agreement with the PE value of the whole extract determined biologically.
Xenobiotica. 2013 Nov;43(11):985-92.
Pharmacokinetics of hederacoside C, an active ingredient in AG NPP709, in rats.[Pubmed:
23607546
]
1. Hederacoside C (HDC) is one of the active ingredients in Hedera helix leaf extract (Ivy Ex.) and AG NPP709, a new botanical drug to treat acute respiratory infection and chronic inflammatory bronchitis. However, information regarding its pharmacokinetic properties remains limited.
CONCLUSIONS:
2. Here, we report the pharmacokinetics of HDC in rats after intravenous administration of HDC (3, 12.5, and 25 mg/kg) and after oral administration of HDC, Ivy Ex., and AG NPP709 (equivalent to 12.5, 25, and 50 mg/kg HDC). 3. Linear pharmacokinetics of HDC were identified upon its intravenous administration at doses of 3-25 mg/kg. Intravenous administration of HDC results in relatively slow clearance (1.46-2.08 mL/min/kg) and a small volume of distribution at steady state (138-222 mL/kg), while oral administration results in a low absolute oral bioavailability (F) of 0.118-0.250%. The extremely low F of HDC may be due to poor absorption of HDC from the gastrointestinal (GI) tract and/or its decomposition therein.
CONCLUSIONS:
4. The oral pharmacokinetics of HDC did not differ significantly among pure HDC, Ivy Ex., and AG NPP709.
Arch Pharm (Weinheim). 1995 Oct;328(10):720-4.
Anti-elastase and anti-hyaluronidase activities of saponins and sapogenins from Hedera helix, Aesculus hippocastanum, and Ruscus aculeatus: factors contributing to their efficacy in the treatment of venous insufficiency.[Pubmed:
8554461
]
Triterpene and steroid saponins and sapogenins of medicinal plants (Aesculus hippocastanum L., Hedera helix L., Ruscus aculeatus L.) are claimed to be effective for the treatment/prevention of venous insufficiency.
METHODS AND RESULTS:
In this work we evaluated the inhibitory effects of these plant constituents on the activity of elastase and hyaluronidase, the enzyme systems involved in the turnover of the main components of the perivascular amorphous substance. The results evidence that for Hedera helix L., the sapogenins only non-competitively inhibit hyaluronidase activity in a dose-dependent fashion, showing comparable IC50 values (hederagenin IC50 = 280.4 microM; oleanolic acid IC50 = 300.2 microM); both the saponins Hederacoside C and alpha-hederin are very weak inhibitors. The same behaviour is observed for serine protease porcine pancreatic elastase: the glycosides are devoid of inhibitory action, while genins are potent competitive inhibitors (oleanolic acid IC50 = 5.1 microM; hederagenin IC50 = 40.6 microM). Constituents from Aesculus hippocastanum L. show inhibitory effects only on hyaluronidase, and this activity is mainly linked to the saponin escin (IC50 = 149.9 microM), less to its genin escinol (IC50 = 1.65 mM). By contrast, ruscogenins from Ruscus aculeatus L., ineffective on hyaluronidase activity, exhibit remarkable anti-elastase activity (IC50 = 119.9 microM; competitive inhibition).
CONCLUSIONS:
The mechanism of elastase inhibition by triterpene and steroid aglycones, with a nitroanilide derivative as substrate, is discussed.