Polygalacin D2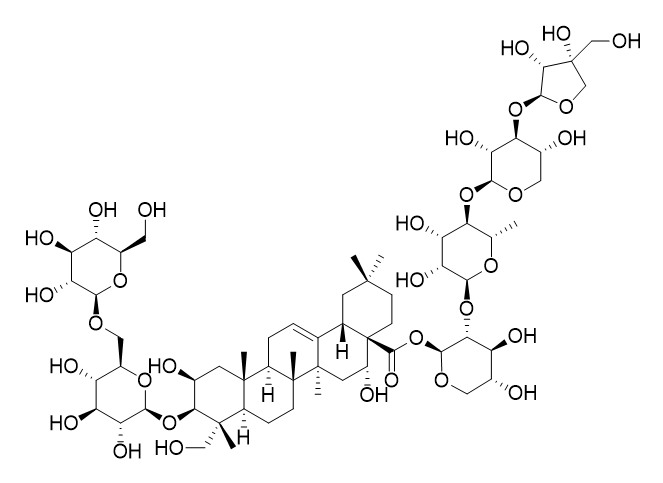 Polygalacin D2 may have antimicrobial activity.
Inquire / Order: manager@chemfaces.com
Technical Inquiries: service@chemfaces.com
Tel: +86-27-84237783
Fax: +86-27-84254680

Address:
1 Building, No. 83, CheCheng Rd., Wuhan Economic and Technological Development Zone, Wuhan, Hubei 430056, PRC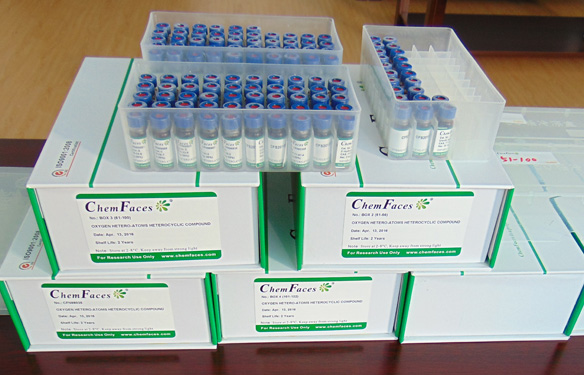 Providing storage is as stated on the product vial and the vial is kept tightly sealed, the product can be stored for up to
24 months(2-8C)
.
Wherever possible, you should prepare and use solutions on the same day. However, if you need to make up stock solutions in advance, we recommend that you store the solution as aliquots in tightly sealed vials at -20C. Generally, these will be useable for up to two weeks. Before use, and prior to opening the vial we recommend that you allow your product to equilibrate to room temperature for at least 1 hour.
Need more advice on solubility, usage and handling? Please email to: service@chemfaces.com
The packaging of the product may have turned upside down during transportation, resulting in the natural compounds adhering to the neck or cap of the vial. take the vial out of its packaging and gently shake to let the compounds fall to the bottom of the vial. for liquid products, centrifuge at 200-500 RPM to gather the liquid at the bottom of the vial. try to avoid loss or contamination during handling.
Journal of Plant Growth Regulation2022, 10705-2.
Cell Physiol Biochem.2017, 43(4):1425-1435
Planta Med.2022, 88(9-10):794-804.
Eur J Pharm Sci.2016, 94:33-45
Appl. Sci.2020, 10(4),1304
Int J Mol Sci.2018, 19(9):E2825
Pharmacol Rep.2018, 70(6):1195-1201
Biomed Pharmacother.2020, 131:110673.
Molecules.2020, 25(3):734
Biochem Biophys Res Commun.2020, 530(1):4-9.
Planta Medica, 2005, 71(6):566-568.
Isolation of a new saponin and cytotoxic effect of saponins from the root of Platycodon grandiflorum on human tumor cell lines.[Reference:
WebLink
]

METHODS AND RESULTS:
A novel triterpenoid saponin, deapioplatycoside E (1) was isolated from the root extract of Platycodon grandiflorum, together with the seven known saponins 2 - 8, i. e., platycoside E (2), deapioplatycodin D3 (3), platycodin D3 (4), Polygalacin D2 (5), platycodin D2 (6), deapioplatycodin D (7) and platycodin D (8). The structure of the new saponin 1 was determined on the basis of spectral analysis and chemical evidence.
CONCLUSIONS:
The crude saponin fraction (ED50: ca. 10 - 15 microg/mL) and compounds 6 - 8 (ED50: ca. 4 - 18 microg/mL) exhibited significant inhibition on the proliferation of five kinds of cultured human tumor cell lines, i. e., A549 (non-small cell lung), SK-OV-3 (ovary), SK-MEL-2 (melanoma), XF498 (central nerve system) and HCT-15 (colon), in vitro.
Journal of the korean society of food science & nutrition, 2016, 45(7):1017-1025.
Changes in Platycoside Components and Antimicrobial Activities of Bronchus Disease-Inducing Bacteria of Fermented Platycodon grandiflorum Root by Lactic Acid Bacteria.[Reference:
WebLink
]
This study was performed in order to investigate changes in platycosides, as well as antimicrobial activities of bronchus diseases-inducing bacteria (Corynebacterium diphtheriae, Klebsiella pneumoniae, Staphylococcus aureus, and Streptococcus pyogenes) of Platycodon grandiflorum root (PGR) fermented by lactic acid bacteria (Leuconostoc mesenteroides N12-4, Leuc. mesenteroides N58-5, Lactobacillus plantarum N76-10, L. plantarum N56-12, Lactobacillus brevis N70-9, and L. brevis E3-8).
METHODS AND RESULTS:
Growth of L. plantarum on PGR was most active during lactic acid fermentation using different strains. Total platycoside, platycoside E, platycodin A, Polygalacin D2, polygalacin D, and diapioplatycoside E contents of PGR fermented for 96 h at 37°C by Leuc. mesenteroides and L. plantarum increased, whereas contents of platycodin D and platycodin D3 were reduced. The antimicrobial activity on PGR fermented by L. plantarum N56-12 exhibited strong microbial proliferation for all four kinds of bronchus disease-inducing bacteria and was higher than that of non-fermented PGR extract. MIC of fermented PGR extract by L. plantarum N56-12 on C. diphtheriae, K. pneumoniae, S. aureus, and S. pyogenes were 45, 10, 50, and 25 mg/mL, respectively.
CONCLUSIONS:
Thus, this result shows that the antimicrobial activities of bronchus disease-inducing bacteria and platycoside content of PGR by L. plantarum N56-12 were higher than that of non-fermented PGR extract.
Asian Journal of Chemistry, 2013,25(13):7093-7097.
Quantitative Determination of Triterpenoidal Saponins in Platycodi radix and Its Variation in Different Regions of Korean Peninsula: A Herbal Plant Used as Traditional Medicine.[Reference:
WebLink
]
This survey was undertaken in different provinces in order to evaluate the contents of triterpenoidal saponins in Platycodi radix and its variation in different regions of Korea.
METHODS AND RESULTS:
HPLC and ESI-MS analysis were conducted for identification and quantification of ten know and four unknown compounds. Fourteen saponin compounds such as deapio-platycoside E, platycoside E, platycodin D3, platyconic acid A, platycodin D2, platycodin D, mixture of Polygalacin D2 and 3'-O-acetyl-platycodin D, polygalacin D, 3'-O-acetyl- polygalacin D, 2'-Oacetyl- platycodin D and four unknown compounds widely ranged from 2,643 to 23,599 mg/kg dry weight (DW) in the 3-year-old roots and from 5,693 to 34,205 mg/kg DW in the 2-year-old roots, respectively.
CONCLUSIONS:
Since KFDA has not assigned any individual compounds for the quality control of Platycodi radix, we would suggest using Platycodi radix from the region of Jinan because the samples contain moderate total saponins contents.