Preisocalamendiol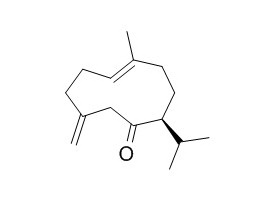 Preisocalamendiol, a plausible precursor of isocalamendiol.
Inquire / Order: manager@chemfaces.com
Technical Inquiries: service@chemfaces.com
Tel: +86-27-84237783
Fax: +86-27-84254680

Address:
1 Building, No. 83, CheCheng Rd., Wuhan Economic and Technological Development Zone, Wuhan, Hubei 430056, PRC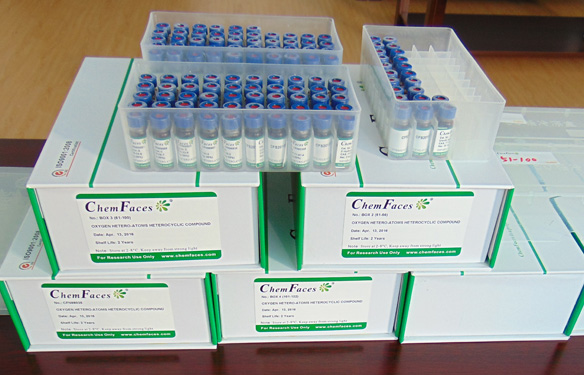 Providing storage is as stated on the product vial and the vial is kept tightly sealed, the product can be stored for up to
24 months(2-8C)
.
Wherever possible, you should prepare and use solutions on the same day. However, if you need to make up stock solutions in advance, we recommend that you store the solution as aliquots in tightly sealed vials at -20C. Generally, these will be useable for up to two weeks. Before use, and prior to opening the vial we recommend that you allow your product to equilibrate to room temperature for at least 1 hour.
Need more advice on solubility, usage and handling? Please email to: service@chemfaces.com
The packaging of the product may have turned upside down during transportation, resulting in the natural compounds adhering to the neck or cap of the vial. take the vial out of its packaging and gently shake to let the compounds fall to the bottom of the vial. for liquid products, centrifuge at 200-500 RPM to gather the liquid at the bottom of the vial. try to avoid loss or contamination during handling.
Drug Des Devel Ther.2020, 14:61-71
Acta Agriculturae Scandinavica2015, 381-383
Exp Biol Med (Maywood).2019, 244(18):1665-1679
J Pharm Biomed Anal.2019, 172:268-277
Acta Pharmaceutica Hungarica2016, 86:35-40
HortTechnology2016, 26(6):816-819
Korean J of Crop Science2019, 452-458
Phytochem Anal.2016, 27(5):296-303
Biochem Biophys Res Commun.2019, 518(4):732-738
Evid Based Complement Alternat Med.2015, 2015:165457
Tetrahedron.1971;27(22):5419-5431.
Sesquiterpenes from Acorus calamus L.[Reference:
WebLink
]

METHODS AND RESULTS:
Five new sesquiterpenes were isolated from Acorus calamus L., in addition to calameone (or calamendiol), the structure of which was revised, and their structures were established. Furthermore, chemical co-relation among these sesquiterpenes was carried out. In particular, the thermal isomerization of shyobunone (I), an elemene-type sesquiterpene, to Preisocalamendiol (VI), a germacrone-type compound, should be noted.
Pharmaceutica Acta Helvetiae. 1995 April;70(1):79–84.
Essential oils of Daucus carota ssp. maximus.[Reference:
WebLink
]
The fruit, leaf and stem essential oils of Daucus carota ssp. maximus have been studied by GC-MS.
METHODS AND RESULTS:
The fruit oil consists chiefly of phenylpropanoids and sesquiterpene hydrocarbons. It is characterized by the presence of trans-methylisoeugenol, methyleugenol, β-asarone, shyobunone and Preisocalamendiol. Phenylpropanoids are completely absent from both the leaf and stem oils and the oxygenated sesquiterpenes constitute about 52 and 80%, respectively of the oils composition, with shyobunones and Preisocalamendiol as major component. These monocyclic ketones as well as α-bourbonene, aristol-9-en-3-ol and aristolenol have never before been reported as components of any Daucus oil.
CONCLUSIONS:
Unlike most of the studied varieties, carotol, daucol and geranyl acetate are completely absent. These results reflect the unique composition of the essential oils of this Lebanese variety.
Tetrahedron Letters,1970,11(11):855-7.
Preisocalamendiol, a plausible precursor of isocalamendiol[Reference:
WebLink
]

METHODS AND RESULTS:
Preisocalamendiol, a plausible precursor of isocalamendiol