Germacrone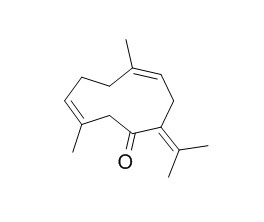 Germacrone has anti-tumor activity, it can inhibit the proliferation of breast cancer cell lines by inducing cell cycle arrest and apoptosis through mitochondria-mediated caspase pathway. Germacrone shows antiviral activity against the H1N1 and H3N2 influenza A viruses and the influenza B virus in a dose-dependent manner, exerts an effective protection of mice from lethal infection and reduces the virus titres in the lung. Germacrone also moderately inhibits CYP2B6 and CYP3A4 activities in vitro, with IC50 values below 10 uM, and produces two oxidized metabolites and four glutathione conjugates.
Inquire / Order: manager@chemfaces.com
Technical Inquiries: service@chemfaces.com
Tel: +86-27-84237783
Fax: +86-27-84254680

Address:
1 Building, No. 83, CheCheng Rd., Wuhan Economic and Technological Development Zone, Wuhan, Hubei 430056, PRC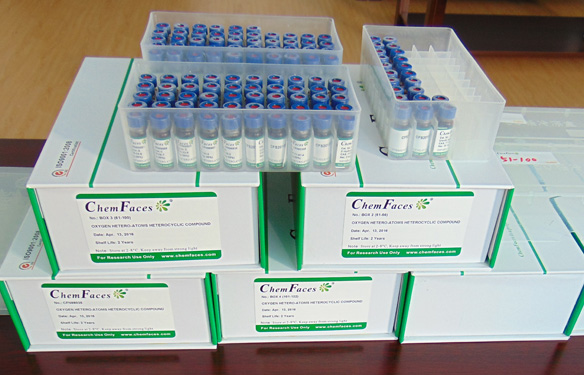 Providing storage is as stated on the product vial and the vial is kept tightly sealed, the product can be stored for up to
24 months(2-8C)
.
Wherever possible, you should prepare and use solutions on the same day. However, if you need to make up stock solutions in advance, we recommend that you store the solution as aliquots in tightly sealed vials at -20C. Generally, these will be useable for up to two weeks. Before use, and prior to opening the vial we recommend that you allow your product to equilibrate to room temperature for at least 1 hour.
Need more advice on solubility, usage and handling? Please email to: service@chemfaces.com
The packaging of the product may have turned upside down during transportation, resulting in the natural compounds adhering to the neck or cap of the vial. take the vial out of its packaging and gently shake to let the compounds fall to the bottom of the vial. for liquid products, centrifuge at 200-500 RPM to gather the liquid at the bottom of the vial. try to avoid loss or contamination during handling.
Nutrients.2018, 10(7)
Pharmacol Rep.2019, 71(2):289-298
Int J Mol Sci.2019, 20(9):E2244
Food Science and Biotechnology2015, 2205-2212
Planta Med.2018, 84(6-07):465-474
J Chromatogr B Analyt Technol Biomed Life Sci. 2017, 1064:115-123
Nutrients.2017, 10(1)
Acta Agriculturae Scandinavica2015, 381-383
Nat Prod Commun.2017, 12(5):771-778
Asian Pac J Cancer Prev.2019, 20(1):65-72
Exp Ther Med. 2014 Nov;8(5):1611-1615.
Germacrone reverses Adriamycin resistance through cell apoptosis in multidrug-resistant breast cancer cells.[Pubmed:
25289068
]
Multidrug resistance (MDR) is a major obstacle to the chemotherapeutic treatment of breast cancer. Germacrone, the main component of Rhizoma Curcuma, has been shown to possess antitumor, anti-inflammatory and immunomodulatory properties.
METHODS AND RESULTS:
The aim of the present study was to investigate the effect of Germacrone on MCF-7/Adriamycin (ADR) multidrug-resistant human breast cancer cells. The treatment of MCF-7/ADR cells with a combination of Germacrone and ADR resulted in an increase in cytotoxicity compared with that of ADR alone, as determined using an MTT assay. Flow cytometric analysis revealed that Germacrone promoted cell apoptosis in a dose-dependent manner, whilst treatment with Germacrone plus ADR enhanced the apoptotic effect synergistically. Furthermore, the results from the western blot analysis demonstrated that augmenting ADR treatment with Germacrone resulted in a reduction of anti-apoptotic protein expression levels (bcl-2) and enhancement of pro-apoptotic protein expression levels (p53 and bax) in MCF-7/ADR cells compared with the levels achieved by treatment with ADR alone. In addition, Germacrone significantly reduced the expression of P-glycoprotein via the inhibition of the multidrug resistance 1 (MDR1) gene promoter.
CONCLUSIONS:
These findings demonstrate that Germacrone has a critical role against MDR and may be a novel MDR reversal agent for breast cancer chemotherapy.
Cell Mol Biol (Noisy-le-grand). 2014 Nov 16;60(4):8-12.
The effects of germacrone on lipopolysaccharide-induced acute lung injury in neonatal rats.[Pubmed:
25399081
]
Germacrone is one of the main bioactive components in the traditional Chinese medicine Rhizoma curcuma and has been shown to possess an anti-inflammatory activity.
METHODS AND RESULTS:
Our present study aimed to investigate the protective effects of Germacrone on lipopolysaccharide (LPS)-induced acute lung injury in neonatal rats. Results showed that Germacrone treatment significantly decreased the expression of pro-inflammatory cytokines IL-6 and TNF-α. Meanwhile, the expression of anti-inflammatory mediators TGF-β1 and IL-10 was obviously increased following Germacrone administration. The LPS-induced pathological changes in neonatal rats were also attenuated by Germacrone treatment. In vitro, MTT and EdU incorporation assay indicated that Germacrone administration significantly increased the A549 cell viabilities in a dose-dependent manner. Besides, flow cytometry and TUNEL analysis showed that the cell apoptosis rate was significantly reduced in a concentration-dependent manner after Germacrone injection. At the molecular level, we found that Germacrone treatment promoted the expression of claudin-4 both in vivo and in vitro as shown by real time PCR and western blot.
CONCLUSIONS:
Collectively, our study demonstrated that Germacrone protected neonatal rats against LPS-induced ALI partially by modulation of claudin-4.
Antiviral Res. 2013 Dec;100(3):578-88.
Germacrone inhibits early stages of influenza virus infection.[Pubmed:
24095670
]
Highly pathogenic influenza viruses pose a serious public health threat to humans. Although vaccines are available, antivirals are needed to efficiently control disease progression and virus transmission due to the emergence of drug-resistant viral strains.
METHODS AND RESULTS:
In this study, Germacrone, which is a major component of the essential oils extracted from Rhizoma Curcuma, was found to inhibit influenza virus replication. Germacrone showed antiviral activity against the H1N1 and H3N2 influenza A viruses and the influenza B virus in a dose-dependent manner. The viral protein expression, RNA synthesis and the production of infectious progeny viruses were decreased both in MDCK and A549 cells treated with Germacrone. In a time-of-addition study, Germacrone was found to exhibit an inhibitory effect on both the attachment/entry step and the early stages of the viral replication cycle. Germacrone also exhibited an effective protection of mice from lethal infection and reduced the virus titres in the lung. Furthermore, the combination of Germacrone and oseltamivir exhibited an additive effect on the inhibition of influenza virus infection, both in vitro and in vivo.
CONCLUSIONS:
Our results suggest that Germacrone may have the potential to be developed as a therapeutic agent alone or in combination with other agents for the treatment of influenza virus infection.
Mol Med Rep. 2014 Aug;10(2):1046-50.
Germacrone inhibits the proliferation of glioma cells by promoting apoptosis and inducing cell cycle arrest.[Pubmed:
24889088
]
Germacrone is one of the major bioactive components of the traditional Chinese Medicinal plant Curcuma aromatica Salisb. and has been shown to possess anti‑tumor properties.
METHODS AND RESULTS:
In the present study, the anti‑proliferative effect of Germacrone on human glioma cells and the molecular mechanism underlying its cytotoxicity were investigated. Treatment of the U87 and U251 human glioma cell lines with Germacrone inhibited the cell proliferation in a dose‑ and time‑dependent manner as assessed by MTT assay, while significantly lower effects were observed on normal human astrocytes. Flow cytometric analysis and DNA fragmentation revealed that Germacrone promoted apoptosis of glioma cells, associated with an increased expression of p53 and bax and decreased expression of bcl‑2. Furthermore, flow cytometric cell cycle analysis revealed that Germacrone induced G1 phase arrest, associated with an obvious decrease in the expression of cyclin D1 and CDK2 and an increased expression of p21.
CONCLUSIONS:
In conclusion, the present study suggested that Germacrone may be a novel potent chemopreventive drug candidate for gliomas via regulating the expression of proteins associated with apoptosis and G1 cell cycle arrest.
J Huazhong Univ Sci Technolog Med Sci. 2013 Jun;33(3):339-45.
Germacrone induces apoptosis in human hepatoma HepG2 cells through inhibition of the JAK2/STAT3 signalling pathway.[Pubmed:
23771657
]
Previous studies have shown that STAT3 plays a vital role in the genesis and progression of cancer. In this study, we investigated the relationship between the JAK2/STAT3 signalling pathway and Germacrone-induced apoptosis in HepG2 cells.
METHODS AND RESULTS:
HepG2 cells were incubated with Germacrone for 24 h, the protein expression of p-STAT3, STAT3, p-JAK2 and JAK2 was detected by Western Blotting, and RT-PCR was used to determine the expression of STAT3, p53, Bcl-2 and Bax at transcriptional levels. Besides that, HepG2 cells were pre-treated with AG490 or IL-6 for 2 h, and then incubated with Germacrone for 24 h. The expression of p-JAK2, JAK2, p-STAT3, STAT3, p53, Bax and Bcl-2 was detected by Western blotting. The activity of HepG2 cells was tested by MTT assay. The apoptosis of HepG2 cells and levels of reactive oxygen species (ROS) were flow cytometrically measured. The results showed that Germacrone exposure decreased p-STAT3 and p-JAK2 and regulated expression of p53 and Bcl-2 family members at the same time. Moreover, IL-6 enhanced the activation of the JAK2/STAT3 signalling pathway and therefore attenuated the Germacrone-induced apoptosis. Suppression of JAK2/STAT3 signalling pathway by AG490, an inhibitor of JAK2, resulted in apoptosis and an increase in ROS in response to Germacrone exposure.
CONCLUSIONS:
We therefore conclude that Germacrone induces apoptosis through the JAK2/STAT3 signalling pathway.
Toxicol In Vitro. 2013 Sep;27(6):2005-12.
Interactions of sesquiterpenes zederone and germacrone with the human cytochrome P450 system.[Pubmed:
23850985
]
Misclassification of Curcuma species (family Zingiberaceae) may lead to unwanted human exposure to Curcuma elata sesquiterpenes zederone and Germacrone which have caused hepatotoxicity and changes in CYP expression in laboratory animals. We investigated how these compounds interact with the human cytochrome P450 (CYP) system, in order to evaluate their potential for human liver toxicity and herb-drug interactions.
METHODS AND RESULTS:
We found that both sesquiterpenes (1-30 μM) greatly induced expression of CYP2B6 and CYP3A4 but not CYP1A2 mRNAs in human primary hepatocytes (HPHs). This induction profile correlated with activation of constitutive androstane and pregnane X receptors. Cytotoxicity was also observed in exposed HPHs. CYP inhibition studies with pooled human liver microsomes (HLMs) indicated that zederone and Germacrone moderately inhibited CYP2B6 and CYP3A4 activities in vitro, with IC50 values below 10 μM. When zederone was incubated with HLMs and NADPH, one di-epoxide metabolite was formed and by using glutathione trapping, five epoxide-derived conjugates were detected. Germacrone produced two oxidized metabolites and four glutathione conjugates.
CONCLUSIONS:
The results suggest that enzymes in HLMs convert sesquiterpenes into reactive, electrophilic compounds which may be causative for the reported liver injuries. These findings provide insight on the safety and drug-herb interactions of the Curcuma species.