Curdione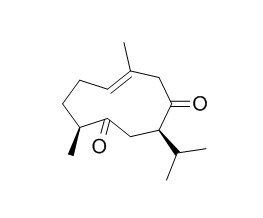 Curdione has anti-inflammatory, cancer chemopreventive activities, significant anti-platelet aggregation and antithrombotic activities , the inhibitory mechanism of curdione on platelet aggregation may increase cAMP levels and subsequently inhibit intracellular Ca2+ mobilization. plays an important role in the CYP3A4 inhibitory activity of C. aromatica.
Inquire / Order: manager@chemfaces.com
Technical Inquiries: service@chemfaces.com
Tel: +86-27-84237783
Fax: +86-27-84254680

Address:
1 Building, No. 83, CheCheng Rd., Wuhan Economic and Technological Development Zone, Wuhan, Hubei 430056, PRC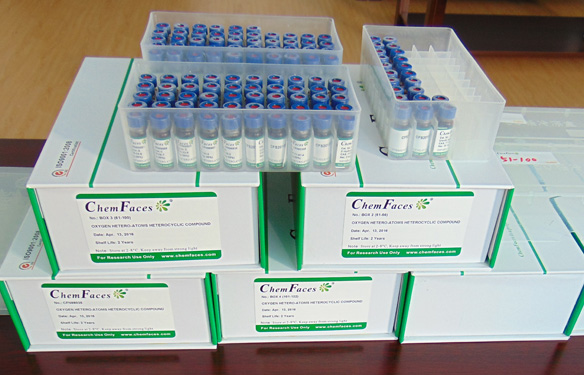 Providing storage is as stated on the product vial and the vial is kept tightly sealed, the product can be stored for up to
24 months(2-8C)
.
Wherever possible, you should prepare and use solutions on the same day. However, if you need to make up stock solutions in advance, we recommend that you store the solution as aliquots in tightly sealed vials at -20C. Generally, these will be useable for up to two weeks. Before use, and prior to opening the vial we recommend that you allow your product to equilibrate to room temperature for at least 1 hour.
Need more advice on solubility, usage and handling? Please email to: service@chemfaces.com
The packaging of the product may have turned upside down during transportation, resulting in the natural compounds adhering to the neck or cap of the vial. take the vial out of its packaging and gently shake to let the compounds fall to the bottom of the vial. for liquid products, centrifuge at 200-500 RPM to gather the liquid at the bottom of the vial. try to avoid loss or contamination during handling.
Korean J Environ Agric.2018, 37(4):260-267
Int J Mol Sci. 2014, 15(5):8443-57
J Nat Sc Biol Med2019, 10(2):149-156
J Agric Food Chem.2018, 66(1):351-358
Biochem Biophys Res Commun.2020, 522(1):40-46
Mediators Inflamm.2016, 2016:7216912
Korean J of Food Science&Technology 2017, 49(2):146-150
Phytomedicine.2019, 57:95-104
Process Biochemistry2019, 87:213-220
Toxicol In Vitro.2018, 52:94-105
Asian Pac J Cancer Prev. 2014;15(22):9997-10001.
Curdione inhibits proliferation of MCF-7 cells by inducing apoptosis.[Pubmed:
25520141
]
Curdione, one of the major components of Curcuma zedoaria, has been reported to possess various biological activities. It thus might be a candidate anti-flammatory and cancer chemopreventive agent. However, the precise molecular mechanisms of action of Curdione on cancer cells are still unclear. In this study, we investigated the effect of Curdione on breast cancer.
METHODS AND RESULTS:
Xenograft nude mice were used to detect the effect of Curdione on breast cancer in vivo; we also tested the effect of Curdione on breast cancer in vitro by MTT, Flow cytometry, JC-I assay, and western blot. Firstly, we found that Curdione significantly suppressed tumor growth in a xenograft nude mouse breast tumor model in a dose-dependent manner. In addition, Curdione treatment inhibited cell proliferation and induced cell apoptosis. Moreover, after Curdione treatment, increase of impaired mitochondrial membrane potential occurred in a concentration dependent manner. Furthermore, the expression of apoptosis-related proteins including cleaved caspase-3, caspase-9 and Bax was increased in Curdione treatment groups, while the expression of the anti-apoptotic Bcl-2 was decreased. Inhibitors of caspase-3 were used to confirm that Curdione induced apoptosis.
CONCLUSIONS:
Overall, our observations first suggested that Curdione inhibited the proliferation of breast cancer cells by inducing apoptosis. These results might provide some molecular basis for the anti-cancer activity of Curdione.
Thromb Res. 2012 Sep;130(3):409-14.
Inhibition of platelet aggregation by curdione from Curcuma wenyujin essential Oil.[Pubmed:
22560337
]
Curdione, one of the major sesquiterpene compounds from Rhizoma Curcumae, has been shown to exhibit multiple bioactive properties. In this study, we investigated the anti-platelet aggregation and antithrombotic activities of Curdione with different methods both in vitro and in vivo. The purpose of the study was to explore an inhibitor of platelet aggregation, which promised to be a preventive or therapeutic agent for various vascular diseases.
METHODS AND RESULTS:
Curdione was isolated from the essential oil of Curcuma wenyujin using the silica gel column chromatography method. The effects of Curdione on human platelet aggregation induced by thrombin (0.3 U/ml), platelet-activating factor (PAF, 0.375 μg/ml), adenosine diphosphate (ADP, 10 μM) and arachidonic acid (AA, 0.1mg/ml) were tested in vitro, and the potential mechanisms underlying such activities were investigated. We also tested the antithrombotic effect of Curdione in a tail thrombosis model. Curdione preferentially inhibited PAF- and thrombin- induced platelet aggregation in a concentration-dependent manner (IC(50): 60-80 μM), whereas much higher concentrations of Curdione were required to inhibit platelet aggregation induced by ADP and AA. Curdione also inhibited P-selectin expression in PAF-activated platelets. Moreover, Curdione caused an increase in cAMP levels and attenuated intracellular Ca(2+) mobilization in PAF-activated platelets. In vivo, we also found that Curdione showed significant antithrombotic activity. Therefore, we conclude that the inhibitory mechanism of Curdione on platelet aggregation may increase cAMP levels and subsequently inhibit intracellular Ca(2+) mobilization. Furthermore, the effect observed in the tail thrombosis model might be explained completely by increased vasodilation.
CONCLUSIONS:
These results indicate that Curdione may be one of the main bioactive constituents in Rhizoma Curcumae that removes blood stasis.
Evid Based Complement Alternat Med. 2011;2011:913898.
Curdione Plays an Important Role in the Inhibitory Effect of Curcuma aromatica on CYP3A4 in Caco-2 Cells.[Pubmed:
21785639
]
Curcuma aromatica is a plant belonging to genus Curcuma of family Zingiberaceae and is widely used as supplements in Japan. Rhizomes of C. aromatica have curcumin as a major yellow pigment and Curdione as a main ingredient of essential oils.
METHODS AND RESULTS:
In this study, we investigated the affect of C. aromatica on CYP3A4 using 1α,25-(OH)(2)-D(3)-treated Caco-2 clone cells. Caco-2 cells were treated with methanol extract (0.1 mg ml(-1)), its hexane soluble fraction (0.1 mg ml(-1)), curcumin (4 μM) and Curdione (20 μM) for 72 hours. Nifedipine was used as a substrate of CYP3A4. Methanol extract, hexane fraction and Curdione inhibited the formation of oxidized nifedipine by 50-70%, and curcumin showed no effect. The IC50s of methanol extract, hexane fraction and Curdione to oxidized nifedipine formation were 21, 14 and 3.9 μg ml(-1) (16.9 μM), respectively. The content of Curdione in methanol extract was 11.4%. Moreover, all of methanol extract, hexane fraction and Curdione decreased CYP3A4 protein expression but had no affect on CYP3A4 mRNA expression. Our results showed that these drugs further decreased the CYP3A4 protein expression level after the protein synthesis was inhibited by cychroheximide.
CONCLUSIONS:
These findings suggest that Curdione plays an important role in the CYP3A4 inhibitory activity of C. aromatica and Curdione might inhibit the activity by accelerating the degradation of CYP3A4.
Arch Pharm Res. 2007 Oct;30(10):1236-9.
Inhibition of inducible prostaglandin E2 production and cyclooxygenase-2 expression by curdione from Curcuma zedoaria.[Pubmed:
18038902
]
Overproduction of prostaglandins has been considered in mediation of inflammation and carcinogenic process. On this line, the inhibitors of prostaglandin biosynthetic enzyme cyclooxygenase (COX) have played a role of anti-inflammatory and cancer chemopreventive agents.
METHODS AND RESULTS:
In our continuous efforts to search anti-inflammatory and chemopreventive agents from natural products, bioassay-guided fractionation led to the isolation of Curdione from the rhizome of Curcuma zedoaria with the inhibitory effect on the production of prostaglandin E2 in lipopolysaccharide (LPS)-stimulated mouse macrophage RAW 264.7 cells in a concentration-dependent manner (IC50 = 1.1 microM).
CONCLUSIONS:
Mechanistic studies suggest that the suppression of cyclooxygenase-2 (COX-2) mRNA expression is, at least in part, involved in this inhibitory activity of Curdione.
Nat Prod Res. 2014;28(7):454-60.
An insight into the curdione biotransformation pathway by Aspergillus niger.[Pubmed:
24456521
]
Curdione (1), a sesquiterpene with a germacrane skeleton from rhizomes of Curcuma wenyujin, has attracted attention due to its important pharmacological properties. Herein, we investigated the chemo-biotransformation of Curdione (1) systematically using Aspergillus niger AS 3.739. Regio- and stereoselective hydroxylation of Curdione with filamentous fungus A. niger AS 3.739 led to seven metabolites including four new compounds 3α-hydroxycurcumalactone, 2β-hydroxycurcumalactone, (10S)-9,10-dihydroxy-curcumalactone and (10R)-9,10-dihydroxy-curcumalactone. Their structures were determined by spectroscopic techniques including two-dimensional NMR and TOF-MS (Time of Flight Mass Spectrometry). Based upon the analysis of biological and chemical conversions of Curdione, a tentative metabolic pathway via chemo-bio cascade reactions is proposed in A. niger system, which provides an insight into the corresponding metabolism of Curdione in animal systems. In addition, experiments with selected monooxygenase inhibitors suggest that cytochrome P450 monooxygenase played a crucial role in the hydroxylation of Curdione.