Polygalaxanthone III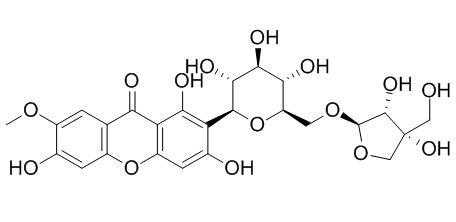 Polygalaxanthone III can significantly inhibit chlorzoxazone 6-hydroxylation catalyzed by CYP2E1.
Inquire / Order: manager@chemfaces.com
Technical Inquiries: service@chemfaces.com
Tel: +86-27-84237783
Fax: +86-27-84254680

Address:
1 Building, No. 83, CheCheng Rd., Wuhan Economic and Technological Development Zone, Wuhan, Hubei 430056, PRC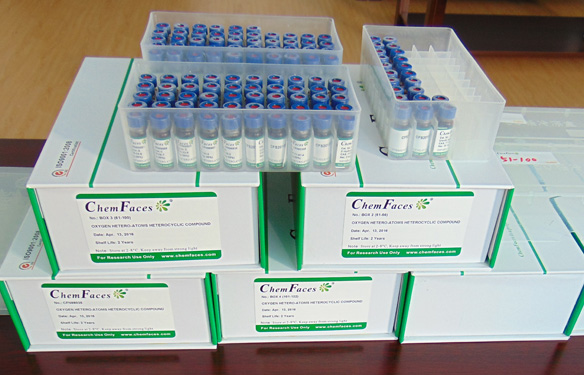 Providing storage is as stated on the product vial and the vial is kept tightly sealed, the product can be stored for up to
24 months(2-8C)
.
Wherever possible, you should prepare and use solutions on the same day. However, if you need to make up stock solutions in advance, we recommend that you store the solution as aliquots in tightly sealed vials at -20C. Generally, these will be useable for up to two weeks. Before use, and prior to opening the vial we recommend that you allow your product to equilibrate to room temperature for at least 1 hour.
Need more advice on solubility, usage and handling? Please email to: service@chemfaces.com
The packaging of the product may have turned upside down during transportation, resulting in the natural compounds adhering to the neck or cap of the vial. take the vial out of its packaging and gently shake to let the compounds fall to the bottom of the vial. for liquid products, centrifuge at 200-500 RPM to gather the liquid at the bottom of the vial. try to avoid loss or contamination during handling.
Biochem Biophys Res Commun.2017, 494(3-4):587-593
Int J Mol Sci.2017, 18(12)
Int J Mol Sci.2019, 20(11):E2734
Acta Edulis Fungi2020, 27(02):63-76.
Biomed Chromatogr.2016, 30(10):1573-81
Molecules.2018, 23(3):E615
Molecules.2019, 24(10):E1926
Food Chem. 2020, 320:126530
Food Res Int.2020, 133:109130.
Chemistry of Natural Compounds2018, 54(3):572ĘC576
Zhongguo Zhong Yao Za Zhi. 2014 Nov;39(22):4459-63.
[Effect of oligosaccharide esters and polygalaxanthone Ill from Polygala tenuifolia willd towards cytochrome P450].[Pubmed:
25850285
]

METHODS AND RESULTS:
Five compounds (tenuifoliside C, tenuifoliside D, telephiose A, telephiose C and Polygalaxanthone III) from polygala tenuifolia wild were incubated together with CYP probe substrate in human liver microsomes to investigate the inhibitory effect towards CYP450 enzyme. Phenacetin (CYP1A2), coumarin (CYP2A6), paclitaxel (CYP2C8), diclofenac (CYP2C9), S-mepheriytoin (CYP2C19), dextromethorphan (CYP2D6), chlorzoxazone (CYP2E1), midazolam (CYP3A) were selected as the isoforfn specific substrate. And the formation of paracetamol, 7-hydroxycoumarin, 6alpha-hydroxy paclitaxel, 4'-hydroxydiclofenac, dextrorphan, 6-hydroxychlorzoxazone, 1'-hydroxymidazolam, 4'-hydroxymephenytoin were detected respectively to measure the effect towards CYP450 by high-pressure liquid chromatography (HPLC).
CONCLUSIONS:
The result shows that five compounds from polygala tenuifolia willd significantly inhibit chlorzoxazone 6-hydroxylation catalyzed by CYP2E1, while showed no effect towards CYP1A2, CYP2A6, CYP2C8, CYP2C9, CYP2C19, CYP2D6, CYP3A. And IC50 value was 38.73, 54.14, 61.77, 62.22, 50.56 micromol x L(-1), respectively.
J Mass Spectrom. 2013 Aug;48(8):904-13.
A UFLC-MS/MS method with a switching ionization mode for simultaneous quantitation of polygalaxanthone III, four ginsenosides and tumulosic acid in rat plasma: application to a comparative pharmacokinetic study in normal and Alzheimer's disease rats.[Pubmed:
23893636
]

METHODS AND RESULTS:
A fast, sensitive and reliable ultra fast liquid chromatography-tandem mass spectrometry (UFLC-MS/MS) method has been developed and validated for simultaneous quantitation of Polygalaxanthone III (POL), ginsenoside Rb1 (GRb1), ginsenoside Rd (GRd), ginsenoside Re (GRe), ginsenoside Rg1 (GRg1) and tumulosic acid (TUM) in rat plasma after oral administration of Kai-Xin-San, which plays an important role for the treatment of Alzheimer's disease (AD). The plasma samples were extracted by liquid-liquid extraction using ethyl acetate-isopropanol (1:1, v/v) with salidrdoside as internal standard (IS). Good chromatographic separation was achieved using gradient elution with the mobile phase consisting of methanol and 0.01% acetic acid in water. The tandem mass spectrometric detection was performed in multiple reaction monitoring mode on 4000Q UFLC-MS/MS system with turbo ion spray source in a negative and positive switching ionization mode. The lower limits of quantification were 0.2-1.5 ng/ml for all the analytes. Both intra-day and inter-day precision and accuracy of analytes were well within acceptance criteria (┬▒15%). The mean absolute extraction recoveries of analytes and IS from rat plasma were all more than 60.0%. The validated method has been successfully applied to comparing pharmacokinetic profiles of analytes in normal and AD rat plasma.
CONCLUSIONS:
The results indicated that no significant differences in pharmacokinetic parameters of GRe, GRg1 and TUM were observed between the two groups, while the absorption of Polygalaxanthone III and GRd in AD group were significantly higher than those in normal group; moreover, the GRb1 absorbed more rapidly in model group. The different characters of pharmacokinetics might be caused by pharmacological effects of the analytes.